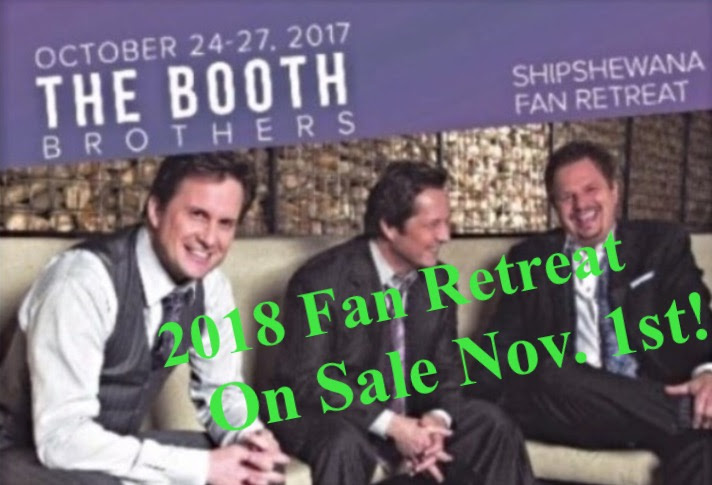 Ronnie, Michael, and Paul had so much fun at the Booth Brothers' Fan Retreat last week that they have decided to do it again in 2018! You can tell the artwork isn't finished yet but the important information is already available!
DATES: Oct. 23-26, 2018
LOCATION: Blue Gate Garden Inn
Shipshewana, IN
REGISTRATION: Wednesday, Nov. 1st
8:00 AM Eastern time
PHONE NUMBER: 888-447-4725
Shipshewana is a small village located in the heart of Amish country and offers unique shopping experiences, delicious food, and opportunities to explore the Amish culture.
All reservations and financial transactions are handled by the staff at the Blue Gate Theatre. You can reach them by calling the phone number listed above.

Attendance at the Fan Retreat is "capped" so an intimate, personal environment can be maintained. Retreat packages would make wonderful Christmas gifts! We encourage you to call quickly to reserve your spot today!
For photos of last week's retreat, click HERE.
For the latest issue of SGNScoops magazine click here
For more Gospel music news click here.
For online Gospel music click here