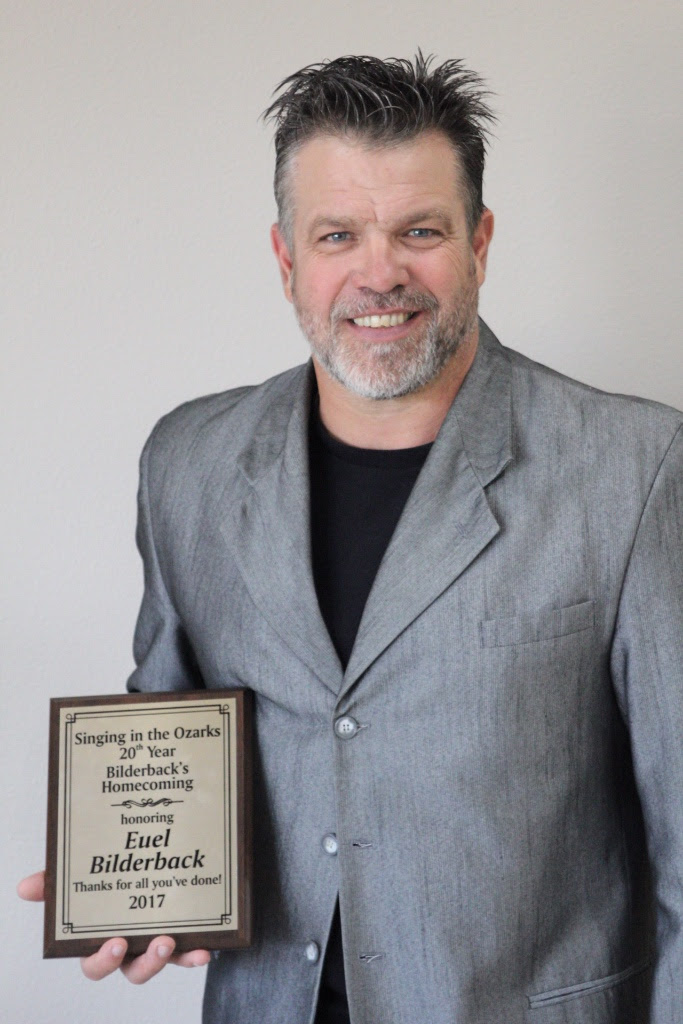 Springdale, AR  – Euel Bilderback is celebrating 20 years of ministry and music. Bilderback was honored during the 2017 Singing in the Ozarks. This year's event celebrated Euel and The Bilderbacks who have been hosting the event continuously for 20 years.
During the presentation, Euel Bilderback, The Bilderbacks spokesman said, "What an honor to have spent the past 20 years spreading the Gospel of Jesus, it's all about Him. Our ministry has grown in ways I never imagined, now sharing the stage with my precious family."
"My father has dedicated his life to demonstrating just how powerful our God is, I am so proud of this milestone for him," stated Blake Bilderback.
The Bilderbacks formed after The Bilderback Family disbanded. Euel was originally singing with two siblings. After the sisters left the group to raise families, Euel brought his own wife, Marsha to stand beside him along with their two small children, Blake and Cortni. The Bilderbacks today have Blake and Cortni's spouses. The newest Bilderback belongs to Blake and wife Quince. "Everli Lynn just celebrated her first birthday, we are ready to give her a microphone," stated proud grandfather, Euel.
The Bilderbacks are a favorite to their Arkansas fans. 2017 has The Bilderbacks scheduled across the country. This expansion represents a leap of faith as the live band brings a powerful message to more audiences. They provide an inspiring worship experience while bringing encouragement through their gifts of music.
Watch for The Bilderbacks newest single, "Lord Have Mercy". Sonja Isaacs Yeary and Becky Isaacs Bowman of The Isaacs wrote the song. Tre' Corley has produced the single release as part of a soon to be released full-length project.
Follow The Bilderbacks music on iTunes and on social media outlets.
For more information on The Bilderbacks, visit thebilderbacks.org.
Listen To Today's Gospel Music Online HERE