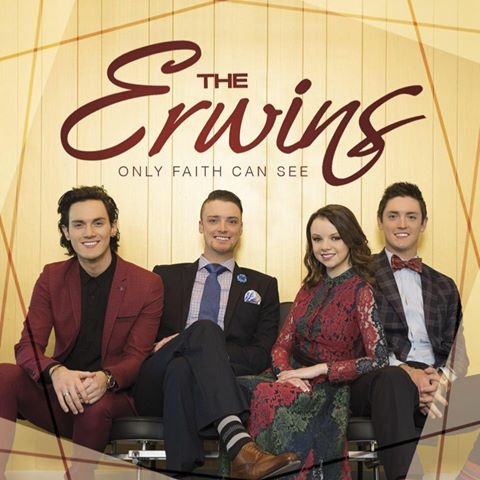 The Erwins: Only Faith Can See
RELEASE DATE: September 2, 2016
LABEL: STOWNTOWN RECORDS
PRODUCER: WAYNE HAUN
MEMBERS: KEITH ERWIN (LEAD), KATIE ERWIN (ALTO), KRIS ERWIN (BARITONE), AND KODY ERWIN (BASS)
SONG LIST: (featuring/author)
Up And Out Of The Valley- ft. Keith, Katie/ (Scott Inman, Wayne Haun, Joel Lindsey)

Only Faith Can See- ft. Keith/ (Jeff Bumgardener, Daniel Doss, Kenna Turner West)

He's Still Alive- ft. Katie/ (Rachel McCutcheon)

Chasing After You- ft. Kody/ (Jeff & Caleb Bumgardener)

I Can Through Christ- ft. Kris/ (Devin McGlamery, Joseph Habedank, Tony Wood)

Holding On To Me- ft. Keith/ (Jason Blaine, Wayne Haun)

Here's My Everything- ft. Katie/(Rachel McCutcheon)

The Same Grace- ft. Keith/ (Geron Davis, Wayne Haun)

Everything To Me- ft. Kris, Katie/ (Sue Smith, Chad Cates)

Give It To God- ft. Keith/ (Kenna Turner West, Jason Cox, Jessica Campbell)

Clouds-ft. Kody/ (Wayne Haun, Joel Lindsey)
THOUGHTS:
The Erwins are back again with another stellar record! This fresh, energetic group has re-teamed with producer Wayne Haun for this exciting sophomore project. Once again, their dynamic family harmony and the Lord are the focus. As I said of their StowTown debut last year, God is the center of this project and each sibling is but a humble vessel for the Lord.  This CD featuring eleven well written songs is sure to be another hit for the up and coming quartet.  Each member delivers incredible vocal performances on songs written by some of the very best in Southern Gospel including: Kenna Turner West, Scott Inman, Wayne Haun, Joel Lindsey, and Sue Smith. These siblings are blessed with amazing talent well beyond their years!
 The project opens with a fun, up-tempo track "Up And Out Of The Valley," featuring Keith and Katie on the verses. The lyric, written by Scott Inman (Triumphant) and producer Wayne Haun and Joel Lindsey, simply asks the Lord for His help. Lord, rescue me! Hear my plea! This track is great example of the group's fantastic traditional Southern Gospel family harmony.
The title track "Only Faith Can See," featuring lead singer and eldest brother Keith, is perhaps one of the best songs I've heard this year. This powerful ballad is a sermon in a song. This beautiful lyric reminds us that God is with us through it all. He is so much stronger than anything we face. "Some see a mountain; Faith sees the mountain move. Some see the waters; Faith can see us walking through." Amen. There are some things only faith in Christ can see. Keith is also featured on the country styled mid-tempo track "Holding On To Me," written by Wayne Haun and Jason Blaine. God is always with us. Another strong feature from Keith is on the dynamic ballad "The Same Grace." This song written by famed worship writer Geron Davis and Wayne Haun tells of God's saving power. Salvation is only found in Christ. He makes all things new. He is also featured on "Give It To God," which simply says to give your problems over to Christ. He is your burden bearer. Lay your cares in His Hands!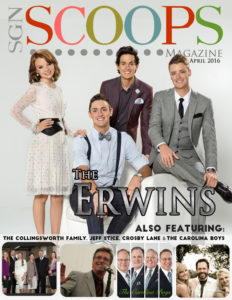 Kody Erwin is quickly becoming one of my favorite bass singers in Southern Gospel music. His warm, rich tone is reminiscent of Paul Harkey (EHSS). I wouldn't be surprised if Harkey has been giving him some bass singing tips. Kody's solid tones anchor the group's beautiful sound. His standout feature "Chasing After You," which is rousing declaration of faith. This up-tempo tune simply says "I'm lifting up my eyes to the one who is faith and true." I'm living for Christ. I'm chasing after you Lord.
 Katie Erwin continues to impress me with her vocal ability. Though she is the youngest sibling, she is equal vocally to her brothers. In my opinion, she is one of the strongest female vocalists in Southern Gospel music. One of her strongest features is the moving ballad "He's Still Alive," which proclaims the Resurrection of Christ. He is our hope when all hope seems lost. He is Alive. She is also featured on the tender ballad "Here's My Everything," which is a beautiful prayer captured in song. We are unworthy, but He loves us anyway. If there is any good in me, it is not because of me; it is all because of God. I surrender all to you. Here is my everything.
 Kris Erwin's smooth baritone is featured on the stirring ballad "I Can Through Christ," which reminds us that Christ is our only source of strength. I can do all things through Christ. "Everything To Me," features Kris's smooth tones on the first verse while Katie takes the second. This mid-tempo track praises Christ for all He is. He is more than words on a page. He is all I need. Without Him, we are nothing. He gives us life.
 This incredible record closes with a simple yet beautiful ballad entitled "Clouds." This tender track, showcasing Kody's stellar upper range, reminds us that God is big enough to reach down and supply our needs. "If the clouds are the dust at His feet, just imagine how great He must be." This is definitely a standout track.
 
FINAL THOUGHTS:
THE ERWINS HAVE DONE IT AGAIN. THIS PROJECT IS SIMPLY BRILLIANT! INCREDIBLE VOCALS, MEANINGFUL SONGS, TOP QUALITY PRODUCTION. WHAT MORE CAN YOU ASK FOR? EACH VOCALIST BRINGS THEIR "A" GAME AND BLENDS WELL TOGETHER. MUST BUY!
5 OUT OF 5 STARS!!
Review by Justin Gilmore, Southern Gospel Spotlight, SGN Scoops
FOR MORE INFORMATION ON THE ERWINS click here.
For more Gospel music click here.