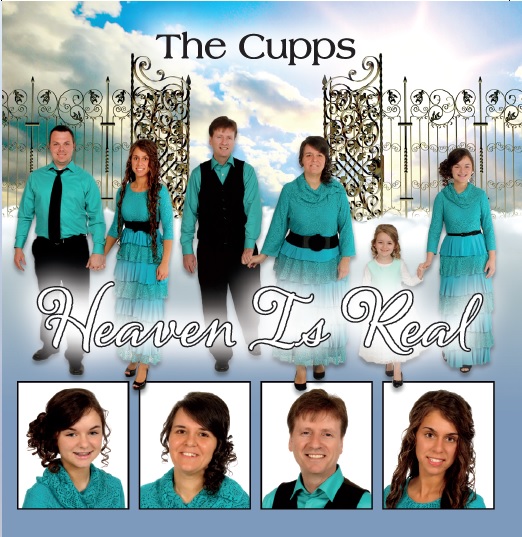 Williamsburg, KYÂ  – Southern gospel recording artist The Cupps, have returned from the studio with their new cd project "Heaven Is Real" and are scheduled to debut it in concert at the Williamsburg Gospel Barn on Saturday, May 7th, 2016. This cd was recorded at Hilltop Recording Studio in Nashville, TN and produced by gospel music legend, Kevin McManus. It features ten anointed songs, such as "Heaven Is Real; The American Soldier, God Forgive Us; Don't Give Up; and I Held On". This long awaited cd is now available for purchase on-line or at your local Christian bookstore. The Cupps new radio single "Heaven Is Real" is scheduled to be released on the Crossroads Radio Sampler.
Over the years, The Cupps have been known for several popular songs both in the U.S. and abroad, which include "What's Wrong With Living Right; Man In The Middle; In God We Trust; and Somebody's Gonna Stand". This is just to name a few of their songs we have come to love and enjoy.
The Cupps have spent the last two years opening and establishing their new ministry known as the "Williamsburg Gospel Barn" in Williamsburg, KY, which offers live gospel music, family fun, and Christian entertainment.
Barbara Cupp stated "There's a lot of excited people that's been waiting for us to make a new cd, and I'm glad we finally did. We wanted to record over a year ago, but couldn't because we had to get the gospel barn up and running good first. We want to invite everyone to come and see our new ministry. Some of the most popular singing groups in nation are making this wonderful place an annual stop, and everyone that visits us can see the hand of God upon our new ministry".
You can learn more about The Cupps new cd and the Williamsburg Gospel Barn by visiting their websites at TheCupps.org  and GospelBarn.org