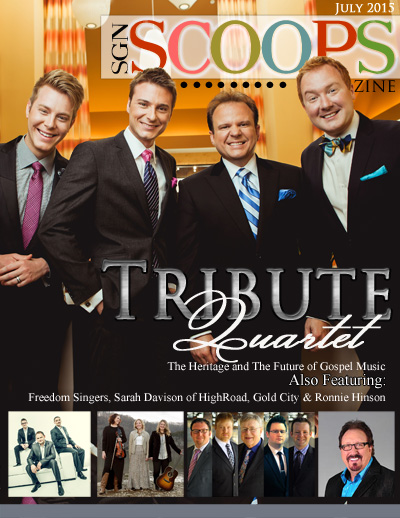 Grab your lemonade and find a good spot in the shade, it's time for the July edition of SGNScoops Magazine! We are so happy that you have taken time to see what we are all about.
Our cover story is all about Tribute Quartet, a group that has been winning awards and singing to audiences across the country for some time. We welcome them for the first time on the cover of SGNScoops, and we know you will enjoy the story written by Matt Baker.
Other artists featured include the one and only Gold City Quartet, legendary male vocalist Ronnie Hinson, Squire Parson's son Sam Parsons, and the Freedom singers who literally escaped to freedom from a land of bondage. Sarah Davison of HighRoad III also joins us.
There is a photo-montage by Craig Harris of a recent concert in Christ Church of Nashville with a few artists you will recognize.
Please take a moment to read the thoughts of David Staton, Lou Hildreth, Dusty Wells, Jeff Steele, Kelly Nelon Clark, Laurette Willis and Sherry Anne. Meet DJ Sean Vaughn, read our new CD reviewer, Randall Hamm, and discover what lies 'Beyond the Sunset.'
All this, plus the SGN Scoops Top 100, the update on Creekside Gospel Music Convention and more!
We put all this together in one package that we hope entertains, encourages and enlightens you. May you read and be strengthened in your faith today! Please let me know if you have any questions or comments:
lorraine@sgnscoops.com
After You Read The July 2015 SGNScoops Magazine Find Us On Facebook
Here