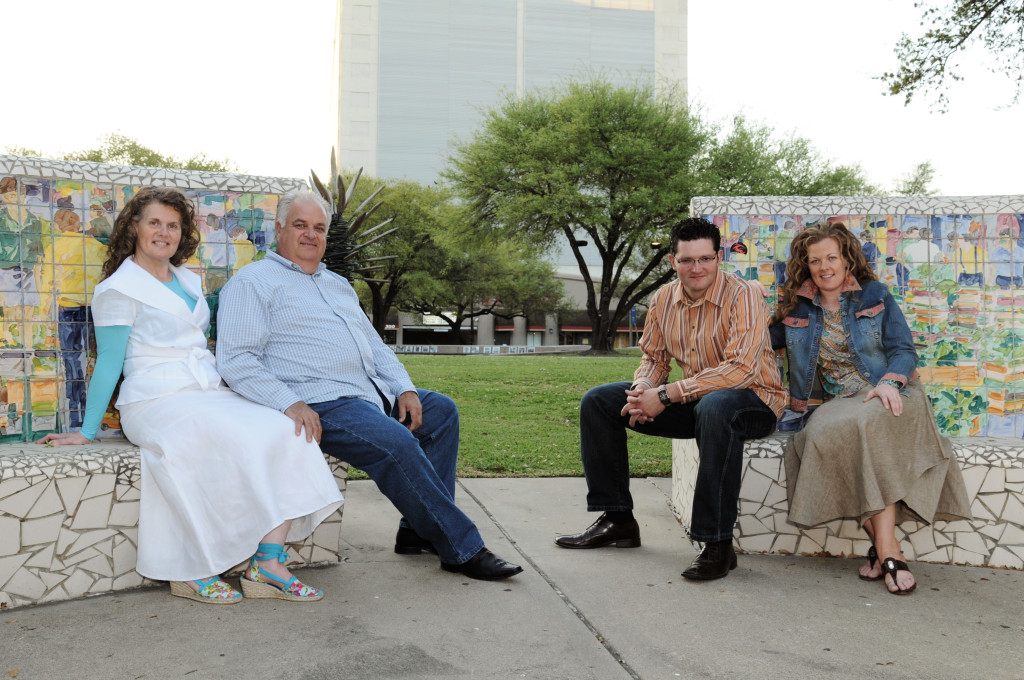 By Dixie Phillips
Every year at the National Quartet Convention, the gospel groups not scheduled to perform on the main stage are granted tremendous opportunities through showcases. When these talented artists sing in their assigned showcase, they are judged and the winner of each showcase gets to sing one song on the main stage. Then out of the winning artists, there is another competition where they are judged again, and that winner gets to perform a second time on the main stage. Gospel music fans who attended NQC 2013 will never forget one of the winners of that stiff competition: The Wilbanks, a family group from Houston, Texas. Hearts were stolen and souls blessed as the talented group sang a rousing rendition of "Psalm 23." There was no doubt The Wilbanks deserved to win. Many ministry doors have opened since their stunning performance. They were and still are the talk of 2013 NQC (see You Tube link below). Fans wanted to know more about this up and coming group and SGN Scoops is happy to deliver.
The group consists of Terry and Rene' Wilbanks, their daughter Monica, and her husband, Jason Mathews. Terry and Rene' have been deeply involved in their churches for years, establishing various groups and choirs, but 13 years ago God called their family to full time ministry. God has blessed their step of faith.
Terry's musical training began when he was 12. He took piano lessons in his hometown of Flint, Michigan. His teacher was pleased as he progressed rapidly through the John Thompson Series. As Terry's talent grew, so did his love for different piano styles. "I fell in love with Floyd Cramer's piano style. In no time at all I learned to play the hit song "Last Date" and several other popular songs." During those early years Terry also took lessons from his church pianist. "This is where I learned to play gospel music, but then we moved to a new home in a nearby city. I started to neglect my musical training, because I had new hobbies—hunting and fishing."
In 1973, Terry met Rene' and they married later the same year. Rene' had always loved to sing in her home church and she convinced Terry to get back into music. Not wanting to disappoint his new bride, he quickly learned to play the songs she sang. The couple insists, "That's where our long career in gospel music began."
After studying music at a Bible college in Stockton, California, Terry returned to Flint and assumed the position of Music Minister in 1977. Â  Soon after returning Terry, Rene', and Terry's brother, Greg, started the Terry Wilbanks Trio. Rene's cousin, Karen, replaced Terry's brother a few years later and she remained with the group until 1990.
At the end of 1990, Terry resigned as Music Minister and the family began their ministry as full-time music evangelists, traveling throughout the United States, performing concerts and music workshops along with their two children, Monica and Terry II. In 1996, the family moved to Pearland, Texas, where Terry became the Music Minister at the First Church of Pearland. In 2001, Terry resigned his position in Pearland and began touring full time with his family.
Rene' has had a love for music for as long as she can remember. She always sang at church, starting in the children's choir, then moving on to solos at her local church in Mt. Morris, Michigan. She started piano lessons when she was 10 and continued until she married Terry. She was involved in chorale and choir when she was in school.
Soon after the birth of Terry and Rene's daughter, Monica, they moved to Stockton, California, to attend Bible college, where Rene' became involved in Chorale. When they returned home to Flint, Michigan, she continued to sing solos, directing the adult choir, and the children's choirs at their home church and then again singing and directing the choir at the church in Pearland, Texas, where they were full-time Ministers of Music.
Monica developed a love for singing as a child. Under her father and mother's skillful directing, she sang in children's choir and youth choir. She was 14 when The Wilbanks began touring. Monica said, "I've always had a great love for music and when my family started touring, I felt from the beginning that I would always be involved in some aspect of music ministry from that point on."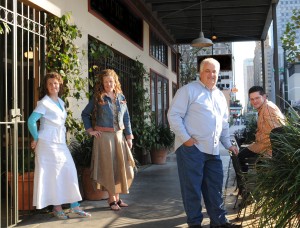 Monica attended Indiana Bible College where she was privileged to tour with a 50-voice Chorale and received a Bachelor's Degree in Worship Studies. During this time she developed a passion for songwriting. She remains the principle songwriter of the group.
Jason's musical influence started in his family's small church in Levelland, Texas, where his father was the song leader. He has fond memories of traveling to visit his grandparents, and hearing his grandfather pick an old 60s' model black Sears' Silvertone guitar in the whitewashed church they attended in Burleson, Texas. "That guitar is one of my most prized possessions as a memorial to my musical heritage." Guitar and piano lessons, high school band, and a stint in the Texas Boys' Choir all paved the way for his musical journey. His family moved during his senior year of high school to help plant a church. During this time he learned to play the bass guitar. "Playing bass in church and singing in the choir was all I ever envisioned as my musical endeavors, but then I met Monica on a chance weekend trip to Houston. That meeting changed everything!" After their marriage in 2001, he joined the group. The couple were typical "weekend warriors," working full time jobs during the week for two years and traveling every weekend until the summer of 2003 when they resigned their jobs and traveled with the group on a full time basis.
The Wilbanks attribute their unique and versatile sound to their love for music. Terry said, "We love music! So when you hear us sing, you will hear a diverse influence from Southern Gospel to Motown to Jazz. So many different artists like Dottie Rambo, Andre' Crouch, Bill Gaither, and The Winans have had an impact on our music over the years. We believe there really is no music without a message. We feel honored to be called to deliver the greatest message in the world—the message of Salvation through the death, burial, and resurrection of Jesus Christ! For us each song is important. Every word, every note, and every rhythm goes into the story in the song. Every song should minister the Good News of Jesus Christ. We hope the audience enjoys listening to them as much as we did creating them. Our prayer is that the songs minister to God and to the listeners."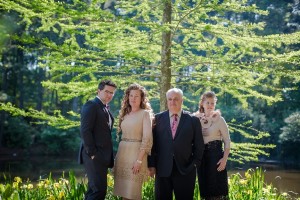 When asked what The Wilbanks' mission statement for their group was, Terry replied, "First and foremost our goal is that every song we sing be a song of worship to the one true God. We hope our music offers a message of hope and God's overwhelming love for the listener. While we strive for excellence and certainly believe God deserves our best, we want every concert to be more about hearts being drawn to God and less about someone coming out to a performance. Each of us has an interest in a wide variety of music styles. This of course comes through in our music, which we feel, in turn, gives us the opportunity to connect with a broad group of listeners in age, culture, and other variables. We want to convey the Gospel to as many as we can and not be isolated by or to a particular sound."
Gospel music fans will be delighted with The Wilbanks latest project He Reigns. Although the recording process took longer than the group intended, when it was completed, they saw God's fingerprints all over it. "Throughout the process we wrestled with what would be fitting for the title cut. As we were seeing the project begin to wrap up and decided on the title, the lyrics of that song had become even more fitting than ever before considering the current state the world is in: 'When we watch evil called good and those who seek righteousness are scorned. We know that our redemption draweth nigh and our King of Kings reigns forever'."
"Song of Thanksgiving," The Wilbanks latest radio release, is another song from the project that is getting a great response from a broad audience. Terry Wilbanks said, "If you're breathing, you can relate to this song. All of us have something to thank God for! While we've been privileged to work with some phenomenal producers and musicians, it was Daniel Kinner and Paul "Salvo" Salveson who produced this project, and Joseph Salamida our production coordinator, who really took this project to the next level."
The Wilbanks' vibrant faith keeps them grounded. They have never lost their love or concern for the individual. "Large crowds and big venues definitely do not control us. They are fun and exciting but are not the rule of thumb. We can't become enamored with the thrill of the crowd or the lights. God asks a question in Zachariah 4:10 that points us to a principle of not despising the day of small things: and that day of small things is not a one-time occurrence; it recurs often."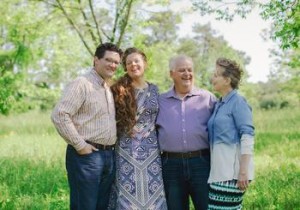 This group lives what they sing about. After a concert had been unexpectedly cancelled, the group remembered a local pastor had given then his business card during a conference a few years earlier. They contacted the pastor and he invited them to come to his church. When they arrived, they were surprised to see the church was being remodeled. The piano was covered with plastic and drywall dust was everywhere. The seasoned group kept their eyes on Jesus and as they set up their equipment, the discouraged pastor poured out his heart and then felt he was sharing too much. He looked up at them and said, "You don't need to hear about my troubles."
When the concert began, there were only eight people in the audience. "We knew our destiny for that night was the pastor and his family. The Lord had given us a divine interruption. He changed our schedules because He wanted us there for that pastor. We sang like there were 8,000 there. Our hearts were ministered to as we watched the Lord strengthen the pastor and his wife through the messages in the songs. Jesus always took time for the one. We must not forget that you cannot get to the masses until you have one."
Even though the group is on the road most of the year and isn't able to be really active in their local church, they have a deep love and respect for their home church. Terry and Rene attend First Church of Pearland, Texas, led by Pastor Ken Gurley. Jason and Monica attend Calvary Pentecostal Church of Euless, Texas, led by Pastor Carl McLaughlin. The Wilbanks believe their ministry is an extension of their home churches and do everything within their power to honor the leadership and their congregations as they travel.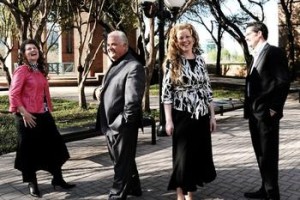 Readers can purchase The Wilbanks' CDs and learn more about The Wilbanks and their touring schedule at www.wilbankssingers.com. Accompaniment tracks and MP3 downloads of their songs can also be found there. A majority of their music is also available on iTunes. Fans can also keep up with them on Twitter @Wilbanks_Official or on Facebook at The Wilbanks. The Wilbanks will be performing at the Featured Artist Showcase on Monday, September 22, 2014 at the National Quartet Convention, in Pigeon Forge, Tennessee. Their performance from NQC 2013 can be viewed at www.youtube.com/watch?v=f0zlsE02Cjc.
First published by SGN Scoops magazine in July 2014.
For current issues of SGN Scoops visit the SGN Scoops mainpage.