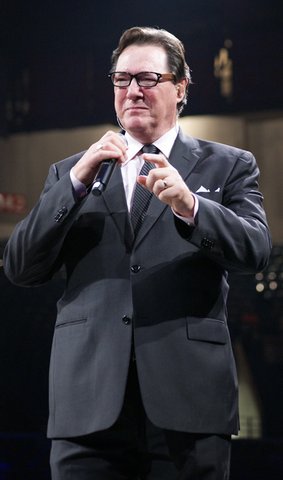 Two or three years back, my wife Judy and I went on a Gospel cruise to celebrate our 40th wedding anniversary.   The cruise was to the Bahamas.   It was great! So many talented Gospel groups were aboard the ship: The Kingsmen, the Booth Brothers, Karen Peck and New River, Mark Trammell Quartet and many more. I enjoyed them all, but my favorite was Squire Parsons.   Squire sang many of his songs, including his huge hit, Sweet Beulah Land. Helping his dad on many of the songs was his equally talented son, Samuel. I think what impressed me about Squire more than some of the other artists, was the fact, that there was no flash or foolishness, but just anointed spiritual singing. I personally find that kind of thing very rare these days. Squire Parsons has tenderness in his voice when he sings. You find yourself in tears as you listen.
Squire was raised in a Christian home in West Virginia. His father, Squire Sr., was a choir director in their home church and Squire learned shaped note singing from him. Squire earned a Bachelor of Science degree in music in 1970. Â  Squire Parsons has quite a resume. Â  Besides being a soloist in church, he has served as interim music director, high school band director, and he became the baritone singer for the mighty Kingsmen in 1975.
When I contacted Squire Parsons' office, I was delighted to learn that he was agreeable to an interview. I asked Squire how old he was when he first started singing. "I have been singing for as long as I can remember. My dad loved the shaped note music books that were printed. Our home was full of great Gospel music as I was growing up."
I asked Parsons how long he has been singing Gospel Music. "I have always sung Gospel Music.   I'm glad it got ahold of my heart, before Elvis and the Beatles", he joked.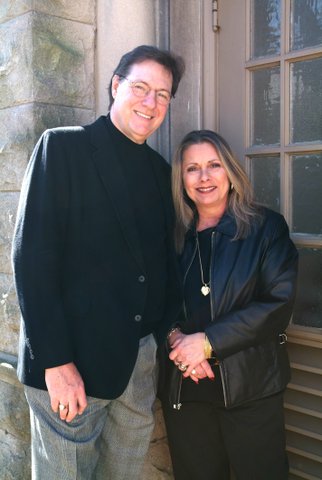 He continued, "I first started in an organized group when I was in college in 1968. The name of the group was The Calvarymen from West Virginia. It consisted of Conrad Cooke and his brother Bernard.   My brother Virgil eventually joined us in 1970. Jim Humphries was the baritone and I sang lead. Our first recording was the Glory Road, on which was recorded , Conrad's great song, 'The Glory Road'." He continued, "That recording also featured one of my first songs, 'Look For Me At Jesus' Feet'." Continuing, "I was a music instructor in public schools in West Virginia for four years, then I joined the Kingsmen Quartet in 1975 and then in 1979, I started my solo ministry."
When asked if he remembered his first public appearance as a singer, he replied "I do not remember my very first time, but I do remember my knees knocking each time I sang in public for a very long time."
I asked Parsons if he ever had any desire to sing any other genre of music, besides Gospel. "I was a vocal major in college and considered classical music and pop music of that era; however, there was nothing that could come close to the joy that I experience, when I sing about the Lord in the gospel music style."
Parsons says he has about 1100 songs catalogued; however only about 500 have been recorded. He continues, "Most of those have been my recordings, either with my solo ministry, or the different groups I've had or been associated with." When I heard that statement, I confess I whispered a "wow".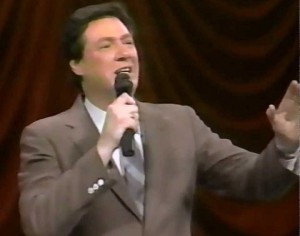 Squire has written many songs. I know many of them and have sung many of them with the different groups I've been associated with over the years, but he is probably known best of all for his great song, "Sweet Beulah Land." I asked Parsons how "Sweet Beulah Land" came to be. "I wrote "Sweet Beulah Land" on the way to school where I taught in Manson, West Virginia in 1973. I had been humming an old song that my dad used to sing, "is this not the land of Beulah", when the Lord gave me the first verse and chorus. I added the second verse in 1979. I was taking some songs to the Inspirations, when I discovered the unfinished song. Both the Inspirations and the Nelons recorded it in addition to my recording, entitled SWEET BEULAH LAND, which was finished in 1979." In 1981, his song, "Sweet Beulah Land" was voted Favorite Song of the year by the Singing News. (1)
Since 1978, Squire Parsons has been nominated by the Singing News fans for Favorite Baritone, Favorite Gospel Songwriter and Favorite Gospel Singer. He was named Favorite Baritone in 1986 and 1987. In 1986, 1992, 1993, 1994, and 1995, he was voted favorite Gospel Songwriter. In 1988 he was named favorite Southern Gospel Male Singer. Â  (2)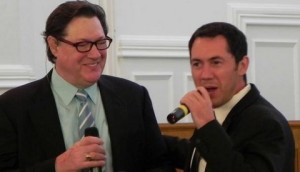 Parsons musical influences are many. "The Statesmen, Blackwood Brothers and the Prophets and so many other great quartets. Each of them has been a part in my life in gospel music." He continues, "The popular music of that era consisted of the great crooners, like Andy Williams, Perry Como, Sinatra, Bing Crosby, Dean Martin, Tony Bennett and of course, Elvis. It was the great music they sang that influenced me more than their individual lives."
Knowing Squire has gone through quite a few health issues, I asked him how he is doing now. "I am feeling very well, in spite of some health issues. With the help of my son Samuel and my bus driver and helper, Walter Gordon, I am still able to do a limited number of services each week."
When I asked Parsons if he had any plans to retire, he said, (I love this) "I'd rather re-fire than retire, but I trust the Lord will let me know when it's time to park the bus."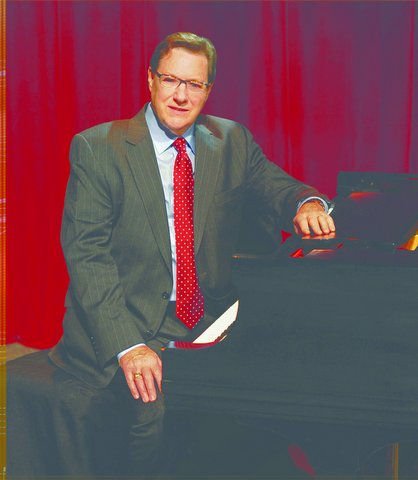 I asked Parsons, what he wants people to remember about him. His quick reply was, "I'm just an old sinner saved by grace who loved to glorify the Lord Jesus Christ through Music." He added, "I want to thank all my brothers and sisters in the Lord for all their support and prayers over the years."
Squire Parsons, in my humble opinion, is the epitome of ministry. He presents the whole package when he ministers. When Squire sings, the listener hears a pure, humble and an anointed deliverance of some of the sweetest music this side of Heaven. I encourage the reader to visit Squire's website and support this worthy man of God. On his website, you will be able to listen and purchase some of his anointed music.
Find out more about Squire Parsons here:
Website: https://www.squireparsons.com
https://www.youtube.com/watch?v=5WdeC4vWRpo Sweet Beulah Land
https://www.youtube.com/watch?v=G34B8ENLv8w   Master of the Sea
(1) and (2) Â  Â  Â Squire Parsons website
First published by SGMRadio website in May 2014.
By Phil Foster