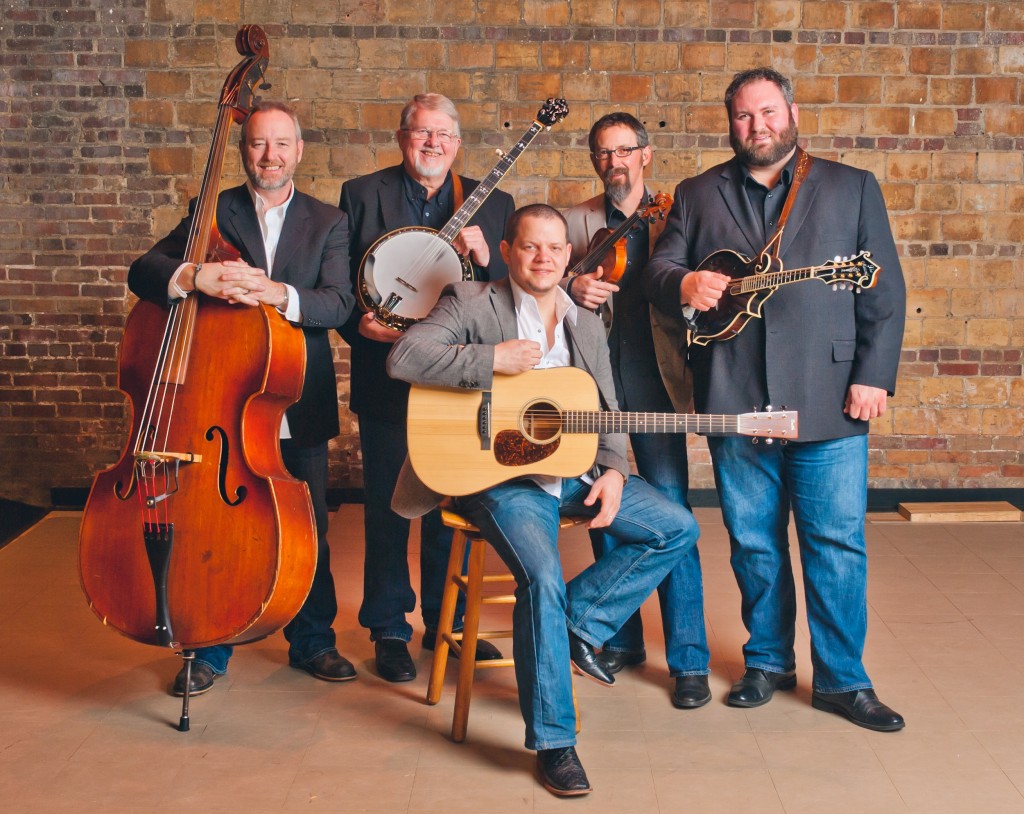 By Marcie Gray
Have you ever visited a place that just feels majestic?   Perhaps you are one of the fortunate few who are blessed enough to actually live in a place so beautiful you just don't want to leave home. Nestled right where the Great Smoky Mountains meet the Blue Ridge Parkway is a little place called Haywood County. Surrounded by scenic views and rooted in Cherokee traditions, this area tells its own story. At the top of Water Rock Knob, the highest point on the Blue Ridge Parkway, one can stand and see 180 degrees of beautiful mountain peaks and river valleys as they view Balsam Range, the range of mountains that separates Haywood and Jackson counties in North Carolina.
Named for the place they call home, Balsam Range is not your run of the mill, back porch pickin' kind of Bluegrass group. These five men have extensive musical credentials and impressive professional backgrounds, but one common bond they share sets them apart from any other group: hometown roots. Tim Surrett says, "We all live within a 15 mile radius of each other, and we are not the most talented musicians in Haywood County. There are some impeccable musicians in this area, but when we all came together, we knew we had something special." Having roots in the same home town gives them a wonderful foundation, and these boys can make you want to put on your dancing boots!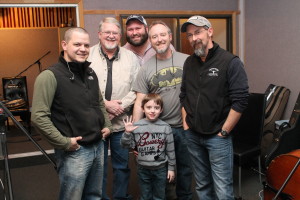 Buddy Melton, Caleb Smith, Darren Nicholson, Marc Pruett and Tim Surrett joined together to form Balsam Range in 2007, and from the beginning their blend was amazing. Tim and Marc played on solo albums for both Buddy and Darren. Tim recalled, "Caleb and I knew each other from previous gospel work, and the guys all decided to get together to jam one night. Immediately, it was like, holy moly, this is pretty good! A couple of months later, Marc got a call and we played at the Grove Park Inn for John Boy and Billy. It was an enormous concert. The crowd went ape and it has just ballooned from there. We never intended to start a band. We just wanted to get together and have a good time making music."
Tim Surrett is the emcee, the voice of Balsam Range. His charming personality and seasoned vocals, complimented by his dynamic bass and occasional resonator guitar playing give Balsam Range a unique edge. Buddy Melton's powerful tenor voice and toe-tapping fiddle playing are unforgettable. Caleb may be young, but his guitar talent and incredibly dynamic vocals are as experienced as any. Rumor has it that Darren is always up to some kind of mischief. He brings a terrific energy to the group with his mandolin playing and tremendous harmony. Last, but certainly not least, Marc Pruett completes the group with that amazing banjo picking that bluegrass fans adore. Marc is a Grammy Award winner with more than 40 years of music behind him. Put these five, talented friends together and you have Balsam Range!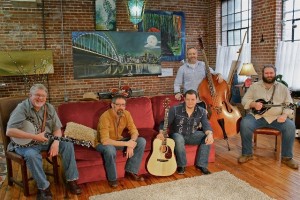 When asked how they handle their demanding schedule, Tim replied, "We are all very busy and work hard to balance our family life, our regular jobs and our tour schedule. We do about 150 dates per year. We've been invited to Europe, China and Australia. It's not easy, but we love what we are called to do, we enjoy making music together and our families are very supportive."
Balsam Range donates a large portion of their revenue to charitable efforts in Haywood County. Designed originally to bring revenue to Canton and attention to the historic Colonial Theater, their annual winter concert series has been a successful way to support the economic development of the place they call home. This year marks their fifth year of the winter concert series, and there is a charity that benefits from each one of the concerts.
Canton is a paper mill town in Haywood County. The group's hit song "Paper Town" was written by Buddy with Milan Miller and Mark Winchester. Written for a state historic project called Songs of Haywood County, the album won an award from the state historical society and was named 2013 IBMA album of the Year. Balsam Range was honored to be named Grand Marshall of the Christmas parade in Canton one year, and also had the honor of participating in the Asheville Christmas parade. They were presented with "keys to the city" in Canton, North Carolina, and honored with an official declaration of "Balsam Range Day" for their positive contribution to the community. They have raised over a half-million dollars for various regional and national charities. In 2014, they were named IMBA Entertainer of the Year and IMBA Vocal Group of the Year.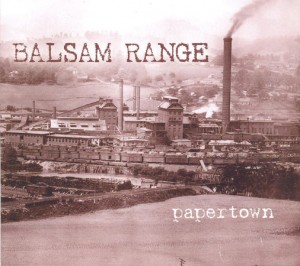 Papertown is Balsam Range's fourth album released on the Mountain Home Music label. During the recording of that album, tragedy struck and shook the group to its core when Buddy had a near-fatal accident on his small farm. He was a strong, active man who loved to hunt and enjoy the outdoors. He was working alone on the farm, loading cattle into a trailer when one of the cows kicked the metal door into his head. The events that unfolded left Buddy with a serious head injury. After running the initial tests, doctors told Buddy that he had extensive damage to his sinuses and may never sing again. He was told that even if he were able to sing again, he would never sound the same.
Well, you can't keep a good fiddlin' man down any more than you can convince him not to work alone. The guys were in the studio, moving ahead with the album as best they could when Buddy insisted that Caleb drive him over from the hospital. Caleb took Buddy to the studio and the first song he attempted was "Wide River to Cross," which they took on the second take! Prayers had been answered, his voice was there and the album was named 2014 IMBA Album of the Year. Buddy was named Male Vocalist of the Year in the 2014 IMBA Awards, as well.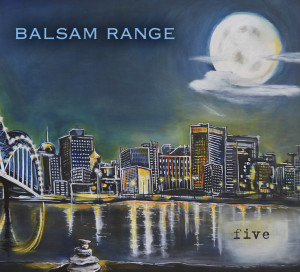 The band's fifth album, Five, made its debut on the Billboard Charts at #4 and remained on the charts for six consecutive weeks. Released in the summer of 2014, it is the number one bluegrass album right now. The song "Stacking Up Rocks," is an a cappella piece written by Buddy after his mother brought a scripture verse to him in the hospital. The passage from the fourth chapter of Joshua tells of God's sovereign power when the waters of Jordan were cut off before the ark of the covenant of the Lord. As Joshua led the Israelites out of the River Jordan, there were 12 stones placed to symbolize the 12 tribes of Israel and as a memorial for the children of Israel to remind them of God's sovereign power.
Tim shared that his favorite song from all five albums is "Trains I Missed." The song was named IMBA Song of the Year in Bluegrass in 2013. Tim shared, "That song just sums it all up for us."
If you've never seen Balsam Range in concert before, "Burning Georgia Down," written by Milan Miller, is a great song to showcase the group's talent. Tim said, "We cut it on the first solo record Buddy did and we open with it most of the time."
Tim Surrett is an entertaining emcee, a talented bass player and a seasoned lead and harmony singer with a big heart for young artists. He was recognized with a Mentor Award for his work developing young artists by IMBA in 2014. He and Caleb bring an innovative jazz infusion to the group that gives Balsam Range a unique sound. "I've always loved Bluegrass," said Tim. "My dad played Bluegrass and I was 14 years old when I started playing bass. All of us grew up with it in our culture. Mountain music and clogging are just a part of the culture we grew up with in this region. I missed my senior prom because I was in Detroit playing with the Kingsmen, who I spent 10 years with."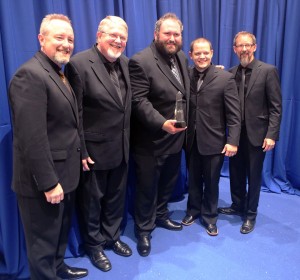 "Studio work has always been a part of my life," Tim shared. "I always considered myself an instrumentalist, a bass player. It wasn't until I traveled with the Kingsmen that I became a singer, as well. During my years traveling with Southern Gospel musicians, I always listened to Bluegrass music and so did the folks I traveled with. Jim Hammill, leader of Kingsmen, loved Bluegrass and many of our songs had Bluegrass roots. In 1991, Crossroads started a Bluegrass Gospel label called "Mountain Home Music," which has become one of the premier Bluegrass labels in the country. In 2005, I came off the road with the Kingsmen after 10 years traveling with them. Balsam Range was born in 2007 and the rest is history."
Claire Ratliff and Laughing Penguin Promotions is the public relations manager for Balsam Range. She describes the guys as "kind-hearted, playful and rock solid musicians." Claire commented, "All of these men are happily married with kids. It's so inspiring to see how they balance family, work and their passion for music." Tim said, "In Gospel music, the big goal is to get full-time on a bus. Bluegrass is a little different. It's more like play when we can and not wreck a good thing. Some of the Hall-of-Famers have been bi-vocational. We all have various jobs and we are thankful that our jobs give us the flexibility we need to travel and make music. It's a busy life. I just walked in the door after being at the studio all day and it's after 8:00pm."
"My favorite part is working up songs for the record and getting in there and digging up notes. I was there for the first through last note in the production of last album," shared Tim. "We have great instrumentalists and four guys in the band that sing lead and switch up harmonies. I arrange a lot of these songs and using all four voices on many of our songs. We do a few standard Bluegrass trios, as well. Our next record will be an all Gospel album." Tim shared that his two major Gospel influences are Squire Parsons and Jim Hammill. "Caleb and I have Southern Gospel roots, so this album will be a great project for us."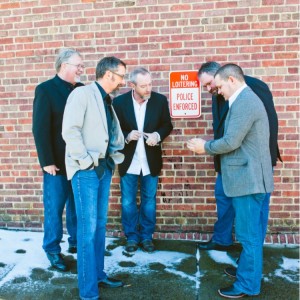 When asked to describe the personalities of each band member, Tim chuckled and said, "We are a diverse bunch of guys who share a love for music. I spend my days at Crossroads and I love to arrange and produce what we do. Darren is the social media guy, always keeping us in stitches over something crazy. Caleb builds guitars for a living and also has a great business mind. Marc is an old government guy and a geologist. He's the one the young musicians want to emulate. He's played with Ricky Skaggs, won a Grammy Award; he's done it all. Darren is the clown. He's a big teddy bear, and you never know what he's going to say or do. Buddy is very business-minded and quiet, but he's a terribly evil prankster. None of us ever see it coming! He keeps us organized and handles the business side of things, and keeps us all on our toes.
"One time, Buddy ran over a rattlesnake close to his home. He got out, got the thing and carried it around in the back of his truck until it was time to leave for the next show. He kept that thing hidden from us, but hauled it around everywhere we went just waiting for the right moment to coil it up and scare the bejesus out of Darren.
"Balsam Range was born from common values and roots between five friends from the same county. People ask us, 'Are you family?'   We simply tell them, 'We don't have family harmony. We have county harmony.'"
Though their music has branched out across the nation and beyond, the roots of Balsam Range will always be in the heart of Haywood County.
To learn more about Balsam Range, visit their website at www.balsamrange.com. Be sure to visit their Facebook page, as well, to stay informed on their latest news. Thank you, Tim Surrett and Balsam Range, for taking the time to allow the readers of SGN Scoops Magazine to get to know you!
By Marcie Gray
All photography courtesy of Claire Ratliff and Laughing Penguin Publicity.
First published by SGN Scoops digital magazine in March 2015.