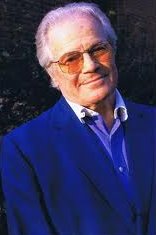 One of the great opportunities I have as I write these articles is the privilege to pay tribute to some of the long time Gospel artists. Recently, I had the honor of talking with Calvin Newton. Â Newton is 84 years young now. After talking with him for a little while, I was astonished to learn that he has been involved with Southern Gospel Music for an incredible 65 years.
While working on this research I was absolutely flabbergasted at the number of groups Newton has been involved with. Newton attended the Church of God Bible Training School in 1945 and began his career singing with the group Victory Four. After a short stint with them, he joined the Kingsmen Four. After Newton left school, the Kingsmen went on their own, with the great Wally Varner playing piano for them. In 1947, Calvin joined the Melody Masters with Big Chief Jim Wetherington, Lee Kitchens and the great Mosie Lister, who was later replaced by Jake Hess. Hovie Lister, after hearing the Melody Masters, suggested that they contact WFBC radio in his home town of Greenville S.C. They did that and got a regular show on the radio.
Newton recalls, "Money was so tight in those days, we all had to sleep in one room.'' He continued, "We only had two double beds and one roll-away bed. Every five weeks, we each had a turn on the roll-away."
In 1948, Calvin enjoyed singing with the famous Blackwood Brothers. This group consisted of James Blackwood, R.W. Blackwood, Bill Lyles and Hilton Griswold. In 1949, Newton wanted to go back and finish his high school. He moved to Richmond Kentucky, (where his parents now lived) and decided to enter Kentucky State Golden Gloves Boxing. Newton explains, "I was tired of getting beat up all the time." He obviously learned how to box, as he entered the Golden Gloves tournament and won the Kentucky State Middleweight Championship. Calvin recalls, "I fought in a preliminary bout which was on the same card as Joe Louis who was trying to make a comeback.'' Newton remembers telling Louis that he was a singer. He recalls, "Joe Louis told me to stick to singing as it was much safer.''
Also in 1949, he became part of the Crusaders Quartet. They were a regular part of the Renfrow Valley Barn Dance. Later, they relocated to Cedar Rapids and were regulars on a local radio station. In 1950 he had a nightly radio program on WRBL in Columbus, Georgia. They called the program Dinner Interlude.
In the fall of 1950, Newton moved to Macon to enroll at Mercer University. He enrolled in the ROTC program and sang with Deacon Utley's Smile a While Quartet, one of the Stamps-Baxter sponsored quartets. During this time at University, he lost college deferment. "I dropped out of the ROTC program because I was assigned to carry and beat the big bass drum when they marched. I didn't like that, so I left ROTC.   Shortly thereafter, I was drafted, so had to leave school for the Army."
After Basic Training, Newton went to Japan and served as a medic. He also served in Korea, and returned home in 1953 with an honorable discharge.
During 1953 to 1956, Calvin sang with the Oak Ridge Quartet, now the Oak Ridge Boys. This was with Wally Fowler, Bob Weber, Joe Allred, then came Cat Freeman, Bobby Whitfield, who was later replaced by Livy Freeman. Newton was featured on two hit songs, "Crying In The Chapel" and "I Believe."
In 1957, Newton joined what he refers to as "the best group there ever was." In March of 1957, the Sons of Song sang at Wally Fowler's All Night Singing in Birmingham. At the intermission, no one left as they wanted to hear this new group sing. Later they traveled to Los Angeles to sing at the World Church and were introduced to the owners of Sacred Records. There they were signed to record an album and met the legendary Ralph Carmichael. Carmichael produced their next two albums.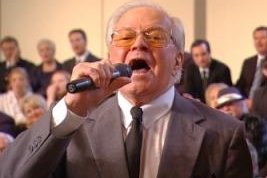 Calvin recalls, "In June 27, 1958 we had a horrible car accident. We were on our way out of Ft. Lauderdale while on our way to the DJ convention in Miami. Poor Bob was almost killed. I was the least seriously injured and slipped out of the hospital to sing in the Sons of Song's slot."   He continues, "I sang with my head all bandaged up. Later, I was in Marty Robbins' motel room, with a few other singers, when the police knocked on the door and escorted me back to the hospital."
After the accident, they tried to put the group back together. It wasn't until September of 1958 that Bob was able to come back, but by then Don had resigned to sing with the Sentinels. Les Roberson sang baritone with the group for a while. Bob left to sing with the Ambassadors, which was organized by Hovie Lister.
In 1960, they reprised the Sons of Song with Lee Kitchens and Bob Robinson. Calvin recalls, "With this lineup, we recorded out biggest hit, 'Wasted Years,' but it never achieved the popularity as the original group."
From 1960-61, the original Sons of Song got back together. Newton recalls, "We performed with Mahalia Jackson at East TN State University at the first racially integrated gospel concert. She asked if we would like to do a European tour with her, and we told her we would. But her health failed shortly after that and unfortunately, it never materialized."
From 1964 right through until 1988 the Sons of Song would reunite, disperse and reunite again several times. Calvin recalls, "We toured briefly with Jake Hess and the Imperials, but the 'higher-ups' told the Imperials to drop the Sons of Song tour." In 1965 on a tour, they met Doris Akers and spent some time with her in her home. Newton recalls, "There was a knock on the door one day and a neighbor advised Akers that the white boys should probably leave her home."
"That neighbor probably saved our lives," recalls Newton. "That's when the Watts riots began, and we got out before violence came to that neighborhood."
 Trying to put down in print everything that Calvin Newton has accomplished in his amazing 65 years of Ministry is next to impossible. The following are some of the awards and presentations, which Calvin Newton has received in his incredible lifetime.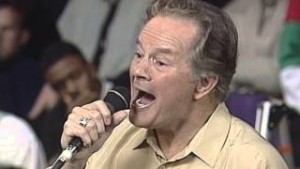 He was presented with the Living Legend Award by the Grand Old Gospel Convention in 1999.
He was honored with a special Courage Award by Solid Rock Productions in 2002.
He was inducted into the Gospel Music Association Hall of Fame twice. Once, as a former member of the Blackwood Brothers Quartet in 1998 and later, as a former member of the Oak Ridge Boys in 2000.
He was nominated for the Gospel Music Association Hall of Fame as a member of the Sons Of Song in 2008 and 2009.
Newton was honored to sing at the funerals of friends Dottie Rambo and Eva Mae LeFevre.
Calvin Newton was the subject of a biography, Bad Boy of Gospel Music, which has been nominated for three prestigious awards.
Today, Calvin and his wife Joyce live on Lookout Mountain, near Chattanooga, Tennessee and can be seen regularly on Bill Gaither's home coming videos.
Calvin would love to hear from you. Please email him at: joycalnewton@gmail.com
Facebook https://www.facebook.com/calvin.newton
Testimony http://www.youtube.com/watch?v=HfISkbm3cVg
Wasted Years http://www.youtube.com/watch?v=jgqf9lKWrks
Written by Philip Foster.
First published by SGM Radio website September 2013