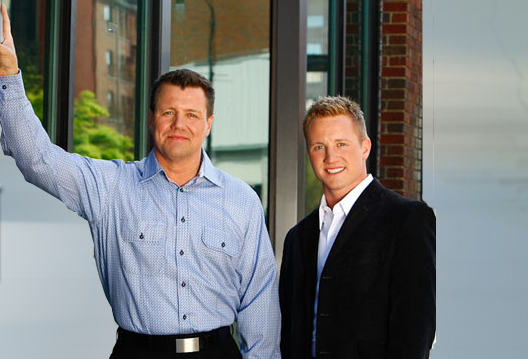 It was a crisp, cold, Canadian winter's evening when hundreds gathered at the Bethel Gospel Tabernacle auditorium in Hamilton, Ontario. They braved the night air to hear Wilburn and Wilburn from Gadsden, Alabama, a duo appearing in Canada for the first time. There was much speculation in the air. Did the former lead singer of the famed Gold City Quartet still sing with the same powerful conviction and range? Would his son have the vocal genes passed down from two previous generations of singers?
As Wilburn and Wilburn took the stage, still brightly lit with Christmas trees on this New Year's Eve, their listeners quickly put their questions aside and were taken in with the artists' enthusiasm during, "Let's All Go Down To The River," and "I'm Gonna Move." Jonathan Wilburn seemed at ease as he talked of his family and his pride in his son, Jordan. Jordan may have sounded like Vestal Goodman when he was three, according to Jonathan, but his vocal talents on "Had It Not Been," were mature and accomplished.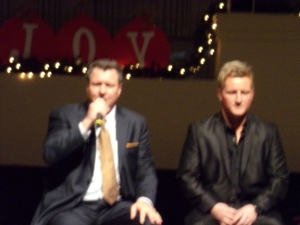 Jonathan thrilled the crowd with Gold City favorites like, "There Rose A Lamb," proving that his vocal capabilities were more than equal to the task, and even surpassing expectations with certain high notes in, "Midnight Cry." Jonathan gathered in his listeners with his singing and then spoke to their hearts with personalized preaching that left each one in no doubt of the power of God in their lives.
Jordan Wilburn showed his communication capabilities with songs like, "Help Me Help Someone," "A Man Like Me," and "Mary, Did You Know." The father-son duo infused humor into their program with a Bluegrass segment, and encouragement with "Jesus Will." Songs like: "I'm Rich" and "I Can't Even Walk Without You Holding My Hand," had the audience humming along and shedding a tear, the latter tune being this writer's personal favorite of the evening. One gentleman claimed he had lost almost five pounds just from crying throughout the program.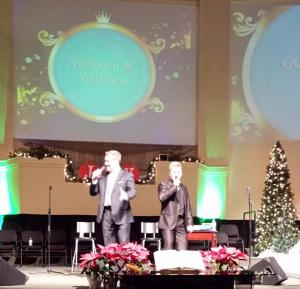 The crowd at the Canadian debut of Wilburn and Wilburn may not have known exactly what to expect on New Year's Eve, but all of their questions were answered with an evening of professionally-presented Southern/Country/Gospel music and personal testimony that spoke to each heart and soul. They were reminded of the exhortation in Romans 10:38, that 'they who call upon the Name of the Lord shall be saved," regardless of their situation. What a great reminder for the New Year!
Wilburn and Wilburn presented a well-rounded program with songs both new and old, showcasing seasoned vocal abilities that impressed the well-filled auditorium. This Canadian hopes that they will return in the future and invites everyone to visit their website to find out when you too will be able to experience this father and son, showing the way to the Father and Son. http://www.wilburn2.com/