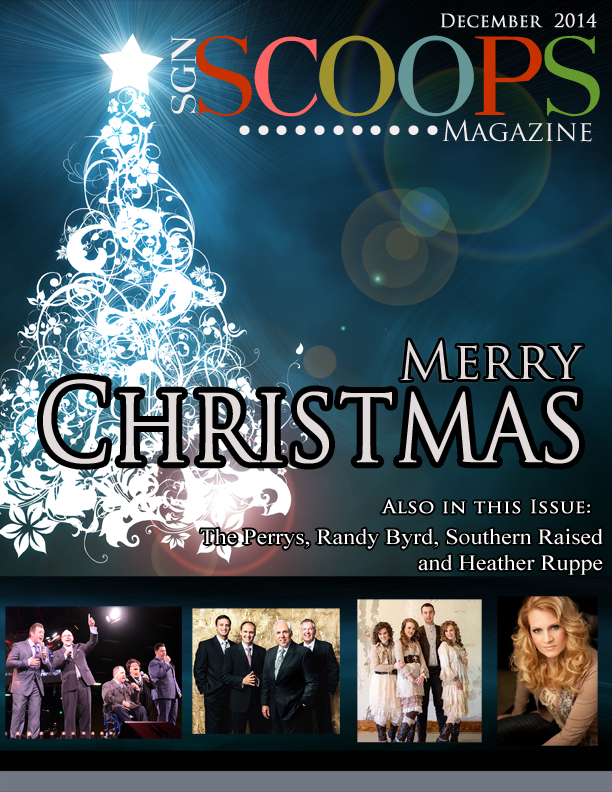 Merry Christmas from SGNScoops! We hope you are enjoying this special time of year. Take a moment to relax and share this gift we are giving to you this Christmas.
You will see from the wrapping that our December SGNScoops is full of special words from your favorite artists as they share their Christmas thoughts and memories.
We hope you enjoy the special features on the Purple Hulls, Bryan and Yvonne Hutson, Phillip Collingsworth, Randy Byrd of the Mark Trammell Quartet, The Griffins, Southern Raised, The Perrys, Heather Ruppe, The Preachers Kid Retreat and more.
Special Christmas memories are shared by the Chrisagis Brothers, the Hagees, Tim Duncan, Ann Downing and other artists.
Be sure to settle in by the fire and enjoy the articles by Lou Wills Hildreth, David Staton, Laurette Willis, Dr. Jeff Steele, Kelly Nelon Clark, Sherry Anne, Scott Rhoades and others.
We are thrilled to welcome Dusty Wells to our staff as he shares his own words of wisdom.
Please unwrap this gift and enjoy each part, specially made for you, cover to cover.
Thank you for being a part of our world as we shared our hearts with you.