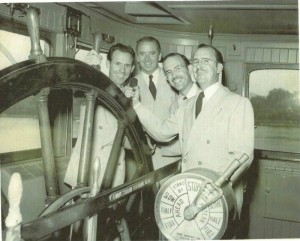 James Buford Abner was born November 10, 1917 to Dave and Ovelia Abner in Lineville, Alabama. He was the child of sharecroppers, and like many children in that part of the country, he was raised in a Christian home with lots of singing in the house. Also, like so many of his childhood friends, James was a part of a "Singin' School" every summer and spent many a Sunday at "all day singin' and dinner on the ground" events.
Like a select few other southern boys, his singing voice was his way out of the fields and into the world. 15-year old Buford joined his brother Merle in the Pepperell Manufacturing Company Quartet in Columbus, Georgia.
Both Abner boys stayed with that quartet until they left to join their Uncle Stacy in the Vaughn Four on WNOX radio in Knoxville, Tennessee. By 1938, the Abner boys and Billy Carrier formed what they named The Swanee River Boys. The new quartet used their smooth sound and musicianship to land a job at WDOD radio in Chattanooga, Tennessee where they became part of an entire network of radio stations in the South. The quartet became popular quickly throughout the Southeast.
Not only did Buford find fame and recognition, Chattanooga was where Buford found the love of his life. Dorothy Jean Dalton was singing with her sister Mildred as the Sunshine Sisters along with famous country entertainer Archie Campbell on the same radio station. Buford and Dorothy got married in 1941, and had a daughter, Pamela, in 1943.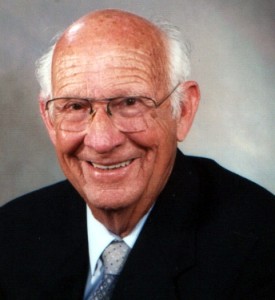 Also in 1941, The Swanee River Boys moved to Atlanta, where their program "The Little Country Church" was aired on 50,000-watt powerhouse WSB radio. Their smooth, rhythmic style and flair with black spirituals got them booked into black churches to sing, where they were quite a pleasant surprise to the congregations there, proving that music can be a bridge between black and white, young and old, and rich and poor alike.
But The Swanee River Boys didn't sing only gospel music. Like many of their contemporaries at that time, they also included popular, folk, and western songs in their programs, in addition to their gospel quartet numbers and the black spirituals they so excelled at. In the early 1940s, it was estimated that about 52% of their songs were gospel or religious in orientation. They also mixed comedy routines in with their music, making them just as suitable for schools and civic organizations as for churches and concert appearances. They exemplified "family entertainment" at its best.
But still, The Swanee River Boys loved their gospel music best, and with Buford's many original songs and innovative vocal arrangements, they were always a major force and influence on gospel quartets.
In 1943, WW11 caught up with the guys.   Merle and Buford Abner entered military service.   Once their military obligations were finished, Buford and Merle were reunited with Billy and George in Atlanta, and the original Swannee River Boys were back in business.
After a few months the group decided to leave Atlanta for greener pastures. Â  They auditioned at WOWO Waterloo, Iowa, but to their great surprise, were told that they were too good for them! Â  They accepted a job at WLW Cincinnati and were on both radio and television programs. They did a mix of Gospel and secular material, depending on what the show at the time called for. They also provided backup for other singers at the station.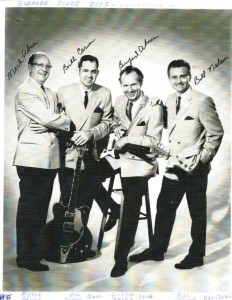 As I was working on this article, Bill Nelson of the Swanee River Boys contacted me with some information that Dorothy Abner and Pam Abner Starkey sent him. Â  I would like to share with the readers some of the information that was sent to me. The following is part of what was sent me by these ladies.
"First of all, we want to thank you for your support over the years for Buford Abner and the Swanee River Boys! Buford passed away in November 2011. Your kind expressions of sympathy have meant so much to all of the family. You will never know to what extent your interest and support meant to him.   We miss him so much. He is always in our thoughts, but we do not grieve as those who have no hope! We know we will see him again in Heaven. Meanwhile we go on with our lives as God leads us.
"Now get ready for a nice surprise! We know you like good harmony and easy listening. In going through Buford's briefcase, we came across some recordings form the past, done by the Swanee River Boys on 78 and 45 rpm records, around the middle of the 50's. These recordings were transferred onto CD by our good friend Mike Bailey. The CD is excellent quality.  
"Now for the next exciting news! We also found recordings of the first quartet made in the 1940's, when they were on WSB radio in Atlanta.   They were sent to St. Louis to record several episodes of the Checkerboard Radio Show. That first quartet was made up of Merle, Buford, and Billy Carrier, and George Hughes. They were together 14 years. This recording is what made the Swanee River Boys unique. Four part harmony, sung as one voice.   Perfect timing. We are sure you will be amazed at the closeness achieved by these four men.   The CD is available now, and the title is Remembered Treasures. Thank you again for your kind thoughts, prayers and support."
I want to thank Dorothy Abner and Pam Abner Starkey for their involvement in this article. I encourage the reader, to take advantage of this wonderful news and order this great music.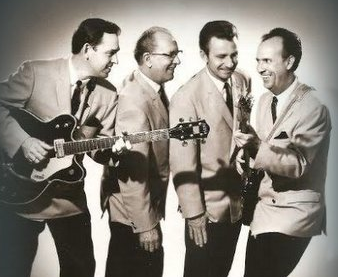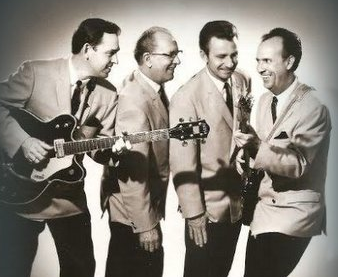 Like any great artists, trying to put in a few words the sum of all the years they ministered is impossible. In a way it almost seems unfair to sum up a person's life and career in a few short paragraphs.   One of the songs that the original Swanee River Boys performed was Drifting Too Far From the Shore. If you find this on You Tube, you will hear some amazing tight harmony, that is second to none.
These original men of God are all gone now.   We can all help to keep the memories alive! These CD's can be ordered for only $10.   A DVD is also available.   (It is a compilation of 13 television shows in the 1970's and it is only $15.)
Please see the information below on how to order:
Dorothy Abner and Pam Abner Starkey c/o SRB Promotions
1609 Country Road 129, Wedowee, AL 36278-7270
Email: PAMGS@aol.com
Swanee River Boys reunion 1989 www.youtube.com/watch?v=REG8ll_DPA4
Written by Philip Foster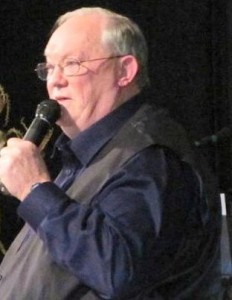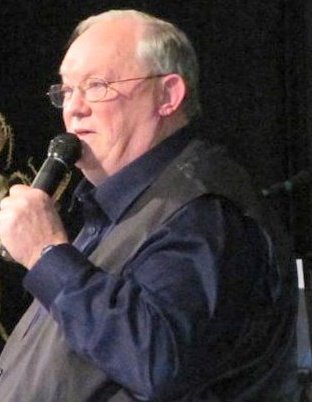 Questions? Comments? Email Phil at prossfoster@gmail.com