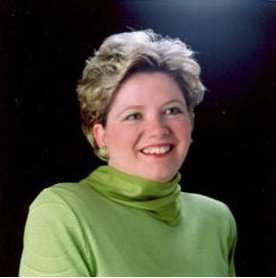 "Let the Lord lead and guide your life and your ministry will make way for itself." (1)
The first time I saw and heard Rhonda Spurrell was in Kingston Ontario.  My wife and I had traveled to Kingston, Ontario, to hear the Talley Trio in concert.  I'm guessing it was in the mid to late '90's. Rhonda was on the program and when I heard her perform, I became an instant fan! It was also the first time I heard Rhonda's classic song, I Just Want to Make a Mark. I have told Rhonda many times that her song is one of my very favorites. She sang it during a time in my life, when I needed to make some changes, spiritually speaking.
When Rhonda stepped on that stage and started to sing, I remember sitting there probably with my mouth wide open in amazement at what was coming out of this young lady. When I first heard her I compared her to Vestal Goodman, sort of, as both women have remarkable power to belt out a song, but honestly, Rhonda has her own style and delivery of a song.  It makes her quite unique.
Since that day to present, Rhonda has been a good friend of mine. When I was doing concerts, Rhonda graciously agreed to come to Peterborough and was on the same program as Perfect Heart. Over the years, I still have people commenting about that concert and that wonderful soloist.
Rhonda is an American living in Verona, Ontario. She was born in Dexter, Maine and because her dad was a minister, she moved around quite a bit and eventually moved to Ontario.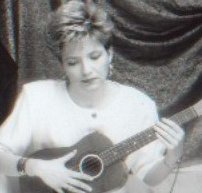 I asked Rhonda how old she was when she first started singing. She replied, "I was two-years-old when I first starting singing with my dad." She continued, "I think I was four- or five-years-old when I first sang publicly. I had a little guitar and sang with my folks in church." Rhonda comes from a musical family. When asked if anyone else in her family was musical, she replied, "We all are, from the oldest to the youngest on both sides."
Rhonda has been singing and evangelizing for about 29 years now. She has quite the impressive resume. Rhonda has worked with Bill and Gloria Gaither, the Gaither Vocal Band, The Talleys, the Hoppers, Russ Taff, Michael English and many more.  As she travels and ministers, Rhonda shares her testimony of living with a neurological disease called Myasthenia Gravis, which can impair muscle function and speech. To think that Rhonda can travel and minister with this challenge is genuinely amazing. Her testimony of how God has brought her through all the different medical procedures and continues to use her is quite remarkable.  Rhonda goes for regular treatments for her ailment, which really take a toll on her. It just adds to the miracle working power of God that allows Rhonda to keep ministering as she does.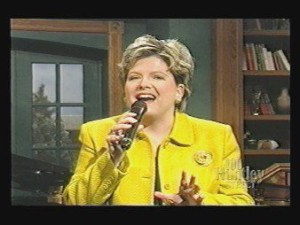 I asked Rhonda, if she had any role models growing up. "I would have to say, that Evie Karlsson's music and ministry had a huge effect on me. Through her music I was able to find my gifting. Also, Dottie Rambo [was a model] for her song writing. She was one of the best! I was fortunate enough to hear her when I was just a child and then to actually meet her years later and have fellowship with her which was amazing!"
When asked if she had any favorite singers, Rhonda replied, "I have many favorites; Ella Fitzgerald to Andrea Bocelli to Evie and Dallas Holm and many more." Rhonda keeps herself busy when she is not singing.  "I love photography" Rhonda explained, "And cooking, sewing, crafts and writing." Rhonda loves many styles of music, but in particular, music by Andrea Bocelli, especially his rendition of Sognare, which Rhonda explains; "It means dream and whenever I hear that, it's what it makes me do!"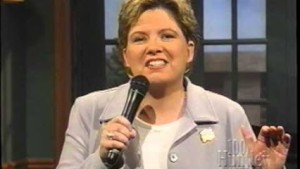 When I asked Rhonda if she had any advice for anyone who may want to pursue a career in Gospel singing, she had this to say: "Sing in your church, because doing that makes you a gospel singer. There you will be able to grow spiritually and musically with people who love you. Let Jesus be first in your life, put Him ahead of everything, music, dreams etc. His plans for us are always the best! If it is meant to be, it will be."  When I asked Rhonda, if she had any hidden talents, that perhaps the public may not know, she laughed and said, "I'm pretty good at impersonations."
Gospel Music icon, Henry Slaughter had this to say about his friend Rhonda. "Rhonda Spurrell is one of the most talented people I've ever met and we have a friendship as well as being comrades in the world of gospel music. One has to be very impressed with her talent as a singer, which is tops. Then her gospel song writing is of such quality no publisher would ever ignore. But most of all, she sings from her heart of what is her heart and passion, and that is the Lord Jesus Christ, His (and our) heavenly Father and Spirit. One of the biggest mysteries I have encountered in this world of gospel music is why she did not become a 'super star' for the entire world to know and to hear. But, I am confident the Lord led her in all He wanted her to be and that is "to make a mark in the world for Him," and that she has and continues to be and do….. From one who will have to be challenged if I am not her biggest fan and admirer; and she is my sister in the Lord…and that makes it just great!"
With Rhonda's busy schedule, she still found time to graduate from Trinity Seminary and Bible College in Newburgh, Indiana, with her Bachelor of Arts Degree, in Biblical Counseling.   Rhonda is a qualified Christian Counselor and also volunteers at Hospice Kingston as a spiritual care counselor, as well as working part-time for Youth for Christ in Kingston. Rhonda has several recordings to her credit, including her award winning song "I Just Want To Make a Mark." Rhonda received a songwriting award from Christian Women in Media Association in Nashville, TN for "I Just Want to Make a Mark" (2)
I know Rhonda would love to hear from you.   Visit her webpage, and order some of her anointed music or email her at the link below.
For more information on Rhonda visit: http://www.rhondaspurrell.com/
See Rhonda on Facebook at: https://www.facebook.com/pages/Rhonda-Spurrell
Email Rhonda:Â  singergal1964@aol.com
https://www.youtube.com/watch?v=5HFsQpnhK4U I just want to make a mark
https://www.youtube.com/watch?v=6sPRnn-kdE8 He can heal your heart
(1) Rhonda Spurrell
(2) Rhonda Spurrell website
Questions? Comments? Email Phil at prossfoster@gmail.com
Written by Phil Foster