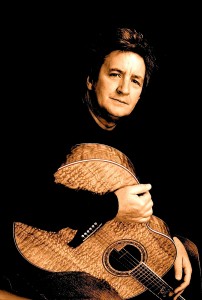 Bill Gaither's Homecoming Friends have introduced many artists to a distant audience who might not otherwise be aware of their music. One such artist is Grammy and Dove Award nominated singer and songwriter, Woodrow Wilson Wright, known to his fans as Woody Wright. When Woody first appeared on Atlanta Homecoming in 2001, he had been performing for almost 30 years and was a much sought-after songwriter. Woody was also a part of Ponder, Sykes and Wright, a Dove-nominated trio whose country-edged harmonies blazed a trail for many. Wright today is still writing, singing and traveling across the world with his wife Vonnie, spreading his music and words of inspiration, hope and encouragement.
Woody Wright came by his love for music honestly, as his house was always filled with Country and Bluegrass music and his Dad was part of a Gospel quartet. Wright soon began learning the ropes. "My dad and I played guitar together at our home before I started school," says Woody. "I remember singing at my Dad's Dixieaires Quartet church concerts and auditioning for the Arthur Smith Show as a little boy. I remember singing on the Cas Walker television show in East Tennessee too. I sang country songs from the Louvin Brothers and Gospel songs."
Wright's love for harmony singing and musical performance was birthed early and he soon put together his own mixed trio, The Woody Wright Singers. The group consisted of Wright and two girls, as well as a three-piece band that included Nashville studio guru Gary Prim on keyboards. These teenagers sang together until College forced the members apart, and Woody went on to join Fay Sims and the Scenicland Boys, his first paying job as an artist. The Scenicland Boys had a local television program and traveled in the southeast. Wright was thrilled to be a part of the Boys even though money was tight. "At that age, we really didn't care so much about the money, because Daddy Fay always had a nice Silver Eagle to ride on, and we worked with the top quartets of the day.  Besides, how much money does an 18-year-old Gospel boy need?" laughs Wright. "Like today, we did auditoriums, churches, even the front steps of Fay Sims' used car lot!"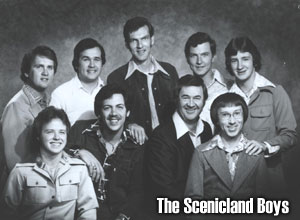 "I made friendships in that group that have lasted until today," says Wright. "And they will last as long as life! Tenor Jim Cash has been a blessing to me through the years, and to see Daddy Fay still out there singing is such a blessing. I also loved being a part of a live band. In this generation of tracks – I often yearn for the chance to play in a quartet band again." Wright went on to play bass and sing baritone for Willie Wynn and The Tennesseans. David Ponder and Michael Sykes joined the group in 1979, beginning a special type of harmony and friendship with Wright that would last through decades of changes. Life and career changes prevented the trio from releasing an album until 1998, during which time Wright performed with country band Memphis and Matthews, Wright and King. He then worked on Prime Time Country, which was the Nashville Network flagship program, before touring with Ponder, Sykes and Wright.
Woody Wright is still close with David Ponder and Michael Sykes. "We bat around the thoughts of a reunion of some kind about every year," says Wright. "David Ponder has a great group called Alabama Revival out in Branson and of course Michael Sykes has his own Production Kingdom. I stay extremely busy traveling with Vonnie, writing songs and producing Good News Music Radio every week. Someday when our respective worlds spin a bit slower, I feel confident we will reunite for a concert, or tour, or who knows, maybe another CD release. They are like blood, and I know they would love to do it again just as badly as I do!"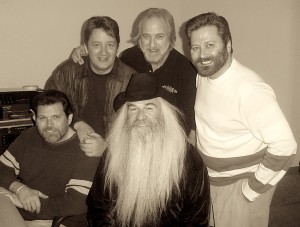 For the last decade and more, Wright has appeared on Bill Gaither's Homecoming Friends videos and can be seen on almost every dvd since Atlanta Homecoming was released in 2001. "I sort of came in the back door, as I worked in the Gaither Nashville office as Director of Publishing, representing the great Gaither Music song catalog to the Nashville community," Wright explains. "During that time, I was blessed to write songs with Bill and Gloria. Many of them wound up on the Gaither Video releases. Also, I was a part of the Homecoming Studio Choir and sang the guide vocals for the video track sessions. That is how Bill became aware of my vocals and found the first feature for me on the Atlanta Homecoming, singing 'Daddy Sang Bass' with JD Sumner, Buddy Greene, Sonya Isaacs and the Homecoming Friends. Wow! What a great day that was. Over 35,000 folks at the Georgia Dome, and I sang the downbeat!"
Wright thoroughly enjoys the Homecoming times of getting caught up with artist friends. "Of course, the tapings [are great]," says Woody. "But the fellowship before, the rehearsals, the meals together, all that is so special because we really don't get to see each other nearly as often as we would like. To catch up on kids, family stories and passing around the latest jokes are truly special times."
One Homecoming friend and fellow artist, Karen Peck Gooch of Karen Peck and New River, is also a big fan of Woody Wright. "Woody Wright is one of the most unique and talented singer/songwriters in our industry," says Gooch, whose group recorded "More Than Ever", written by Wright. "He has a special way of communicating the love of Christ to audiences everywhere. It's an honor to know Woody and to call him 'friend.'"
Scott Fowler of Legacy Five also appreciates Woody Wright's ability to communicate the love of Christ in his songwriting. "As a singer, I am always on the hunt for good songs," says Fowler. "Fast songs that actually say something seem to be the hardest ones for me to find. It seems so many writers just use worn out old clichés on fast songs. It seems like they spend more time trying to get the rhythm than getting the lyrics right. The two up-tempo Woody Wright songs Legacy Five has recorded actually say something, in my opinion. 'My Soul Is Firmly Anchored' as well as 'In A Million Years' are both really well written up tempo songs." Wright has written a number of songs recorded by artists in the Gospel field, including "I'm Gonna Sing" and "More Than Ever", Dove-nominated songs by the Gaither Vocal Band. Several Wright songs have also been included in the Gaither Video Series.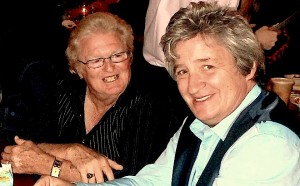 Deep friendships have been forged during these Gaither Homecoming tapings and special times that Wright won't soon forget. "It was bittersweet for me after Bill Gaither, Michael Sykes and I stopped in to see Vestal at her home in Nashville to pick up a coconut cake she had made for Bill," recalls Wright. "We sang around the piano, looked at classic photographs, laughed and had a blast. We didn't know that those would be Vestal's last songs. She left the next day for Florida, where she became ill and began to 'Walk The Dark Hills' with the Savior she sang about all her life."
Wright is enthusiastic about the artist he has grown to respect the most during his career. "Hands down, Jake Hess," exclaims Wright. "Most folks don't know that Jake performed the last 15 years or more with only 20 percent of his heart capacity.  His energy, even the last time I saw him sing, was electric and wonderful. My time on the road with him and the backstage moments on the Gaither Tour are precious memories for me. He shared highs and lows of his music business past that I wish I had secretly recorded, as I would love to hear them again and again!"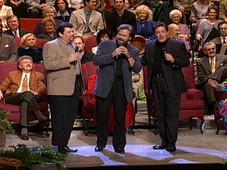 Many of the Homecoming Friends have passed on to Heaven since the beginning of these recordings, some of whom Wright knew as close friends. "Losing my best buddy Stephen Hill in August was a blow I am still trying to deal with," Woody shares. "But his Memorial Service with over 80 Homecoming Friends and Nashville Singers was no doubt the best concert I was a part of in 2012. A somber occasion turned in to one of the wildest musical, comedic and spiritual events I have ever attended!"
Along with the Homecoming Friends tour, which takes Woody Wright across the world, Woody now travels extensively with his wife Vonnie as well. Recently returned from a trip to the Netherlands, Sweden and Norway, the couple has a full schedule in 2013. "There are a few great things I am looking forward to," says Wright. "First of all, Vonnie's first solo CD will be released! Secondly, there will be a project released that Suzanne Jennings and I started a dozen years ago called Circuit Rider that will feature songs that Suzanne and I wrote, and some she wrote with Michael Sykes and her brother Benjy. The vocals are done by Russ Taff, Buddy Greene, William Lee Golden, Lynda Randle, Guy Penrod, Judy Martin, Charlotte Ritchie, Tanya Goodman Sykes, the Isaacs, Reggie Smith, Joy Gardner, Michael Sykes, Benjy Gaither, and, well, ME!" laughs Wright. "It is a concept project paying tribute to the Circuit Riding preachers of the mid 1800's. I cannot tell you how excited I am about this project!"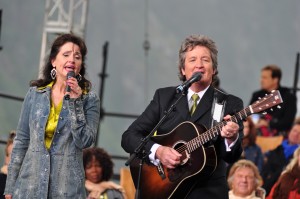 Woody Wright's most recent project is tagged as a 'Collection of Positively Wright Music'. "Cover to Cover is a collection of songs that I have loved since they were released in the seventies," Wright explains. "It is amazing how these country and pop songs preach! I do so much writing and it is difficult to ask an audience to sit through a program of songs they have never heard. So, this kind of scratches two itches at the same time. I get to sing some of my songs and some of the songs I loved in my teens." Some of the songs include: "Try A Little Kindness", "I Can See Clearly Now" and "Get Together."
Collecting the songs for Cover to Cover was a time for Wright to reminisce, which he does again now as he thinks about artists he has worked with over the years, folks who have shown him friendship and support. "Working with Reba McEntire was great," says Wright. "She is so personable and kind. All of the Oak Ridge Boys have been a great encouragement to me since my first Nashville recordings in the early seventies. But of all the folks I have had the honor to meet and work with, Little Willie Wynn has been my constant friend, confidant, cheerleader, encourager and just an absolute wonderful friend. Willie is known as the 'Man With A Million Friends' and I am blessed and thrilled to call him mine!"
Another of Wright's friends in Gospel music is Kenny Bishop. Woody Wright produced and wrote three songs for Bishops's 2006 self-titled album, which was nominated for a Grammy award that year. "Everyone knows Woody as a singing songwriter," says Bishop. "They see him on television and on the stage. They hear his distinctive voice and songs on the radio. I'd love for them to know him as I do: the producer/arranger who motivates and inspires the artist in the studio and creates incredible records that reach across lines and find hungry hearts. In the studio Woody always reminds you of your audience. For me he has been a cheerleader, a mentor and a spiritual shoulder."
Wright has worked in the studio with many artists, being a cheerleader and encourager for singers across different genres. He has also performed with many artists in the Country and Gospel field, including some who may be called a success in the eyes of the world. However, his definition of the word may differ from some. "It is easy to see who has made a lot of money in the music business. It is easier to see who has lost a lot!" Wright continues, "But I think real success in music is happiness. If a musician, singer, songwriter, technician, whatever, can work hard to present the message with excellence and be happy to continue, in spite of mountains and valleys, that is success."
Woody Wright can definitely be seen as an artist who presents his Message with excellence and he strives hard to stay grounded despite the trappings of the entertainment industry. Wright studies the Bible and says, "At the moment, I am trapped in the book of James. I think if I can master the guidelines in that tiny book, I might move on to another one!" he laughs. "Seriously, the principles and down to earth teachings of the book of James are my guide. God help me to listen and respond to the words of our Lord's brother, a real voice of the early church. There is so much I have missed all these years, tucked away in this precious jewel of a letter!"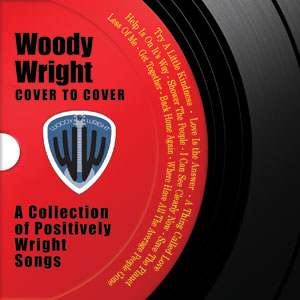 As Woody and Vonnie Wright continue with their busy touring schedules and spreading their words of Gospel of Christ around the world, they are touching many lives with love. Wright isn't caught up with the need for success but does have one wish for how he is remembered by others. "I would hope someone will say, 'He really encouraged me at a time I needed it.' Some are super evangelists; that is obviously not me. Others are teachers and preachers; nope, not me. But I can say from experience to anyone who will listen that God has a wonderful plan for our lives. If we renew our minds every day and seek His face and set our thoughts and minds on Him, first He will perfect our heart's desires, then turn around and give them to us!"
For more information on Woody and Vonnie Wright, please visit http://www.woodywright.net/index.php
See Woody Wright also on Facebook at http://www.facebook.com/woodrowwright
Good News Music Radio with Woody Wright http://www.goodnewsmusicradio.com/
For more information on Kenny Bishop, visit http://kennybishop.com/index.htm
For more information on Karen Peck and New River, visit newriver@windstream.net
For more information on Legacy Five, visit http://www.legacyfive.com/
All photographs courtesy of Woody Wright
Originally published in SGN Scoops, January 2013. www.sgnscoops.com
By Lorraine Walker