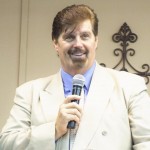 Ed Crawford is a name synonymous with Southern Gospel music. A decade with the Kingsmen ensured his entry in the annals of quartet history and almost forty years of group and solo ministry have produced an artist whose voice has touched hearts across the country. After Crawford's departure from The Mystery Men, the group he co-founded in 2002, many fans and friends have been wondering when they will again experience the music of the "Gentle Giant of Gospel Music". SGM Radio recently caught up with Ed to discuss his solo travels as he returns to the Southern Gospel road.
"The last ten or twelve months have been a time of reflection and evaluation of where God wants me to be," Crawford begins. "I have found new direction and new inspiration to effectively move forward with His plan in mind. The biggest news of the last several months is the signing of a recording contract with Regal Media Group. I have also been busy with seven new CD projects and a video.  I wanted fresh projects for my concerts, so I've been working hard to produce new material for friends and radio."
Crawford is excited about his new music and solo ministry. His schedule is filling up and his audience is enjoying this new phase of his career. "The new single, 'I Give You My Life', is from the project Still Going On, and is currently being played on many radio stations across the country under the promotional direction of Jan Puryear. From all accounts, Jan is very excited about the response to the new release. Each project has a special place in my heart, some with songs I have written, others with classics that I have sung and some with new songs from other writers."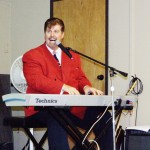 "The most recent project entitled Timeless Treasures, is unique within itself," Crawford continues. "On this CD, I have gone back to many of the songs that I grew up with and that people will remember. With the help of Regal Media Group, Eddie and Linda Swann, I am most excited about the response the project is getting.  The DVD is a culmination of songs from all the projects."
Fans have enjoyed Crawford's voice for decades and his unique vocal ability as well as his warm, congenial stage presence opens the hearts of his audience to the timeless message of the Gospel. When asked to define his vocal style, Crawford says: "One of the great compliments of my career came from Hovie Lister when he said, 'Because you have a very distinct and identifying voice, you don't sound like anyone except yourself.'"
"I have had many influences like Jim Hamill, Eldridge Fox, Jake Hess, and Kenny Hinson, to name a few," Crawford continues. "Over my career of nearly 40 years, I have been blessed to share the stage with many legends of the Gospel Music Industry.  My intention is not to elevate myself to their level, but merely to find my place among them. Perhaps my greatest hero is Squire Parsons, whom I have known since childhood as both of us grew up in the hills of West Virginia. Not only do I admire him as a personal friend, but in many ways, my career path has followed that of his."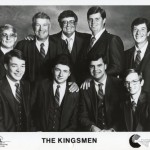 Ed Crawford and Squire Parsons both followed quartet involvement with a solo career and both have found their niche in presenting songs with a traditional flavor and a solid message of the love of God. Crawford did some solo work before forming The Mystery Men, so this type of ministry is not foreign to him. He loves the quartet sound however, and the ending of The Mystery Men was a painful period in his life.
"With the demise of the group and the legal retirement of the name, 'The Mystery Men,' 2011 was perhaps the most difficult year of my life and certainly of my career," shares Crawford. "Those unexpected changes left me emotionally, professionally, and even financially devastated.  I founded the group which was a dream of mine and which was sustained for most of the group's years by me investing all of my heart, much of my personal finances, and the wealth of knowledge I brought to the table from nearly a lifetime of experience in Southern Gospel Music."
"To say that I was attacked personally as well as professionally would be very true; and the price of that attack was my livelihood," Crawford continues. "By no choice of my own, those circumstances left me feeling as if my dream had been robbed. That devastation along with the reality of feeling abandoned by those I thought were my friends was at times unbearably painful."
Crawford has found that even in painful times of feeling forsaken, God is faithful. "In my efforts to refocus and rebuild, and in attending to my goal of relying on God to take control of my life rather than Ed Crawford, I am finding that things seem to always work out. After all, His plan is always better than ours. I am very thankful to the friends and family who have stuck by me during this time of healing."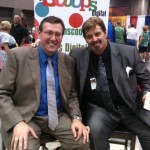 "Frankly, I have to stay, in going forward, I now realize that focusing only on the ministering aspect rather than the entertainment aspect has been a breath of fresh air," says Crawford. "To sum it up, there are many things and perhaps people that Satan could have used to destroy me, but God has the last say. He has shown me clearly, in spite of it all, my mistakes included, that He has a Master plan and a divine purpose for my life.  In going forward, I will let him orchestrate my life because that plan is what I intend to follow.  That is my new dream."
New dreams can be sometimes be difficult to work through, but Crawford has learned a few hard lessons that will assist him in the days ahead. "I think any time one enters into a new phase of life, an important goal is to reflect and learn what pitfalls to avoid and how to avoid repeating mistakes," shares Ed. "Overall, however, my goal is to remain focused on the positives and rather than relying on my own wisdom, allow God's wisdom and direction for Ed Crawford Ministries to remain the guiding light for my direction."
God can use our difficult times to help us gain wisdom for future trials, and also to enable us to become more empathetic when others face life's hard moments. Crawford has found this spiritual truth to be real in his circumstance as well. "I would say this to encourage others who might be facing incredible challenges: Surround yourself with people who know your worth," says Crawford. "You don't need too many people to be happy, just a few real ones who appreciate you for exactly who you are.  And, I would also pass on something that was told to me during my own struggles: 'If you can't fly, run.  If you can't run, then walk. If you can't run, then crawl.  But whatever you do, you have to keep moving forward.'"
"The main goal of Ed Crawford Ministries is summed up best in a mission statement," continues Crawford. "Psalm 28:6-7, 'Blessed be the Lord, for He hath heard the voice of my supplications.  The Lord is my strength and my shield.  My heart trusteth in Him and I am helped.  Therefore, my heart greatly rejoiceth, and with my song will I praise Him.' With this mission statement in mind, my goal, therefore, is to spread the Name of Jesus through evangelism and song.  It is my mission to bring salvation to the sinner, comfort to the lonely, and to uplift the downtrodden."
To fulfil this mission statement, Crawford realizes the importance of keeping a fresh, constant relationship with the Lord. He says it is vital to immerse your mind in Scripture. "In the business end of the Gospel music world and even in evangelism, always having a fresh approach can sometimes present a challenge," says Crawford. "I first look to the direction of 2 Timothy 2:15, to keep me focused on staying in the Word, 'in order to be found a workman for God able to rightly divide the Word of Truth.' Aside from staying in the Word, I make it a priority to find time to be ministered to rather than always ministering.  I do this by learning from other pastors, listening closely to the Biblical perspectives of others, and mostly by nurturing my personal relationship with God through all of the above."
Crawford is aware that the local church is a main source of ministry and instruction for both the layman and the minister. Ed Crawford Ministries has been working closely with local churches and the work of the church is close to his heart. "The Bible plainly tells us not to forsake the assembling of ourselves together," says Crawford. "But when difficulties arise, it seems many people choose that time to disengage from their local church body.  Perhaps it is easier to stay home, but to do so removes the opportunity for one to find out the importance of being with the local church family, which is simply that: they are family. They share our ups and downs, our good and bad times, our difficulties and even our mountaintops.  With that said, I am happy to say I have a wonderful church family who has embraced me not only through my difficult times, but throughout my lifetime and I remain as actively involved with them as my ministry will allow me to be, and will continue to do so."
As Ed Crawford resumes his solo concert schedule, he realizes that the difficulties of the past have also been a time of learning and personal growth. His focus has shifted somewhat from the quartet stage to an individual ministry that reaches the hearts of listeners. "In seeking God's wisdom and direction for my life, I know without a doubt the heartbeat of Ed Crawford Ministries is to reach out to smaller churches who might otherwise seem forgotten.  While this may be a concept not necessarily shared by others, my desire is one thing, and one thing alone: to be in the center of God's will with His stamp of approval.  Realistically, His approval is the only one that matters."
For information on Ed Crawford's schedule and product:
On Facebook: Â http://www.facebook.com/ed.crawford.5