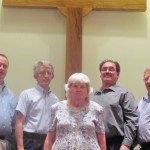 North Carolina, whose mountains are home to so many gospel artists and singers of all genres, is also the birthplace of Faithful. This part-time mixed group based out of Lenoir, consists of lead singer Ricky Greene, baritone Bryan Greer, bass Larry Osborne, alto Pat Osborne and Stephen Widener singing tenor. Stephen, great-nephew of bluegrass/folk great Doc Watson who recently passed away, shares the story of Faithful.
"Faithful began in December 2010 when two guys who work together were walking to the break room singing Christmas carols," shares Widener. "A couple of women commented that the guys should sing for them, so Bryan and Larry agreed and sang two songs. The ladies were impressed and requested that they do it again. So the guys decided to get some help and form a group." The men formed a trio with another friend and returned to sing for their co-workers as a trio.
"I was invited to sit in and listen to them and give advice," Widener continues. "They had a good sound but needed some harmony and that's where I came in. It wasn't until a few months later after we sang at our first church that we decided on a name, The Faithful Four." Later in 2011, after personnel changes, the group became a mixed octet and renamed themselves Faithful. "The real reason for the name Faithful, is not that we're faithful, but God is faithful," says Widener.
Faithful shares their hearts with SGM Radio as they discuss the group, their relationships and their goals, as they reach out to others with the ministry of Southern Gospel.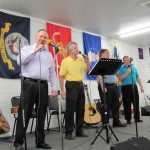 SGM Radio: "What are your favorite things about each group member?"
Ricky Greene: "Bryan is good-hearted, loves the Lord and loves to sing. Stephen is a good, strong Christian who also loves to sing. Larry is a good organizer, but he's a Duke fan, so the other three of us who are Tarheel fans give him a very hard time. Pat sings from her heart."
Bryan Greer: "Larry brought the group together and is serious about the ministry. Ricky is always upbeat. He has a beautiful voice and is fun to be around. With Stephen, his love of God always comes out in his singing. Pat is great because she always feeds us homemade tea and cookies or cakes at practice. Plus, she loves Christ."
Stephen Widener: "Larry takes care of the business end and keeps everything in focus. Ricky, besides being a Tarheel fan, has a great voice and is always smiling no matter what. He's fun to be around. Bryan has a desire and willingness to sing and is always ready to go. He's not ashamed of Jesus! Pat expresses herself well through her songs. She can cook very well too!"
Larry Osborne: "Bryan is a big teddy bear and very kind hearted. Stephen is professional and has made the group better in many ways. He always has constructive comments and his guidance has helped the group tremendously. Ricky just loves to sing, anywhere, anytime. Pat is my wife and helps make good decisions about the songs and who should sing them."
Pat Osborne: "Bryan sings from his heart. Stephen is quiet, but when he speaks, everyone listens because he knows what he's talking about. Stephen's input is very important to the group. Ricky is the clown of the group. Larry, well, I'm married to him. He keeps it together."
SGM Radio: "What are your favorite gospel songs?"
Ricky: "'He Saw It All', because it brings back memories."
Stephen: "'What a Day That Will Be', because I love the words. God bless Jim Hill."
Bryan: "'Midnight Cry'. It tells what's happening and what's coming."
Pat: "'Ask Me Why'. It's the gospel in a nutshell!"
Larry: "'Thanks to Calvary' because it's my personal story."
SGM Radio: "What are some of your most challenging moments?"
Ricky: "It is challenging to keep Bryan and Stephen awake long enough to make it to practice."
Stephen: "Putting five people on a five-foot-square stage and trying to perform live."
Bryan: "It is challenging to choose the songs to sing and when and where to sing them."
Pat: "I agree; it is a challenge to choose the best songs."
Larry: "I find it challenging to try to arrange the practices and performances so everyone can be there."
SGM Radio: "What have been some of your most entertaining moments as Faithful?"
Faithful: "One of the most entertaining moments was when Bryan stepped up to sing out front during practice and we slipped out of the room to hide. Bryan will shut his eyes sometimes and this was one of those times. He didn't notice that we were gone until the chorus and he opened his eyes. It was priceless!"
"Another very entertaining moment was when Ricky said we should sing a song backwards for Jimmy, who was running the sound the first time he was with us. We all turned our backs to him and sang. We turned around when we are finished and his mouth was touching the floor. That was hilarious."
SGM Radio: "Who are your heroes, both inside and outside of Southern Gospel?"
Bryan: "My heroes include The Cathedrals, and my family."
Larry: "The Cathedrals, Alabama, and my family are my heroes."
Pat: "My family, and The Cathedral Quartet."
Ricky: "My heroes are Greater Vision and my family."
Stephen: "My family are my heroes. They are involved in southern gospel music as well. Also, my heroes include The Greenes, The Talleys, Glen Payne and George Younce. Outside of the industry, my greatest hero is Doc Watson, who was my great uncle, who was blind and had seven Grammy awards."
SGM Radio: "What is the main desire or goal of Faithful?"
Faithful: "The unanimous desire of the group is to not necessarily make it big, but to lead at least one person to Christ. That's why we go to the rehabilitation centers, prisons, rest homes and always to the churches and sing on a regular basis. It's not about money or fame, or who gets the credit. The glory belongs to the Lord Jesus Christ. He has already taken the group farther than we have ever thought of or dreamed. We love serving the Lord and are having fun along the way."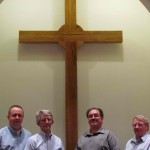 We hope you have enjoyed this showcase of the group Faithful, who are singing and serving their way into the hearts and lives of many in the mountains of North Carolina.
For more information on Faithful:
Contact Larry Osborne at (828) 758-9509 or by email ldo28645@charter.net, ldo28645@att.net
Faithful can also be contacted through Stephen Widener on Twitter @StephenWidener or on Facebook at http://www.facebook.com/stephen.widener