Rejoicing in the Rockies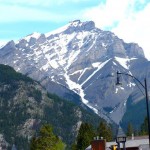 On May 12, my wife and I were on our way to Calgary, Alberta!  Only about 3500 kilometres to get there but we were looking forward to the experience.  After four-and-a-half days of long day trips, motels, countless pit stops and beautiful Canadian scenery, we finally arrived in Calgary.
We arrived at our good friends, Bill and Marg Griffin's house and were appreciative for the restful night. After a day's rest, we packed up Bill's Car, and we were off to Banff! What a sight to behold, as the closer we got to Banff the bigger and more beautiful the snowcapped mountains became. Finally we were in Banff and settled in for a weekend of good Gospel Music with the Couriers and Legacy Five.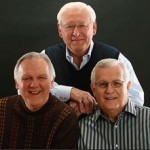 The Couriers
Eisenhower was president and Presley was king when the God of all ages placed His call on three young men; Dave Kyllonen, Duane Nicholson and Neil Enloe.1 These students at Bible School formed a music ministry team five decades ago and decided upon the name The Couriers.    Here in Banff, some 50+ years later, still spreading the good news were the original three men: Dave, Duane and Neil.
These guys blew me away!  They still have that tight harmony that they became famous for over the years. Age has not slowed them down -well maybe a little. Neil's voice seems to be the same strong voice he's always had. He is still writing songs and I think he is on a whole different level than most because of the songs he writes. For example, he has written a song entitled, "The Next Time I get Married, I'm Going To Be The Bride." Now I would think most Christians can figure out what that means, but who else could come up with that?  Neil is probably best known for his "Statue of Liberty" song.  
Duane's voice amazes me. All these men are in their 70's now, and are still singing in the same range. Duane was hitting tenor notes that some younger men could not hit. I recall one night in Cobourg, some years back, they started singing accapella their famous song, "I Sing The Mighty Power of God", and during the song Neil sang, "and I started this song too high".  People laughed but they kept singing it. When they reached the "Amen" part of the song Duane hit a note that still boggles my mind! The crowd gave them a standing ovation that night. To see this man in his 70's still singing amazing tenor notes is simply remarkable. I know for a fact that each man gives God the glory for their longevity.
Dave Kyllonen still has a smooth baritone voice. Dave does most of the M.C. duties for the group. On Sunday morning, Dave was asked to preach. He told Bill Griffin, the promoter, that he loves to preach, and boy did it show. He said, "I will preach a sermon in a manner that you will remember." Dave had an ordinary paper cup in his hand. His whole sermon was based on what we as Christians need on a daily basis, using the paper cup as an illustration. He symbolically picked out of the cup five points to aid us in our Christian walk. For example, "Ministry" was one of the points. The others were "Grace, Holiness, Vision and Mercy" and true to his word, it became very easy to remember, even now several weeks after we left Banff.  Dave ended his sermon, realizing most there were Christians, asking folks if they needed more of God in their lives, in their marriages, or in whatever way they needed Him. The altars were full of good people seeking a better relationship with God.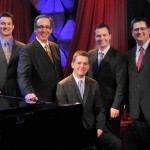 Legacy Five    
Legacy Five are five men dedicated to full time ministry. The group consists of Scott Fowler, Scott Howard, Glenn Dustin, Gus Caches, and Trey Ivey. The group's sound is excellent and professional. They seem to captivate their audiences with a mixture of humor and anointed singing. Legacy Five has enjoyed more success in their short career than many groups experience in decades. In their first ten years, The Singing News Magazine, Southern Gospel music's leading fan and trade publication, has nominated Legacy Five for some 75 Singing News fan awards.2
Bass-singer Glenn Dustin sang a song entitled, "I've Been Changed." I watched this man as he sang and the song seemed to emanate straight from his heart. I confess, that song became my favorite, as I can relate to it easily. I briefly chatted with him in the hallway after and said to him, "Glenn, you seemed to mean every word of that song." He looked at me very seriously and said, "You have no idea!" He meant of course, we had no idea how much God has changed him.
That weekend, dubbed "Rejoicing in the Rockies," was a first time promotion effort in Banff for Bill and Marg Griffin. They promote Southern Gospel music in Alberta and beyond at times.  I'm sure Bill and Marg may have been a little apprehensive as to how this weekend would go but I think the final result was very positive. Bill and Marg received many accolades and comments from folks hoping this would happen again!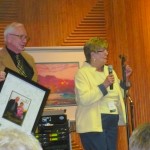 The Griffins recently celebrated 50 years of marriage. To celebrate this special occasion, Bill and Marg were surprised when friends presented them with a framed, autographed photograph of themselves. The autographs were from many of the group members Bill and Marg have promoted over the years. What an accomplishment for this couple, who have been involved with Southern Gospel music most of their married life. 
What a weekend!  Good singing, good preaching, good food, good friends and good fellowship!  How much more could a person ask for?  Well done Bill and Marg!  Keep them coming!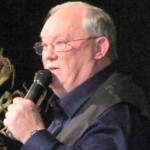 Phil Foster
                                
 
(1) Dave, Duane and Neil – "The Original Couriers" www.daveduaneandneil.com
(2) Legacy Five website – www.legacyfive.com/2012.bios_group.htmlo