The National Quartet Convention is always a week filled with song, laughter, chatter and high emotion. Late nights, great music and unique events flavored with a spiritual overtone of worship and praise can lead to both hugs and tears on a moment's notice. This year, we look at the Convention through the eyes of the Media. As a representative of SGM Radio and SGN Scoops, this reporter attended the Convention in Louisville Kentucky from Wednesday through Saturday nights. Here are some of the highlights from a media-card-wearing, Southern-Gospel-loving fan.

Walking into the Exhibit Hall on Wednesday afternoon, it was good to see some fans had already arrived to do their pre-concert shopping. Many booths featuring jewelry and clothing were set up on the outside aisles, while major artists had bright and visible exhibits, easily found upon entering the main doors. The concession stands did a brisk business for most of the evening as large screens showing the live main-stage events entertained customers. Greeting friends and making new acquaintances is always a large part of NQC, as much as finding the latest products and obtaining your favorite artist's autograph. Southern Gospel is known for the accessibility of its artists and the Convention is the pinnacle of that tradition. Many artists arrived on Sunday and stayed at their booths for several hours each night to meet, talk, pray and shake hands with fans and friends. Although there were groups who needed to travel to other dates and were therefore unable to attend all six nights, this event is proof again that Southern Gospel artists are available for the fans.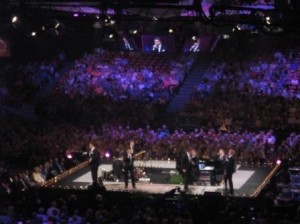 A few hours at the booth of SGM Radio and SGN Scoops is also proof of the artist's desire to connect with fans. Knowing that the listener, reader and down-loader of Southern Gospel information is always avid to hear from the heart of their favorite singer, artists attended the booth from two-o'clock in the afternoon until as late as 9:30 or 10 o'clock at night for interviews. The staff of SGM Radio and SGN Scoops is keenly aware of the busy schedules of artists during this week and gratefully acknowledge the assistance and consideration of everyone that came by to talk with Rob Patz, Rhonda Frye and this reporter. Video interviews can be seen now on You Tube under the search words SGN Scoops. Recorded interviews will be used for upcoming features on both websites.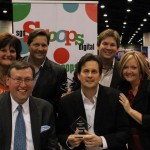 The view from the media booth included glimpses of Southern Gospel legends like Bill Gaither, Claude Hopper and Les Beasley. Favorite artists came to visit, like Triumphant, Greater Vision and Legacy Five. Friends we have chatted with over the past few months also stopped by, like Adam Crabb, Channing Eleton, the Easters and the Collingsworth Family. Admittedly in awe, this reporter was honored to interview Rambo McGuire and Marshall Hall. From inside and out, from the average fan to the Elvis impersonator, there is always something interesting to see at the media booth.
Thursday morning brought an annual event that is anticipated all year: the Daywind Media Breakfast. No longer just incorporating radio deejays, representatives from digital media are also invited to this shindig presented by Daywind. The event is hosted by the incredibly talented Donna Beauvais.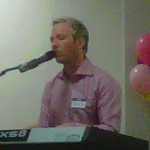 Artists and media intermingle to 'put a face to a name' and to make that next call for an interview just that much easier. Moments that were special to this attendee included seeing John Berry, Country superstar and singer of "Your Love Amazes Me"; the poetry of Kelly Wright; the hospitality of Norm Holland and the 'a-ha' moment when radio deejays, reporters and media personnel were reminded why they work so hard, often on voluntary terms, for a unseen audience. The attendees were then treated to a special concert by Daywind artists, which became a worship service with tears shed, hands lifted and hearts gladdened.
SGM Radio and SGN Scoops wish to extend a heartfelt thank you to Daywind and its artists for a very special morning. This event was the only one planned for media during the Convention, but very much appreciated. The team at Daywind is not only generous and accommodating to Southern Gospel media, but also committed to ministry and spreading the Gospel.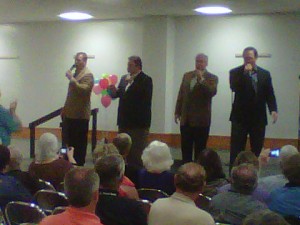 Their artists are some of the best in the industry and it was a privilege to be able to actually sit, listen and be ministered to on that Thursday morning.
Media attendees know that unless you are specifically covering certain artists or events with camera and recorder in hand, you don't often have the extra time to listen to the wonderful music being played day and night at the Kentucky Fair and Expo Center. Unfortunately, that may mean that special performances are missed. Wonderful reports were heard from those who attended the Gaither Sing-a-long and Gaither Vocal Band reunion showcases near the end of the NQC week. Other special events and speakers were also well attended, such as the address given by David Jeremiah to a packed house on Friday morning.
Two showcases that this reporter was privileged to attend were also well attended and provided excellent artist performances. On Thursday, Canadian male quartet The Torchmen sang in the East Wing, along with four other artists. Other notable groups included Akins, four men whose country-flavored original songs and musical talent bode well for a long and fruitful career; and Three Bridges, whose vocals are outstanding. Tim Lovelace was the matchless emcee at this event and also favored the audience with two songs in his inimitable style. The Torchmen represented Canada well and were privileged to perform on the main stage in the Thursday evening concert.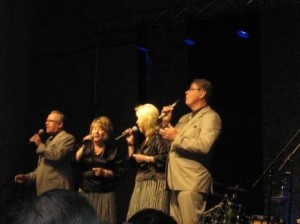 Friday afternoon, The Chapelaires from London, Ontario performed in the South Wing to a full house. The crowd was enthusiastic and enjoyed the mixed-quartet's smooth and honest delivery. Just prior to The Chapelaires was Lindsay Huggins, a young lady with a powerful voice who drew us to worship with the Natalie Grant chorus, 'In Christ Alone'. It was a beautiful moment and a chance to meditate on the goodness of our Lord. Even a few moments of reflection were welcome during this hectic week.
Special morning events, noontime showcases, and early afternoon interviews at the media booth made for a busy schedule. Special mention should be made at this time regarding the NQC ice cream, which is always appreciated, and birthday cake, brought to celebrate the September birthday of our leader, Rob Patz!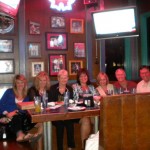 Mealtimes were missed, hurried, or late at night, so the extra treats were welcome. To those who might have seen SGN Scoops staff out at a restaurant late at night, we apologize for any raucous laughter that may have disturbed your dining experience.
Laughter was often heard at the media booth itself during the visits with our artist friends. Interviews began at the SGN Scoops/SGM Radio booth early in the afternoon and were scheduled at 15-minute intervals for on-camera chats and half-hour intervals for discussions leading to feature articles. Upcoming features on SGN Scoops and SGM Radio will enlighten readers further regarding these discussions, but at this time, this reporter would like to thank the following artists: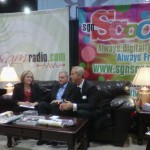 To Marshall Hall, Brian Free and Assurance, Greater Vision, Legacy Five, the Booth Brothers and many more: Thank you for your transparency and authenticity. Thanks for not being afraid of the hard questions and for teaching this reporter what it means to be real, consistent, focused and committed. Thank you for your comments about media and what we are doing right, and thank you even more for sharing your thoughts about how we can do our job better.
To those who stopped at the SGM Radio/SGN Scoops home to say hello because they had seen something about us on Facebook oTo Rambo-McGuire: Thank you for being 'real' to this reporter and long-time fan. Thank you for sharing your hearts and proving that it's not just lyrics and chords. Southern Gospel and the music of Dottie Rambo is worship, ministry and praise.
r Twitter, to old friends that we only see at this event and to those who just came for the cake: Thank you for coming by and enriching the view from the media booth.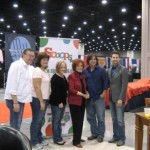 The National Quartet Convention is for the listeners and artists, industry and media. But more than that, it is a celebration of music that uplifts the name of God. It is the goal of SGM Radio and SGN Scoops to do just that. We trust we will continue to entertain and inform the listener, encourage artists and glorify God in everything we publish.
Photographs courtesy of Joan Walker, Rhonda Frye, Eric Frye, The Maxwells.