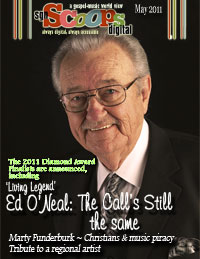 The May 2011 issue of SGN Scoops is now available for download. Click on the cover to read your issue in user-friendly .PDF format.
Th2 2011 Diamond Awards final ballot is announced and you can make your voice heard by voting in the final round, right here.
Living Legend Ed O'Neal talks to us about his 50 years in gospel music. We also speak to Marty Funderburk, hear new music from groups like The Singing Cookes, and our columnists take looks at music piracy, Mother's Day, and a regional artist we all should know.
Click here or on the cover preview to download.
Click here to subscribe – be notified when a new issue is published or news is announced.