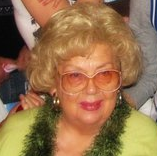 Savana Foust has written hundreds of Southern Gospel favorites, including Somebody Touched Me, Blood Washed Band, Somebody Touched Heaven For Me and many more. At 84, Ms. Foust is still writing the love song of her life with her husband, Lou Foust. Their daughter, Cindi Foust Wolfe, shared her mother's love story with SGM Radio. We share this valentine with you as written by Cindi:
It was an extremely cold winter in February of 1945 when our love story began. Some may have thought of these days as gloomy, with our country coming out of the great depression into World War II. But with all that seemed wrong in the world, our world seemed so right.
A few days before Valentines, I met the man who would eventually become my husband. We were introduced by a mutual friend, but we were teenagers, so no one took us too seriously. I knew from the moment he reached for my hand, that I'd found the man I'd be with for the rest of my life.
Months later, with $5 between us, our journey began….
We had no money. I guess we would have been called 'poor' by today's standards, but we were rich in one way: our Love.  We found out early what it really meant to find true love. It didn't mean we drove the finest car, lived in the biggest house, or even had lots of money in our bank account. In actuality, we had none of these, but we had God first and each other. So during the hard times, we learned to trust God, and through our faith in God, our love story has lasted!
Ten years after we married, our daughter, Cindi, whom the doctors said never would happen, was born. Almost ten years after that, we were blessed with the son, Johnny, that God had planned.
In the giving of these gifts, He sent us three grandchildren, Stania, Christian and Drew. And from there we have three great-grandchildren: Alexis, Zoe and Cameron.
So, I guess you could say that we are blessed beyond measure with love from above and each other.
We just celebrated 65 years of marriage in December. Our steps are smaller now and our eyes aren't quite as bright as they were long ago, but when he looks at me, I still see that tall young man that stole my heart many years ago.
So I reach for his hand again today, knowing he'll hold on tight and not let me fall. I pray that when we go Home, we go together, because I don't know what my life would be like without him. And I thank God daily for sending him to me to create the Love Story that's lasted through time.
By Cynthia Foust Wolfe:Â  Written about my parents, Lou and Savana Foust
Reprinted by permission.