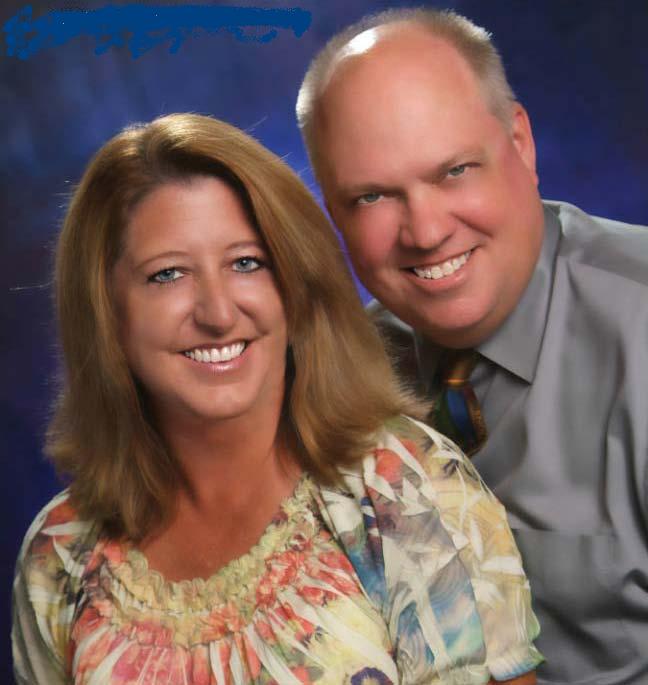 We often meet people who touch our lives in many ways and while we may not see them for extended periods of time, we can always pick up where we left off at our last visit. Such is the case with our friends, Steve and Christie Bradford and I want YOU to meet the Bradfords!
While attending a concert in Jonesboro, Arkansas in late 1992, mutual friends, Paul Boden and Donna Rogers introduced us to a talented young trio. Steve and Christie Bradford, along with Chris Smith sang "Mercy River" that evening, and I, and the audience, were thrilled with their music! "Mercy River" has become their signature song and they continue to wow audiences wherever they perform.
Steve and Christie met and began singing together in chorus class at Memphis, Tennessee's Kingsbury High School. It didn't take long for Steve to ask Christie out and their first date was the wedding of the man who had introduced Steve to Southern Gospel music. Steve and Christie were married three years later to that very day, and as they say, the rest is history.
The Bradfords are proud parents of two children. "Our daughter, Randi, 24, is a Medical Assistant in a doctors office. She and Mike Nash are getting married next March and we're excited," said Christie. "Brandon, our eighteen year old son, attends the University of Memphis and is studying Sports Management. We are blessed with two wonderful kids who love the Lord."
The Bradfords serve on the staff of First Baptist Church, Portageville, Missouri, where Steve is Pastor of Youth and Music and Christie is church Secretary. They serve under senior pastor, Dr. Buck Morton, who, before his retirement, was the voice of the National Quartet Convention, as Emcee on the Main Stage. He was also the minister who conducted Bible Study each morning and through their affiliation with Dr. Buck in the early years, they sang each morning. Steve and Christie helped  Dr. Buck as he Emceed each night, with information on each group who sang on the main stage.
If you've ever attended Bible Study at National Quartet Convention, you've been treated to the smooth, sweet harmony of the Bradfords.  You might also find them working the ticket/information booth, or sitting stage-side to help the Emcee, or performing other duties NQC Director Clark Beasley or his staff might need.
Until Paul Boden's untimely death in 2006, Steve and Christie worked the sound for Paul's Mid South Sing concert promotions, as well as that of several other concert promoters. They are sought after for their expertise in giving each performer the very best possible sound.
Paul was founder and Editor of US GOSPEL NEWS, which ceased printing after his death. The Bradfords supported Paul by advertising and distributing US GOSPEL NEWS.
After Paul's passing, they formed GOSPEL MUSIC NEWS. "We were part of the very first newspaper that Paul and Donna Rogers printed," Steve said. "With GOSPEL MUSIC NEWS, we sought to honor Paul's work and his memory. Paul was such a big part of our life and ministry and I hope that in our Christian life and service, we can be as giving as Paul."
Exciting new things are happening for the Bradfords. "Several years ago I felt God calling me to preach, and I began praying. I answered that call when God opened the ministry door at Portageville First Baptist," Steve testified. "Christie and I are now able to minister in music and the message of salvation in any setting. We've worked  in youth revivals and crusades, combining preaching and music. We also continue to do concert dates."
Having recorded more than twenty five albums in their career, their most recent release is "'Merry Christmas' From The Bradfords." Christie said, "We've never done a Christmas project and it was exciting!" This current CD was introduced at the National Quartet Convention and is available from the Bradfords' website, www.bradfordministries.org.  The Bradfords do their complete recordings in-house, including music tracks, vocals and mixing. Steve shared, "We can even do the shrink-wrapping, for the total finished product."
From Steve's work at Sonlight Studios in Memphis, Tennessee, the Bradfords have benefited from years of experience recording other artists, including Carroll Roberson's recordings, videos and television production. Recently Steve produced Legacy Five's "Live At Music City" DVD.
My friends the Bradfords bring quality music and a strong testimony to their music ministry. If you've never heard them, I highly recommend their music and ministry. If you've experienced their ministry and friendship, then you know first-hand, what a blessing they can be!