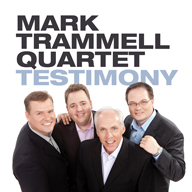 Group Name: Mark Trammell Quartet
Website: www.marktrammellministries.com
Album Title: "Testimony"
Song Titles:
How Long Has It Been
Ransomed And Redeemed
It's Almost Over
Testimony
God Knows How Much Mercy I Need
I Want To Know
Calvary Medley
One Drop Of Blood
When Jesus Comes
I Believe, I Believe, I Believe
The Mark Trammell Trio has become the Mark Trammell Quartet.  This is something that has had the Southern Gospel community excited for a while now.  Group members are Joel Wood (tenor), Dustin Sweatman (lead), Mark Trammell (baritone), and Pat Barker (Bass).
"Testimony" is the group's first studio recording as a quartet.  While produced by Lari Goss, the album does not have much of the "orchestrated feel" that Goss is known for.  Rather, these 10 songs are done in a more straightforward, classic quartet style.
Now, the moment you've all been waiting for: THE SONGS!
It surprises me that the group chose to open the album with a slower song like "How Long Has It Been?"  Maybe it's just personal preference, but a mid-tempo or faster song is better at the beginning of an album- it helps draw the listener in and generate excitement.  Still, the vocals are nicely done.  The tempo then picks up a bit for "Ransomed And Redeemed".  Tenor vocalist Joel Wood takes the lead on the chorus, and the three lower vocal parts combine for a nice trio part on the second verse.  The tempo then slows down again for the third song, "It's Almost Over".  Mark Trammell is featured on the verses here, and the song slowly builds throughout to its climax at the end.  I agree with other reviews, though- the addition of the lines from the song "Going Home" didn't really add anything.  Song #4 is the album's title track- "Testimony".  This is also the first truly up-tempo song on the album, and it ranks as one of my favorites.
The fifth song, "God Knows How Much Mercy I Need", is a mid-tempo song with a "jazzy" sound to it.  This song features some of the nicest vocal blending on the entire album.  New bass vocalist Pat Barker is featured on the next song, an old Southern Gospel standard called "I Want To Know".  Barker has a nice range, and his vocals are smooth on both ends of that range.  Again, it's nice to hear a bass vocalist who knows what he can and can't do and is willing to work within those boundaries.  Also, the contrast in styles between the first part of the song and the reprise after the final chorus is most excellent.  Song #7 is actually a medley of songs about Calvary- hence the name "Calvary Medley".
"One Drop Of Blood", the eighth song, is probably the most "modern-sounding" cut on the album.  It's also another of my favorites.  Both Barker and lead vocalist Dustin Sweatman deliver solid vocals on their verse features, and the arrangement is fun to listen to.  Song #9 is a mid-tempo number called "When Jesus Comes".  This is a simple, straightforward quartet arrangement that listeners should like.  The album closes with another mid-tempo song called "I Believe, I Believe, I Believe".  This arrangement features horns prominently throughout, and the vocals are solid.
This album gives us but a glimpse of what this group can sound like.  It's obvious that this lineup hasn't completely "gelled' yet, but that doesn't mean that this is a bad album by any means.  This is simply a transition period for the group, and I look forward to hearing what more time singing together does to their overall sound.  I do think that the songs could have been put in a different order on the album and that one of the slower songs could have been replaced by a faster song.  I say this because, to me, the album seemed to drag at times- especially at the beginning.  Still, switching from a trio to a quartet will not hurt this group at all.  Pat Barker was the perfect choice to add the fourth part.  Overall, I give this album a rating of 8 out of 10 microphones!
Favorites: "Ransomed And Redeemed", "Testimony", "I Want To Know", and "One Drop Of Blood"