By Chad Hayes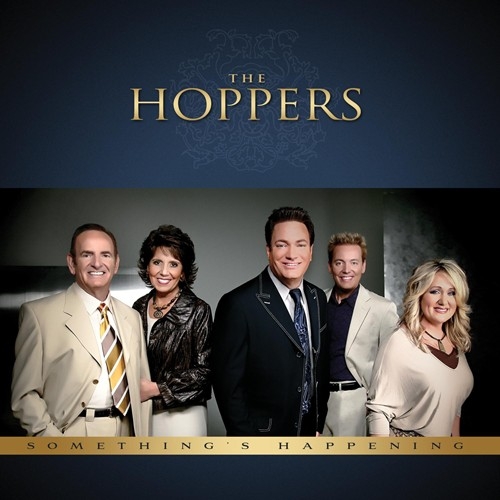 Group Name: Hoppers
Website: www.thehoppers.com
Album Title: "Something's Happening"
Song Titles:
1. Victory Shall Be Mine
2. Oh How Amazing Is Amazing Grace
3. Something's Happening
4. Nobody's Too Bad Or Too Good
5. I've Been To Heaven
6. East Of Jerusalem
7. Could It Be I'm Dreaming
8. He Remembers To Forget
9. I Know Who Holds Tomorrow
10. On The Authority
11. Living In The Arms Of Mercy
12. Statement Of Faith
The Hoppers have been one of the stalwart groups in Southern Gospel for many years, garnering many industry awards during their existence. The group had its beginnings in 1957, when it was known as "The Hopper Brothers And Connie" and consisted of exactly that- Claude Hopper, his 4 brothers, and his future wife, Connie. Claude and Connie still anchor the group today, and they are joined by their two sons, Dean and Michael, as well as Dean's wife, Kim. This is the lineup that is well-known for songs such as "Shoutin' Time", "Jerusalem", and "The Ride".
Something's Happening is the group's new release. The album contains 12 songs from the pens of such writers as Kyla Rowland, Rusty Golden, Dianne Wilkinson, Gerald Crabb, Jim Brady, Bill Gaither, and others. I was excited to see that Lari Goss produced the album, as I have become a fan of his work the past few years. He is one of the most talented producers in the industry today.
Now, the moment you've all been waiting for: THE SONGS!
"Victory Shall Be Mine" starts things off on an up-tempo note. Written by Nancy Harmon in the 1970's, it was previously recorded by the Rex Nelon Singers. It has that classic 4-part mixed group arrangement that the Hoppers pull off very well. Kim's lead vocal is strong and clear, giving the song just the right feel. "Oh How Amazing Is Amazing Grace" has a similar tempo, albeit with a lighter feel. This song has a catchy tune, and the arrangement showcases the tightness of the group's vocal blend. The tempo then slows down for a Kyla Rowland ballad called "Something's Happening". This is the album's title track, and Southern Gospel fans might remember its previous recording by the Mercy's Mark Quartet on their album by the same name. However, the Hoppers' arrangement is vastly different than the one done by Mercy's Mark. Connie does a recitation in between the verses that, to me, adds an entirely new dimension to this power ballad and makes it one of the standout songs on the album. I also love how the song starts softly and builds throughout, leading to a big ending.
Rusty Golden and Dianne Wilkinson teamed up to pen the fourth song, a medium-tempo offering called "Nobody's Too Bad Or Too Good". Here we are treated to the debut of Karlye Hopper, the 15-year-old daughter of Dean and Kim. Karlye has a very good vocal for a young lady, and it sounds as though she's going to have some of her mother's trademark soprano range before it's all said and done. This song has a light acoustic arrangement that really brings the vocals to the forefront, and the rest of the group does a splendid job backing up Karlye. I look forward to hearing more from her in the future. Dean and Kim are then featured on Song #5, Larry Hinson's "I've Been To Heaven". After listening to this song, I may have to add Dean Hopper to my list of underrated lead vocalists in Southern Gospel. It's easy to overlook male lead singers in mixed groups, but Dean is one that, while not flashy, is solid and consistent. Next in the song list is another ballad called "East Of Jerusalem". Kim's lead vocals give this song that extra "something" that really helps to convey what is a powerful message.
Connie is featured on Song #7, "Could It Be I'm Dreaming" by Gerald Crabb and Gina Vera. This is a medium-tempo song with a lighter feel, and Connie's rich alto voice and vocal stylings are truly a perfect fit here. The arrangement of this song is also a nice change-of-pace at this point in the album. The eighth song has a title that I truly love- "He Remembers To Forget". In my opinion, this is an awesome vocal "hook". The lead vocal seems to switch back and forth between Dean and Kim, and the overall effect is a listener's joy. The group then goes back in time with an arrangement of Ira Stanphill's hymn, "I Know Who Holds Tomorrow". The Hopper Brothers and Connie recorded this back in the early 1960's, and Claude gets the feature as the group reprises it here. Claude is known more as a bass vocalist, but his range here is that of a baritone/lead vocalist.
The Gaither Vocal Band previously recorded the up-tempo "On The Authority". Dean gets the feature, and his voice here sounds more "country" than I've ever heard it. It actually reminds me a bit of Russ Taff. The eleventh song is another one that the Mercy's Mark Quartet recorded- "Living In The Arms Of Mercy". The Hoppers' version is slightly different, and it features Michael Hopper (who is usually the group's drummer) singing the tenor part. I must say that he fits into the group sound quite nicely. Finally, the album closes out with a classic power ballad. "Statement Of Faith" is sung along with the Booth Brothers, Greater Vision, and Legacy Five- a Southern Gospel industry choir!
Simply put, this is an excellent album from an excellent group. The Hoppers have continued their tradition of quality music here, and this is an album that needs to be in every Southern Gospel lover's collection. There is a good variety of tempos and styles, and the song selection is very strong. Overall, I give this album a rating of 9.5 out of 10 microphones!
Favorites: "Oh How Amazing Is Amazing Grace", "Something's Happening", and "He Remembers To Forget"
~