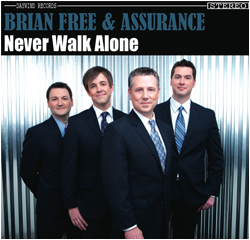 Group Name: Brian Free & Assurance
Website: www.brianfreeandassurance.com
Album Title: "Never Walk Alone"
Song Titles:
Anything Is Possible
I Believe
God Will Close The Door
The Part Where You Come In
Remind Me Of The Cross
It's My Life
Turn The Page
Stand Among The Millions
It's Gotta Be God
Never Walk Alone
For several years now, Brian Free and Assurance has been one of the top-tier groups in Southern Gospel.  Current group members are Brian Free (tenor), Bill Shivers (lead), Jeremy Lile (bass) and- after a short hiatus from the group- Derrick Selph (baritone).
"Never Walk Alone" is the group's first mainline album since Selph's return to the group.  Assurance has always been more on the progressive side of Southern Gospel, and the 10 songs on this album are no exception.
Now, the moment you've all been waiting for: THE SONGS!
The album starts off with the driving, up-tempo "Anything Is Possible".  Lead vocalist Bill Shivers gets the feature here, and he does a fantastic job.  I've said for years that Shivers is one of the most underrated lead vocalists in Southern Gospel, and I still hold to that after hearing this album.  The vocal blend is very tight here as well.  Next up is "I Believe", a mid-tempo ballad that features the signature tenor vocals of Brian Free.  The third song speeds the tempo back up a bit, and it's one that has caused me to hit the "repeat" button on my CD player several times.  "God Will Close The Door" features bass vocalist Jeremy Lile on the verses, and he delivers some very good singing.  Lile is one of those basses that knows what he can and can't do, and he is not afraid to sing in his higher register.  The message and the arrangement of this song come together perfectly, and this song would be a great radio release at some point.  Immediately following is probably my favorite song on the album, "The Part Where You Come In".  This is a very progressive arrangement with a hard, driving sound, and the group does a spectacular job with it.
Song #5, "Remind Me Of The Cross", slows the tempo down a bit.  Jeremy Lile is featured on the verses while Brian Free takes the lead on the choruses.  It's nice to hear Lile interpret a ballad after just hearing him on an up-tempo, progressive number.  The tempo stays about the same- albeit with a lighter feel- for the next song, "It's My Life".  This is baritone vocalist Derrick Selph's first feature, and I am reminded how smooth his vocals are.  Count me as one of the people who is glad to see him back with the group.  The message of this song is also very strong, causing the listener to really think about what is being said.  The tempo then speeds back up a bit for "Turn The Page".
Song #8 is mid-tempo power ballad called "Stand Among The Millions".  This is followed by "It's Gotta Be God", another up-tempo driving number that features Bill Shivers.  The album closes with its title track, a slower, softer ballad called "Never Walk Alone".  After an album full of driving, progressive sounds, this provides a nice, smooth ending.
This might be Assurance's best album to date.  Brian Free has put together a very strong lineup whose vocals mesh very well together.  The song selection is strong, and the style is one that will attract some new listeners to Southern Gospel.  In other words, Brian Free & Assurance needs to keep doing exactly what they're doing- it's working.  Overall, I give this album a perfect rating of 10 out of 10 microphones!
Favorites: "God Will Close The Door", "The Part Where You Come In", "Turn The Page", and "It's Gotta Be God"