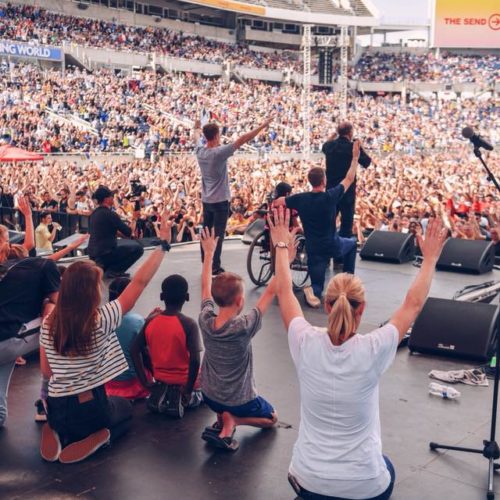 ORLANDO, Fla.,  Saturday February 23rd, 2019 is a day for the history books. More than 90,000 people registered and upwards of 55-thousand people attended a landmark gathering called The Send at Camping World Stadium in Orlando, Florida. It was intended to inspire and equipped the Church to fulfill Christ's Great Commission.
The Send is a collaboration between several ministries led by Daniel Kolenda, Lou Engle, Michael Koulianos, Todd White, Brian Brentt, Teo Hayashi and the teams point man, Andy Byrd. But beyond the collaboration, dozens of other ministries joined forces to make The Send a reality including Francis Chan, Bill Johnson, Claudio Freidzon, Benny Hinn, Rodney Howard Browne and Heidi Baker. These and many others emboldened the audience with Biblical truth and impartations of the Holy Spirit. Evangelist Kolenda told the capacity crowd, "If you go without the power, you'll have nothing to give."
Christ for all Nations (CfaN), the ministry led by Daniel Kolenda, is based in Orlando and took a lead role in organizing the tipping-point event. The CfaN team was thrilled to help ignite a fresh passion for evangelism in their own "backyard." They also distributed more than 30k copies of Kolenda's book Unlocking the Miraculous which he wrote to help spark a mass movement of prayer and evangelism. The Send is bringing that dynamic combination together.
The efforts of all those involved paid off. Nearly 3,000 people made 1st time decisions to follow Christ in response to Evangelist Kolenda's morning address. Tens of thousands more committed to evangelize their communities throughout the day-long event. Above all else, these fresh pledges reveal the heart behind the epic gathering: to spark the greatest era of evangelism and missions in Church-history. As Evangelist Kolenda told a group of pastors before the event, "The Send is all about catalyzing the whole Body of Christ to act. History will look back at The Send and say it changed our generation."
Though CfaN has hosted many stadium events all over the world – including the United States, the ministry is most well-known for its massive outreach campaigns in Africa, where they have seen more than 78-million documented conversions to Christianity over the last 30 years. Evangelist Kolenda says that the Holy Spirit gave him a vision to see as many lives committed to Christ through their ministry in the next 10 years as they saw in the first 40 years, doubling that count to 150-million! CfaN's involvement in The Send is a clear expression of Evangelist Kolenda's vision to see, in the next 10 years, a "Decade of Double Harvest."
The event is just the beginning. The Send continues to equip and empower Christ-followers to do the work of the ministry. To learn more about The Send visit, www.thesend.org. To lean more about Christ for all Nations visit, www.CfaN.org