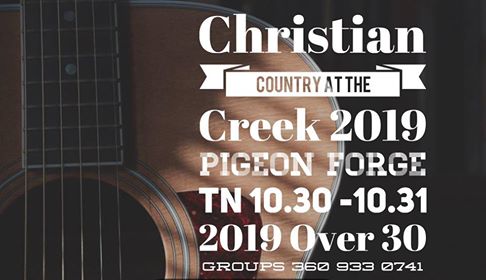 There is something new happening in the Forge this fall! Hit the open road, head for the mountains and make plans today to attend Christian Country at the Creek, October 30 and 31, at Pigeon Forge, Tennessee.
Taking place during Creekside Gospel Music Convention 2019, this new event will be held at Mill Creek located at 2772 Florence Drive, Pigeon Forge, Tenn. Event organizer, Rob Patz, is thrilled to welcome Dennis and Leslie McKay as hosts for the two-day concert festival.
"We love Creekside and look forward to going to Pigeon Forge every year," says Dennis McKay. "When Rob told us about Christian Country at the Creek and that it was going to be an opportunity to showcase Christian Country artists during Creekside, we were all in!. We are honored and excited to be one of the guest hosts for Christian Country at the Creek. This will be a great addition to the Creekside convention. We hope all of our Christian Country friends will check it out and join us!"
"We are excited to begin this new event running alongside Creekside," says Patz. "Come hear more than 30 Christian Country artists during two music-packed days of concerts. My good friends, Dennis and Leslie, will make terrific hosts. Don't miss it!"
For more information, accommodations and tickets, fans and artists can contact Rob Patz at rob@sgnscoops or by phone at 360-933-0741.
If you are an artist and want more info Go
HERE