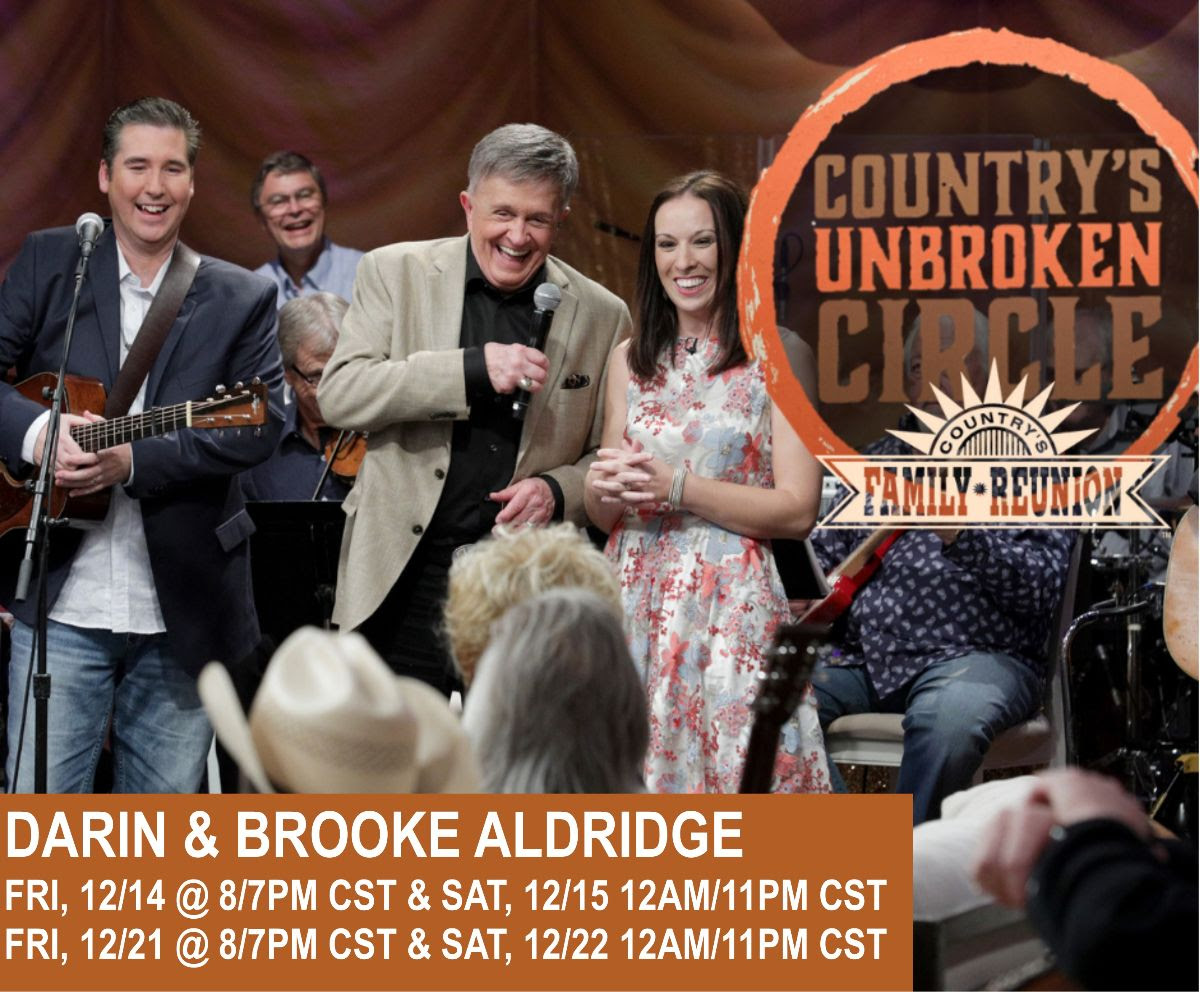 Nashville, TENN — Multi-award winning husband and wife duo Darin & Brooke Aldridge are among the impressive list of artists included in the new "Country's Unbroken Circle" series of DVD/television specials, produced by Gabriel Communications.
In 1935, country music's Carter family released "Can the Circle Be Unbroken," a song that became one of the genre's earliest commercial hits. Later, it became symbolic of the "family of Country music," in recognition of its roots and the artists who continue the traditions of country music. In celebration of this idea, Gabriel Communications has announced its latest 'reunion' series and DVD collection, "Country's Family Reunion Presents: Country's Unbroken Circle," affirming that traditional country music "circle" remains intact.
Darin and Brooke have placed several tracks at the top of the charts on Americana/Roots, SiriusXM, Bluegrass and Gospel charts. They have received multiple nominations from the International Bluegrass Music Association (IBMA), the Society for the Preservation of Bluegrass Music of America (SPGBMA) and Inspirational Country Music (ICM). Their music videos "Wildflower" and "Tennessee Flat Top Box" and most recently "Every Time You Leave" were heavily featured on outlets including CMT, CMT Edge, GAC, Bluegrass Ridge TV and The Bluegrass Situation, and they've made TV appearances including PBS, Great American Gospel, The Bluegrass Road, RFD-TV, Blue Highways TV, Songs of the Mountain, Woodsongs, Larry's Country Diner and Music City Roots.
Both highly acclaimed vocalists in their own right (Brooke is the reigning 2-time IBMA Female Vocalist of the Year), Darin and Brooke combine rich harmonies with impeccable musicianship to create the unmistakable sound that has made them one of the hottest young acts in acoustic music and they've surrounded themselves with a band of equally amazing pickers. Brooke has been lauded for having one of the most powerful voices in music of any genre. Darin spent 6 years as a member of the acclaimed County Gentleman and is a highly sought-after multi-instrumentalist. He was named 2017 IBMA Mentor of the Year.
The Aldridge's appear on two episodes in the new "Country's Family Reunion" series which is airing on Fridays at 8 p.m. Eastern/7 p.m. Central on RFD-TV with re-airings on the following Saturday at 12 a.m. Eastern/11 p.m. Central (check local listings for exact airtime).
Dec. 14: Eddy Raven, Jeannie Seely, Jimmy Fortune, Darin & Brooke Aldridge, T. Graham Brown, Lee Roy Parnell, Gene Watson, Laney Smallwood
Dec. 21:Â EmiSunshine, Rhonda Vincent, Bill Anderson, Linda Davis, Neal McCoy, Ray Benson, Suzy Bogguss, Joshua Hedley, Darin & Brooke Aldridge
Hosted by longstanding Grand Ole Opry member and Hall of Fame inductee, "Whispering Bill" Anderson, the series is shot in Gabriel's trademark "Country's Family Reunion" style, with legendary artists gathered into one room to reminisce, share stories and perform while the cameras roll. Executive Producer, Larry Black extends an invitation to each artist to invite someone whose work reinforces the "circle" of traditional country music.
Darin and Brooke have toured throughout 2018 in increasingly high profile settings. In January they appeared in 3 sold out shows Prague, Czech Republic with John Cowan, returned to Merlefest in April, made their debut appearance on the acclaimed PBS series Mountain Stage and a enjoyed a tour in Ireland as headliners on a large annual music festival. They have appeared on the legendary Grand Ole Opry multiple times and in August they appeared on RFD-TV as part of the highest rated show on the network, Larry's Country Diner as well as the new Country's Unbroken Circle television series.
Mainstays on radio charts with singles routinely maintaining top chart positions well after their release, Darin and Brooke Aldridge were recently signed to the iconic Rounder Records label. A new album is in the works for release in 2019.