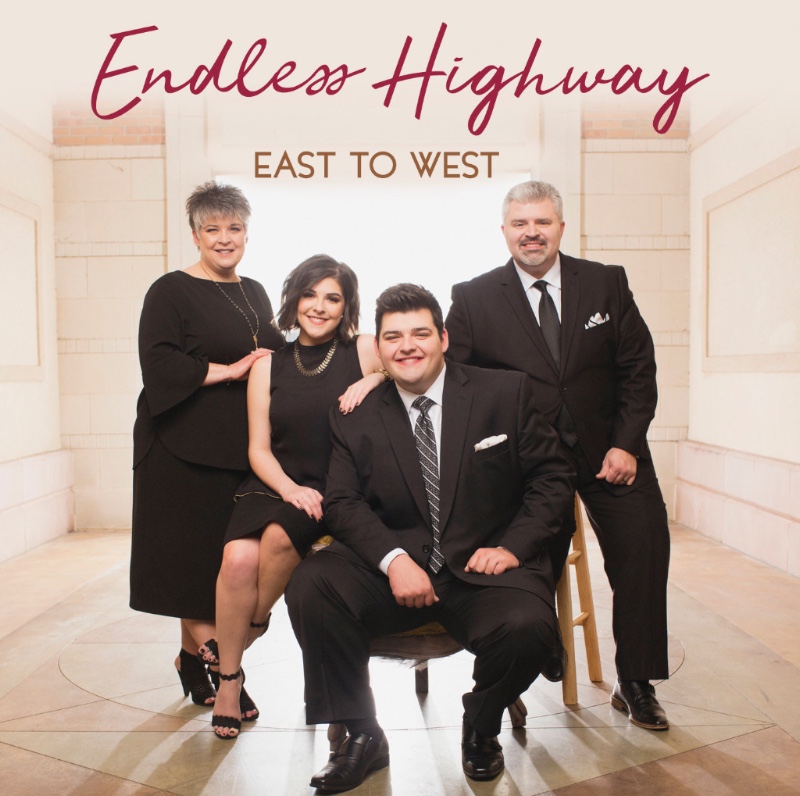 Arden, NC. (May 25, 2018) – Endless Highway's latest release "East to West" is available now from Skyland Records.
Inspired by Psalm 103, verse 12 — "As far as the east is from the west, so far hath he removed our transgressions from us." — "East to West" will uplift and comfort, continuing the group's decades-long ministry and reminding listeners that God's love and grace are all encompassing.
"We feel that we've chosen strong material from amazing writers that convey the great message of salvation, grace, joy, hope, forgiveness, and the promises of God," says Jason Griggs.
Through blending musical styles, Endless Highway reflects the journey of the Southern Gospel genre and themselves by highlighting influences of the three generations that make up the group. From songs like the traditional "It's a Highway to Heaven" featuring the lead singing of Jason Griggs from the family's second generation, to the modern "Out of the Deep" featuring his daughter Allison, Endless Highway presents a dynamic mix of progressive and traditional music.
The album's first single, "It's His Story," features the lead singing of Jay Griggs, Allison's brother, who represents a new generation of strong Gospel lead vocalists. This song is a proclamation of faith, a message carried throughout this powerful release.
Listen to "East to West" HERE.
About Endless Highway:
Endless Highway, (see website HERE) which originally was started as The Joylanders in 1971 by Perry & Nell Wimberley, stands and sings three generations strong at each concert. The group has continued the Gospel ministry started then through Vanessa Griggs, Perry & Nell's daughter, her husband Jason Griggs and their children Jay and Allison Griggs, who now do the bulk of the singing at live performances. Endless Highway offers a blend of Southern Gospel, Bluegrass Gospel, A capella, and Acoustic Music. Whether it be a time tested hymn of the church, a spirited a capella song, or a toe tapping bluegrass song, Endless Highway will offer something to please every concert goer. Attendees are sure to enjoy a mix of live instrumentation, pure a capella music, and tracks accompanied by Endless Highway's vocals. Endless Highway loves to have fun while ministering, but make no mistake, their goal is to exalt Christ, edify the church, and evangelize to the lost.
About Crossroads:
Crossroads is a market leader in the Southern Gospel, Bluegrass, and Americana fields. Established in 1993, following the combination of Horizon Music Group and Sonlite Records, Crossroads now operates several divisions including Crossroads Label Group (Horizon Records, Sonlite Records, Mountain Home Music, Skyland Records, Pisgah Ridge Records, Crossroads Records, and Organic Records), Crossroads Distribution, Crossroads Radio Promotions, Crossroads Publishing Group and Crossroads Recording Studios. Led by a strong executive team of Christian music and Bluegrass music veterans, Crossroads combines cutting-edge technology with creative innovation to connect fans with our artists' life-changing music.
READ The latest PDF Version Of SGNScoops Magazine here.
Download The latest PDF Version Of SGNScoops Magazine HERE
Find SGNScoops Magazine On Facebook HERE
Listen Online To The Best In Todays Gospel Music HERE