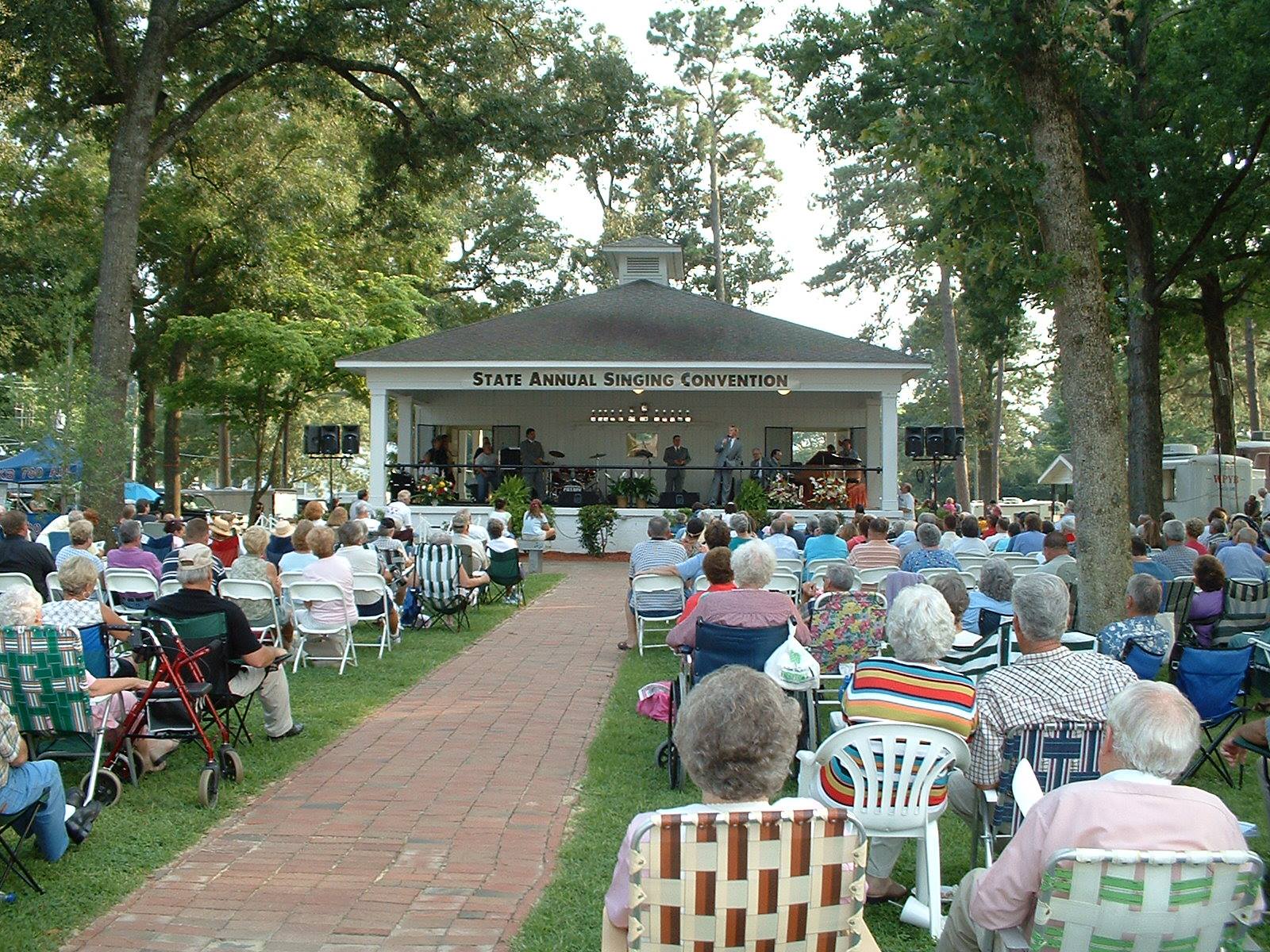 The Ninety-Eighth State Annual Singing Convention will be held Friday, June 22, Saturday, June 23 and Sunday, June 24, 2018, in the "Singing Grove," a beautiful city park at 400 East Main Street in Benson, North Carolina. Everyone is invited to Benson for a wonderful weekend, and a special invitation is extended
to new groups to come and sing. Our website www.gospelsingingconvention.org has important information for 2018. Visit us on Facebook at State Annual Singing Convention – Benson Sing. Call (919)894-4389 or fax (919)894-7394, or
email: info@gospelsingingconvention.org or danny@neighborsassociates.com or
rbest1951@embarqmail.com.
The following groups will each present thirty-minute concerts on Friday, June 22, starting at 7pm:
The Josh Harris Family, Tate and Marthieah, Full Reliance, Shockey Family, Crimson Cross, and the Horrell
Family. (Order of appearance and time may vary) There will be NO competition on Friday night.
The Martins, a super trio from Hamburg, Arkansas, and our Saturday night host group, will be featured in a special concert at 7pm on June 24. The Ferguson Family, a tremendous group and our 2017 Grand Champions from Mt. Dora, Florida, will be opening for The Martins at 6:30 pm on Saturday.
Many other talented semi-professional and amateur groups will appear during the weekend. A
concert by our Convention Choir will follow Sunday afternoon's competition. As customary, round robin or general group singing begins at 10 am on Saturday and Sunday and
continues daily with only two exceptions: (1) during group competition (2) during the special Saturday
concerts by The Martins and The Ferguson Family. The Martins All groups are welcome and encouraged to
sing in round robin sessions and in the contests.
PLEASE NOTE THAT COMPETITION BEGINS AT 2 PM ON BOTH SATURDAY AND SUNDAY.
Competition categories are: duets, trios, quartets, families, church choirs, juniors, and live accompaniment.
BLUEGRASS GOSPEL is also a competition category again this year. Trophies will be awarded at the end of
competition each day. Groups who enter competition on both days will be eligible for The Grand Champion
Cup and the Consolation Cup. The song selection for Sunday must be different from the selection the group
chooses for Saturday. Scores for both days will be used in determining the winners of the Grand Champion
and Consolation Cups.
Groups singing in competition are asked to fill out a registration form in the office in the Singing
Grove by 1:00 pm each day. There is no online registration. Please call, fax, or email us if you have
questions.
There are NO SOLOS due to time constraints. There is no entry fee to compete in the contests. No
admission is charged, and people are encouraged to bring a lawn chair. The State Annual Singing
Convention, Inc. is a non-profit organization and all officers, directors, and staff are volunteers.