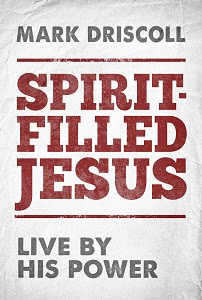 ORLANDO, Fla., -Â Pastor Mark Driscoll and his wife Grace today announced, via a video shot on location at the YouTube Spaces in New York, the release of Driscoll's new forthcoming book, "Spirit-Filled Jesus: Live by His Power" (ISBN-13: 978-1-62999-522-9), in partnership with Charisma House. The book, which Driscoll explains has been 30 years in the making as he has studied the Bible and helped others do the same, will release Oct. 2, 2018.
Through "Spirit-Filled Jesus," Driscoll dives into the role of the Holy Spirit in and through the life of Jesus to help readers discover that they, too, can experience the same Spirit-filled life that Jesus did.
"You can't just start in the book of Acts to learn about the Holy Spirit, you have to start in the book of Luke – they are a prequel and a sequel," said Driscoll. "The book of Luke gets you ready to understand how Christ works through Christians by the same presence, power and person of the Holy Spirit."
Driscoll explains how "Spirit-Filled Jesus" was inspired by his own experience pastoring individuals with various painful and practical problems.
"People often turn to self-help, and self-help, quite frankly, is of no help," said Driscoll. "What we need is the Spirit's help. The Holy Spirit empowered the life of Jesus. Jesus sends the Holy Spirit to empower our lives so we can overcome the same obstacles, live by His power and walk in his freedom and joy and that includes our emotional health, our relational health, our family and our ministry. 'Spirit-Filled Jesus' is an incredibly practical book that is rooted in deep biblical principles."
Driscoll says the book also includes some painful parts of his and Grace's own story that culminated in their family planting The Trinity Church in Scottsdale, Arizona.
"I have been on a journey with the Holy Spirit that has given me a life-changing new perspective: submitting to the Spirit has changed my marriage, how I raise my children and even how I minister to others," said Driscoll. "I want to share this journey with others so they can experience the same power from the Holy Spirit."
In "Spirit-Filled Jesus," Driscoll shows how the Holy Spirit was essential to Jesus growing in wisdom, stature and favor. It was also how He avoided temptation and defeated evil. When Jesus left the earth, He gave believers the Holy Spirit, enabling us to have these same abilities and powers.
"We don't want you to just admire the life of Jesus. We want you to experience it by the power of the Holy Spirit. To live a Spirit-filled life is to live a life like Jesus," said Driscoll.
"It is often said that who you are in life is greatly influenced by your personal experiences, but I believe it is actually how you choose to respond to those experiences that decides how you will turn out," Driscoll continued. "Those who allow the Holy Spirit to influence their lives with forgiveness, love and grace can, in turn, use those experiences to greatly affect the Kingdom."
"Spirit-Filled Jesus" explores a number of applicable topics including forgiveness, family, emotional health, relational health and overcoming temptation.
"I've been serving the Spirit-filled community my entire adult life," said Steve Strang, founder and CEO of Charisma Media. "I don't know of anybody who has ever written about this concept before. That is going to make it very unique. I think people are going to want this message and are going to understand how it applies to their own lives."
For additional information, including a free sample chapter of "Spirit-Filled Jesus," visit spiritfilledjesus.com/.