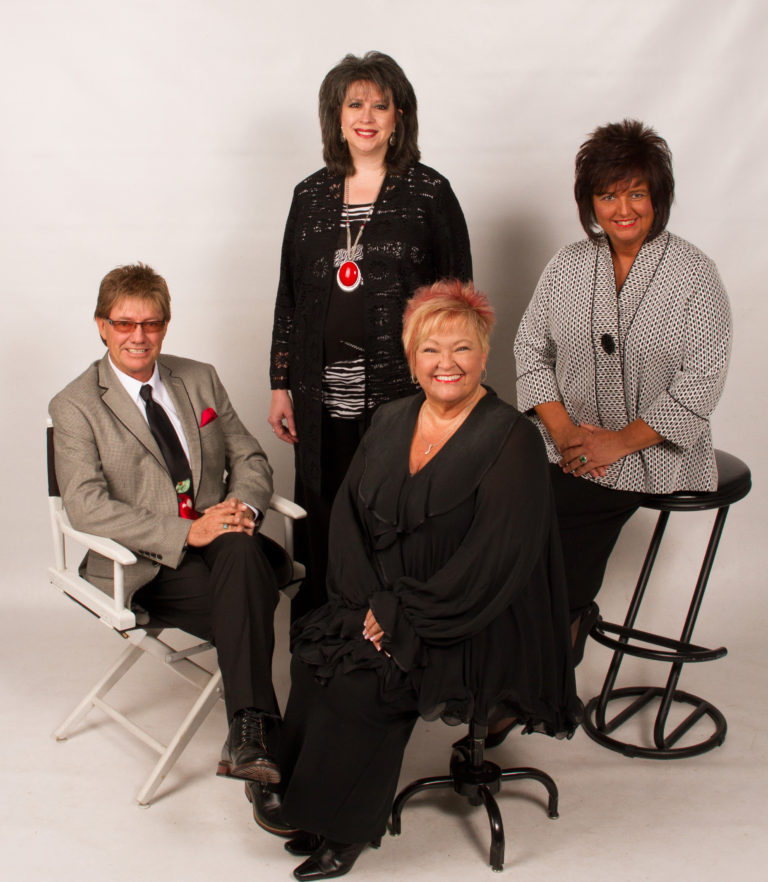 1. Tell us how and when New Day evolved? Doug and Karen began attending a local church in Huntsville, AL. It was there that they began to sing with the pastor and his wife on a few occasions. A few months later Karen's parents and her sister moved to Huntsville. Her sister, Kim, began to sing with the group. They were ask to sing at a local event in Huntsville. A picture and group name was needed for advertising. It was this event that birth the group New Day.
2. How did Doug and Karen meet?
Karen's family, The Ken Apple Family, had a weekly television program in the late sixties in Huntsville, AL. Many guests appeared on the program through the years. Doug sang with The Regents Quartet from Huntsville. They sang on the program and this was when Doug and Karen first met. Many years later their paths crossed again in gospel music. A courtship started and they eventually married.
3. Doug and Karen's history in gospel music?
Karen's History
As you know I was raised in a singing family…….The Ken Apple Family. Dad had me record my 1st song when I was 3 years old. The song was "He's Got The Whole World In His Hands." I traveled and sang with my family until 1990. One day Brock Speer called and told dad that their girl singer had left and he wanted to know if they could borrow me for a couple of weeks until they could find a soprano to fill that position. Dad said yes. He knew it would be a great experience for me and something I would enjoy doing. In previous years Ben would say to me "when are you going to come sing with us? Your daddy raised you on Speer Family music." Needless to say, to go with them for 2 weeks was exciting to me. My 1st day as a Speer was in the studio recording The Best of the Best. My 2 weeks turned into 7 years. Being with the Speer Family was a dream come true. I loved every minute of being with them.
Another highlight for me was being a part of the Gaither Homecoming Videos and the Homecoming Concerts. It was all so much fun and so many good memories with sweet friends. God has blessed me my entire life. So thankful He has permitted me to do what I love most and that's singing.
Doug's History
The beginning of my career in gospel music started in 1969 in Huntsville, Alabama with Aaron Wilburn. I worked with Aaron for a couple of years until he went on to be part of The Happy Goodman Family. Following my time with Aaron I started singing with some local groups including the Regents.
In 1994 Jack Toney called me and said Hovie Lister wanted him to help put the Statesman Quartet together again. They asked me to come and audition. I then became a part of Hovie Lister and the Statesman Quartet from Atlanta, Georgia for the next 7 years. A lot of people ask me how it was to work with Hovie. I've always said, "He was a pleasure to work with. He was so kind and respectful."
I also had the privilege of performing on the Grand Ole Opry and appearing on several of the
Gaither Homecoming Videos.
After years of traveling, I miss seeing all the people that would come to the concerts. With the formation of New Day, I feel like I've come full circle. I look forward to meeting you as we travel.
4. Future goals for New Day Ministry?
Well, Susie wants us to travel far enough out of Huntsville so she can sleep in her bunk on the bus…….lol!!! No…..in all seriousness……as a group, we desire to book a few dates each month. Our first single will be release soon entitled, "I Can Hardly Wait" written by Ken Apple. Spreading the gospel through music at churches and venues is the number one goal of New Day.
*Website and booking information?
We currently do not have a website. We do have a Facebook page. New Day Ministry. Call Doug or Karen Apple Young to book dates. 256-881-7008 (office number).
5. Tell us a wonderful memory of Karen singing with the Speers?
A very special memory for Karen was when the Speers were nominated for a Grammy. The Speers traveled to Los Angeles for all the Grammy events. Karen was thrilled to walk the red carpet!!
Bonus Question:
Will you guys share your testimony?
Doug:
My testimony is nothing spectacular. I was raised in a christian home where we all went to church together. In my teen years I stopped going to church and started playing in a non-christian band. We played at sock hops and teen clubs. That seemed innocent at the time. We were just having fun. Satan knew how to entice us and we started playing in bars and night clubs. One thing led to another and my friends (band members) were drinking and using drugs. Thank the Lord that was never my thing. I knew that was not for me. Looking back, I see God's hand and His protection on my life. God spared me from a lot of things. Even though I wasn't a bad kid, and wasn't the type to get in trouble, I wasn't saved. There was an emptiness inside of me. When I turned 20, I gave my heart and life to Jesus. God then changed my heart and my desires. I still wanted to be in music, but not in clubs. I wanted to be in gospel music.
Karen:
I was 5 or 6 years old. We were in Coffeyville, Kansas in a revival. After church one night, I told daddy I wanted to be saved. Dad said I was so young. He felt like children needed to know what they were doing, because this is the most important decision you make in life. He told me all about being saved and the plan of salvation. Then he said "Karen, sometime when we're in church, if you still feel like this, just go to the alter and ask Jesus to forgive you of your sins. Ask Jesus to save you and come into your heart." I replied with, "Why do I have to wait til I go to church? Why can't I pray right here?" Dad said he knew I was ready. So, we knelt down right there in the dining room of the house where we were staying and daddy prayed with me and led me to the Lord! As Dad Speer wrote, it just gets "Sweeter Each Day!"
Kim:
I was 7 years old when I started asking my dad questions about how you know you are ready for heaven when you die. He explained the plan of salvation right there in the motor home while we were traveling. Daddy prayed with me and I asked Jesus to come into my heart. My testimony doesn't include being delivered from drugs, alcohol, etc., but dad always told us kids…. "It's great when God delivers you from a dark past, but even greater when he keeps you from it." I'm so thankful the story of my life changed that day.
Susie:
At the age of 4, I vividly remember my salvation experience. My parent's marriage was ending. I felt the conflict in my family. My parents had gone to a church to pray for their marriage. It was during their prayer time that I felt the drawing of the Holy Spirit. With tears in my eyes, I ask my mother to pray with me. I prayed the sinners prayer. There is no doubt that it was at that moment that God's plan begin to unfold in my life. My parent's marriage did end, but God's protection began for me that very night.
Find More Southern Gospel News HERE