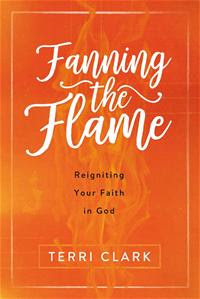 (Hot Springs, AR) — In a survey by expastors.com last year, 71% of ministers said they had gone through spiritual burnout. A similar study by the Francis A. Schaeffer Institute of Church Leadership Development showed similar statistics the year before, citing 70% of pastors developing depression, fatigue or burnout. But it doesn't just happen to clergy, as a recent study by the Public Religion Research Institute indicates. Twenty-five percent of Americans claim no formal religious identity, making this segment the single largest "religious group" in the U.S. Author, counselor, and missionary Terri Clark knows these statistics too well. She was one of them. And in her new book, "Fanning the Flame: Reigniting your Faith in God", Clark reveals her own personal struggles with a waning faith.
"I have served in ministry for over four decades," says Clark. "We have built a hospital in Uganda, enrolled over 500 children in a Child Education Sponsorship program, I have shared the Gospel in India, Vietnam, China and Myanmar. And yet, I felt I was losing my passion for God. I felt like I was going through the motions and living a mediocre faith. But I began to get honest with myself and with God, and identify the things that were driving me towards burnout."
In "Fanning the Flame", Clark admittedly gets very transparent with readers about the issues she discovered in her own life. But it was a simple object from a crafts store that made the scriptures she had read all her life take on a whole new meaning.
"I am a visual learner and when God kept bringing scriptures to me about lamps, I became curious as to what those looked like when the verses were written. I learned that the lamps in that time period were made out of clay and they were shaped like small bowels that fit in the palm of your hand. So I went to the store, got some clay, baked it and made one for myself. I put a piece of terry cloth in it as the wick, added some olive oil, and it actually worked! But I noticed it would burn out quickly until I trimmed the wick, then it would burn bright again, just as the scripture suggests. God taught me some important lessons through that exercise. We are the clay formed by the potter, shaped for a purpose — to bring light. But we need the oil (the Holy Spirit) and faith (the wick) in order to do that. And we need to trim that faith (wick) often in order to get rid of the black, burned out things in our lives that keep us from being a bright, glowing light."
Clark also writes about some direct correlations she discovered between the Old Testament feasts that God required of the Israelites and the faith walk of most modern-day Christians.
"God's people were required to take a pilgrimage three times per year to celebrate three festivals: Passover, Shavuot, and Sukkot. When I studied the meanings behind each of these events, I realized there were parallel meanings between these festivals and the Christian life. That discovery helped me understand where my own faith had wavered, and what I needed to do to get it back on track."
Clark hopes this book helps both church leaders who are experiencing burn out, as well as people who have abandoned their faith reignite their relationship with God.
"I had one lady who read an early copy of the book tell me that she had struggled with her faith for the past 14 years, but this book helped her get back on track. That is exactly what I hope will happen for everyone who reads it. I get very vulnerable in the book and share my own battles with the obstacles that blocked my pursuit of God. The main thing I want them to gain is a renewed sense of God's presence in their lives."