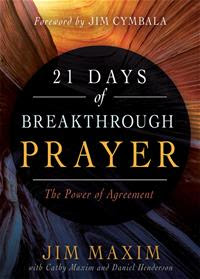 (Philadelphia, PA) – A recent Barna Research study showed that 94% of American adults who have prayed at least one time in the last three months most often pray by themselves. Only 4% say they pray collectively with a church or with other people. According to Jim Maxim, co-author of the new book "21 Days of Breakthrough Prayer: The Power of Agreement", this statistic is why so many churches are failing.
"Church leaders are in a difficult position in today's culture," says Maxim. "Sometimes it can be challenging to listen to voices who tell them to try this latest tactic or implement this new method in order to reach more people. Marketing has its place, but sometimes we neglect the one thing that can truly change everything—corporate prayer. We want to help people see the value of that again, and offer them resources that can help move them in that direction."
Co-written with Maxim's wife, Cathy, and Pastor Daniel Henderson, "21 Days of Breakthrough Prayer" offers daily written devotionals each day after which readers are invited to go to www.Acts413.net/21days or www.Strategicrenewal.com/21days to listen to a daily prayer of agreement.  Maxim and his wife began the Acts 413 ministry a few years ago to bring pastors and church leaders together for corporate prayer in various cities in the U.S. Their prayer gatherings have featured well-known pastors and speakers such as Jim Cymbala of Brooklyn Tabernacle, but the lasting effects of the gatherings have sparked many local pastors to begin praying for each other on a regular basis.

"One pastor told me that in 20 years he had never walked across the street to talk with the pastor of another church," says Maxim. "And now, they meet weekly to pray and encourage one another. What might happen if church leaders come together all across the country and start praying for each other and their congregations?"
Maxim's previous book was his personal memoir entitled "Face to Face with God" in which he credits his mother's prayers for saving his life and his soul. The book details a near-death experience he had when a car crash shattered his face and head. He was an admitted alcoholic and drug addict in his early years, but after his near-death encounter, he became a Christian and went on to run several successful businesses. "Face to Face with God" has been used as part of prison ministries nationwide, and has been translated into Spanish, Indonesian and Urdu (Pakistan) languages and is now available in over 15 countries around the world. Maxim's passion for prayer and for encouraging and uplifting church leaders is at the foundation of his ministry.
"The verse in 2 Chronicles 7:14 doesn't say, If my people who are called by my name will build bigger buildings, add smoke machines, attend more conferences and increase activities, I will hear from heaven. We must humble ourselves before Almighty God. Prayer is the greatest weapon God has given to His children. Prayer is us getting on our faces and confessing that it is all about Him, not us. Prayer is the time He has designed for us to recalibrate our minds and our actions to be focused on Him. I hope this book becomes a catalyst to help more people understand how vital corporate prayer can be. God says He will heal our land when we come together and seek Him. Maybe that kind of prayer is the missing link that will answer the many problems of our nation and our world."