75th Year of CSX's Holiday Event
 Nashville, Tenn. (October 17, 2017) – Country and bluegrass music legend RickySkaggs will be the special guest on the 75th running of the CSX Santa Train on Saturday, November 18.
Skaggs was raised in Cordell, Kentucky, making the cause of helping the people of Appalachia something very near and dear to his heart.
"So excited to get to do the Santa Train this year… it's a beautiful thing," says Skaggs. "I love the children of Appalachia and I love Christmas, so it's gonna be a great thing for my heart. Can't wait!"
Skaggs, whose impressive resume includes 15 GRAMMY® Awards, 12 #1 hits and eight CMA awards, has been performing bluegrass music for much of his life. He's been especially busy lately as he continues to tour the country playing music that is both fed by the soul and felt by the heart.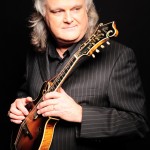 "We are so excited to have an icon like Ricky Skaggs join us on this year's Santa Train," said Tori Kaplan, Vice President of Communications and Field Support for CSX. "This year's train marks 75 years of giving back to the families of Appalachia, and we couldn't have picked a better partner and representative of Appalachia than Ricky."
Each year since 1942, CSX's Santa Trainembarks on a journey from Shelby, Ky., to Kingsport, Tenn., to spread holiday cheer, passing out gifts to families in cities along the rail line. The Santa Train makes 14 stops in Kentucky, Virginia and Tennessee, delivering toys, food and winter clothing to hundreds of residents along the way. Skaggs will accompany Santa Claus and event sponsors CSX, Food City, Kingsport Chamber of Commerce, Appalachian Power and Soles 4 Souls on the 110-mile trek. He will perform live at the train's final stop in Kingsport.
Fans can use the hashtag #santatrainis75 to follow the train online and engage in theSanta Train conversation on social media.
About Ricky Skaggs
Earning 12 #1 hit singles, 15 GRAMMY® Awards, 12 IBMA Awards, nine ACM Awards, eight CMA Awards (including Entertainer of the Year), two Dove Awards, the ASCAP Founders Award, three honorary Doctorate degrees, inductions into the Musicians Hall of Fame and GMA Gospel Music Hall of Fame, the 2013 Artist-In-Residence at the Country Music Hall of Fame and Museum, an Americana Music Association Lifetime Achievement Award in the Instrumentalist category along with countless other awards, Ricky Skaggs is truly a pioneer of Bluegrass and Country music. Since he began playing music more than 50 years ago, Skaggs has released more than 30 albums and has performed thousands of live shows. He started his own record label, Skaggs Family Records, in 1997 and has since released 12 consecutive GRAMMY®-nominated albums. His latest release, Hearts Like Ours, with his wife, celebrated artist Sharon White of The Whites features the couple dueting on handpicked country love songs. And the Grand Ole Opry member has released his first-ever autobiography, "Kentucky Traveler." The book details the life and times of Skaggs and provides a descriptive history of Country and Bluegrass music, as told by the master himself. In addition to his regular touring schedule with his band, Kentucky Thunder, he recently performed a string of dates with his better half Sharon White along with guitar legend Ry Cooder on the critically-acclaimed "Cooder-White-Skaggs" tour and from time to time hits the road with versatile singer/songwriter and pianist Bruce Hornsby on another critically-acclaimed tour, "Ricky Skaggs & Bruce Hornsby with Kentucky Thunder."
For more information on Ricky Skaggs, visit rickyskaggs.com.
For the latest issue of SGNScoops magazine click here
For more gospel music news click here.
For online gospel music click here.
Related