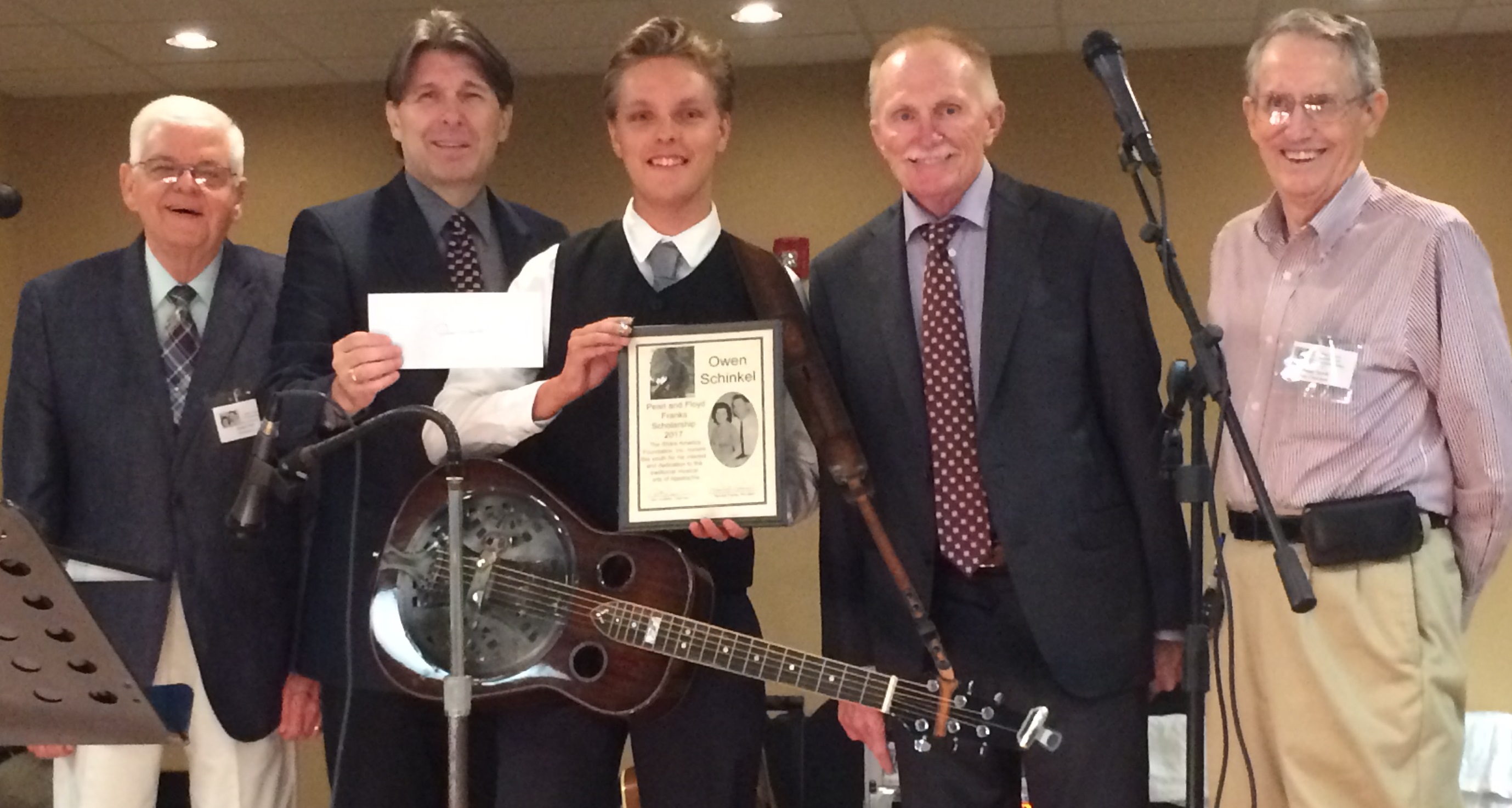 The Share America Foundation, Inc. announced its 2017 scholarship winner recently at Ringgold's Patriot Hall in Ringgold, Ga. The scholarship honors students excelling in the Appalachian musical arts.
The events help fund the organization's Pearl and Floyd Franks Scholarship. Pearl and Floyd Franks are the late parents and former entertainment managers of American film and TV actor/entertainer Randall Franks, "Officer Randy Goode" from TV's "In the Heat of the Night." Franks is an International Bluegrass Music Museum Legend and multiple music hall of fame inductee (www.randallfranks.com). In his latest film "Broken," the Appalachian fiddler plays an investigator trying to get actor Soren Fulton's character back from kidnappers.
"The call of Appalachia reaches around the world," Franks said. "Our latest scholar is the perfect example of how someone from Holland found their way to Appalachia to study and change the direction of their life."
Dobroist Owen Schinkel of Johnson City, Tenn. was selected as a Pearl and Floyd Franks Scholarship winner receiving a $1,250 scholarship from the organization for continuing his music studies. While in Ringgold, he also appeared both at Sacred Sounds Fridays at Ringgold's Patriot Hall, on the long-running Ringgold Opry at the Ringgold Depot and toured the region's historical sites meeting many locals and tourists.
"I greatly appreciate the opportunity that Share America and all those who support its efforts have given to me," Schinkel said.
Schinkel is a freshman musician at East Tennessee State University as part of the Bluegrass, Old Time and Country Music Studies program in the Appalachian studies department. He is an international student from The Netherlands in Meppen. He came to the U.S. in January 2017.
"The focus is preserving the Appalachian traditions and culture and of course its music," he said. "Moving to East Tennessee and studying Bluegrass, Old Time and Country music is a big step in my career learning and understanding this Appalachian music and its culture.
"I've got two main education goals for the time I am in the United States. One is to become a master on my Instrument by playing with a lot of people in a lot of different situations," he said. "ETSU is actually making this possible. Before I was never able to play serious bluegrass music with people from my age. While here, I'm jamming almost every day. I'm thinking about missing this when I move back to Holland again."
He said his second goal is to build up a network of friends/musicians/promoters to increase the popularity of bluegrass, old time and country music overseas.
"I fell in love with mountain music when I was 16 years old, it changed my life," he said. "I stumbled over a video from Jerry Douglas and Dan Tyminski playing the song 'The Boy Who Wouldn't Hoe Corn' on the Transatlantic Sessions.
"After doing some research I found out that Jerry was playing a Dobro, I immediately fell I love with the sound of the Dobro and knew I wanted to play that instrument," he said. "I purchased a Dobro and started my journey. Several years of practice brought me where I am now: The United States of America. A part of the study at East Tennessee State is the participation in student (Bluegrass) bands."
He is already participated in three school bands and an outside band.
"Being part of four bands since my arrival is a lot of fun. I feel my playing progress every day since my arrival in the United States," he said." My heart & mind are telling me to pursue my dreams, and that is what I am doing right here, right now."
"Encouraging the future of youth is the focus of what we do and our name Share America has never been more appropriate as we help a young man bring Appalachia with him when he completes his education and returns to Europe," said Share America Chairman Gary Knowles.
Share America Foundation Board members include Franks, Knowles, Jimmy Terrell, vice chairman; James Pelt, secretary; and Jerry Robinson, Sr., vice president.
The next Sacred Sounds Fridays is November 10, 2017 at 7:30 p.m. featuring the Hullender Family and Testimony Quartet at the Ringgold's Patriot Hall. Admission is a $10 donation. Franks will host the event.
For more information about the organization and its programs, contact Share America, P.O. Box 42, Tunnel Hill, Ga. 30755 or visit www.shareamericafoundation.org.
Listen To Today's Gospel Music Online HERE