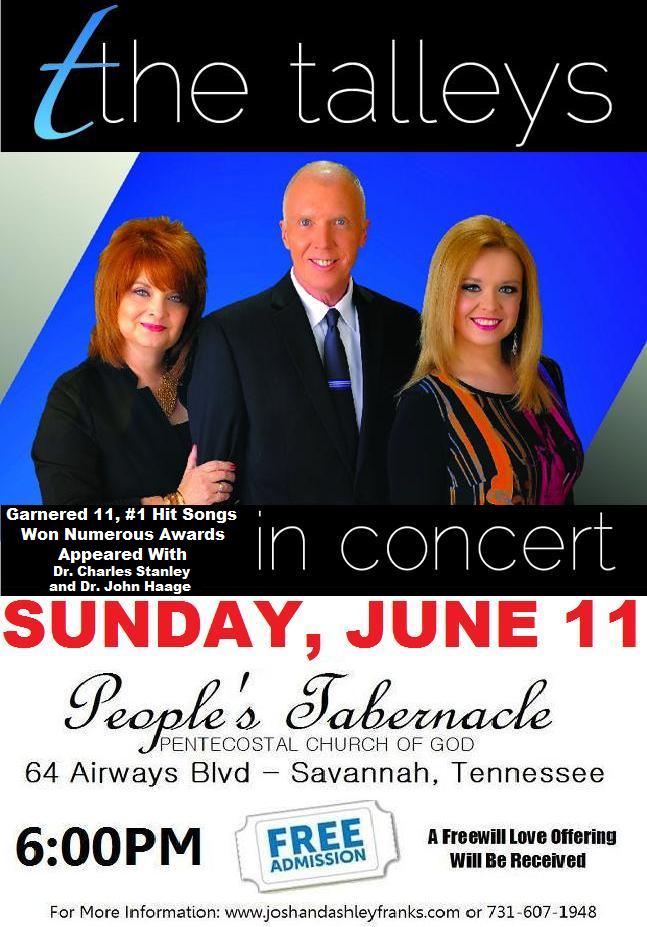 People's Tabernacle Church, 64 Airways Blvd, Savannah, TN will welcome the award winning family group, "THE TALLEYS", on Sunday, June 11, 2017 at 6:00PM.
Admission is free and an offering will be received.
Pastor Josh and Ashley Franks will also appear.
For more information, go to www.joshandashleyfranks.com
About The Talleys: The Talleys unmistakable sound, progressive southern gospel style, and ministering hearts have made them a fan favorite and one of the most respected groups in the gospel music industry. Their accolades include ten number one singles, Dove Award nominations, Singing News Fan Awards, the Southern Gospel Music Guild Harmony Honors, the BMI Awards, SGN Music Awards and the honors aren't stopping. They keep rolling in. Although the group is noted for their powerful vocals, tight harmonies, smooth blend, and dynamic arrangements, colleagues insist The Talleys' hearts are just as pure as their sound. Look for more on the Talleys in the June 2017 issue of the SGNScoops Magazine.
For more information on the Talleys click here.
About Josh and Ashley Franks: Josh and Ashley Franks both grew up in the church and with Gospel music in their home. Josh was traveling as a soloist and an evangelist when he met Ashley who sang with her mother in Hope's Journey in 2006. They were married in 2007 and now have two children, Priscilla and Joshua. Since their marriage they have been traveling and singing as a duet as well as promoting several Gospel concert events throughout the year.Pastor Josh and Ashley Franks have been serving as Lead/Senior Pastor at People's Tabernacle PCG since September, 2015. While they still maintain a very busy schedule on the road, Pastor Josh preaches almost all services.
For more Gospel music news click here.
For the latest SGNScoops Magazine click here.