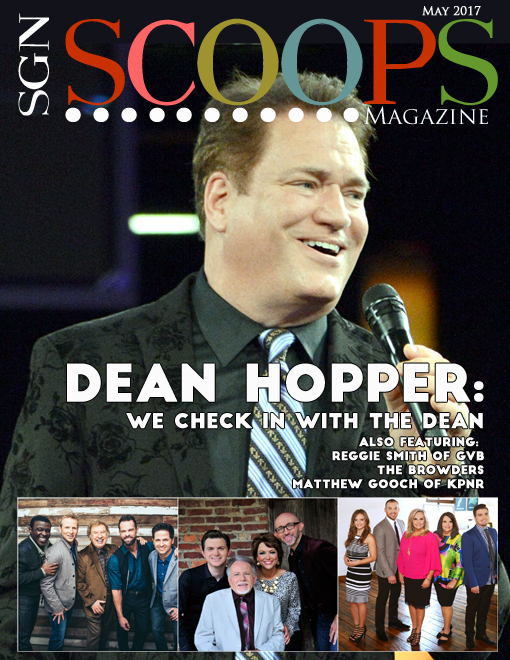 Welcome to the May edition of SGNScoops Magazine. Happy Mother's Day to all of our readers. We celebrate with special Mother's Day features by Sarah Murray and Selena Day.We are pleased to have Dean Hopper on our cover this month. He and his family talk about how his recent health scare has affected America's favorite family of gospel music. We know you will enjoy this feature by Craig Harris.
An excerpt from that feature:
Dean says, "Any time you have a stroke, it comes out of nowhere," Dean says. "I knew I was tired. I was stressed. I opened a new business last year. You're heading into the holidays, so you have extra concerts because of Christmas. We did some work in the studio. We were trying to make all of that happen. I was tired … tired as much as anything. Evidently, I wasn't getting enough solid sleep at night…"
We talk to Donna King about the new venture entitled "TWELVE" and how her family has been challenged by addictions. What can you do about a loved one who is addicted? Donna shares some thoughts in this feature.
Other artists featured this month include Matthew Gooch, The Browders, Reggie Smith, Jeff Gibson, Troy Burns and more. Don't miss the monthly features by Randall Hamm, Nathan Kistler and Vonda Easley.
SGNScoops Top 100, Christian Country Top 40, updates on Creekside 2017 and Vernon Alabama's Gospel Music Weekend, the DJ Spotlight, CD Reviews…the list goes one. Don't miss any of these great features!
There is so much more in this month's issue. Read it today and let someone else know how much you love SGNScoops Magazine. We trust you find encouragement, engagement, and perhaps even find out something you didn't know before. Most of all, we hope you see Jesus in our pages and share Him with someone this month!
Find SGNScoops Magazine On Facebook
HERE
Listen To Today's Gospel Music Online
HERE
Download The PDF Version Of SGNScoops Magazine
HERE