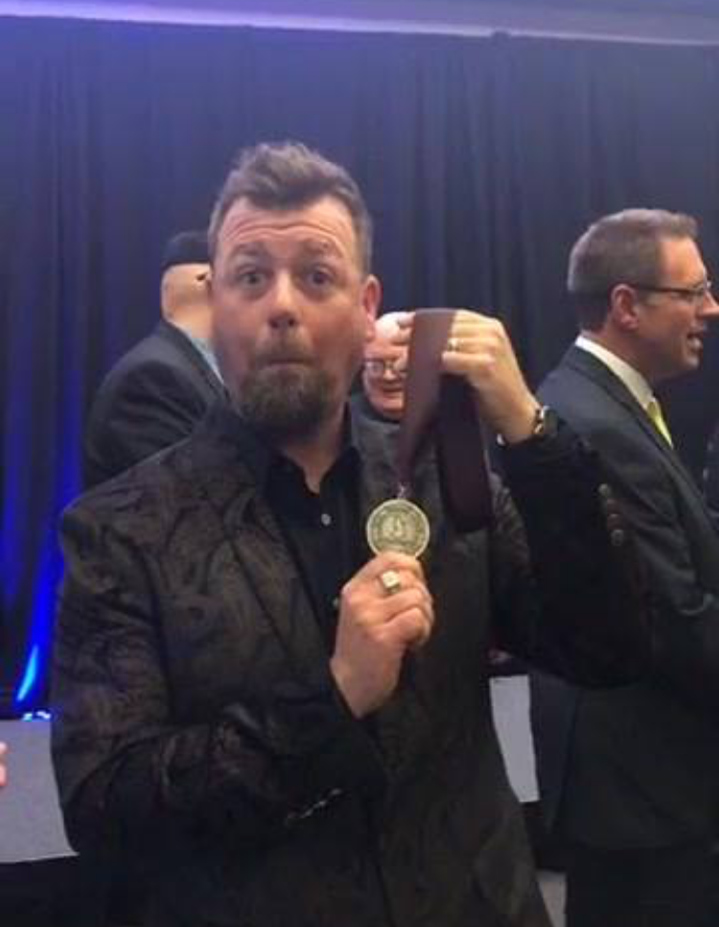 Centre, AL Multi-talented Gospel singer, Steve Ladd received one of the highest honors in Gospel Music last night when he was inducted into the 2017 class of Gospel Music Hall of Fame inductees. This was due to his tenure with celebrated and groundbreaking quartet Gold City, Steve was joined by all the alumni of the group in this year's induction ceremony.
Steve stated, "I never thought in my wildest dreams I would be inducted into the GMA Hall of Fame…let alone at the age of 40. I'm so honored to have been a part of the legacy of Gold City. It was my childhood dream. God has blessed me beyond my imagination!".
Steve was inducted in the Gospel Music Hall of Fame on Tuesday, May 9, 2017 in Nashville, Tennessee at the GMA Honors Celebration. Ladd joined his fellow alumni, along with the other inductees: inspirational powerhouse vocalist Steve Green, Gospel and crossover star Yolanda Adams, and legendary management team and founders of Reunion Records, Michael Blanton and Dan Harrell.
This event also honor individuals and organizations that have made an impact on the Christian community and culture at large. This year's honorees included Amy Grant for Helping Hands, Dr. Shirley Caesar for Shirley Caesar Outreach Ministries, Compassion International and Natalie Grant for Hope for Justice.For more information on the GMA Hall of Fame, visit
www.gospelmusichalloffame.org
.
Steve Ladd was recently honored with a nomination in the 2017 Absolutely Gospel Music Awards. He received a nomination for Fan Favorite Artist. He also recently signed with Crossroads Label Group and just completed his first EP titled No Excuses, No Regrets for the Sonlite Records label that will release on June 9th.
To learn more about Steve go to http://steveladdmusic.com/.
Follow Steve on FaceBook at https://www.facebook.com/SteveLaddMusic and Twitter at https://twitter.com/SteveLaddMusic.
For booking Steve contact 256-266-1149.
Listen To Today's Gospel Music Online HERE