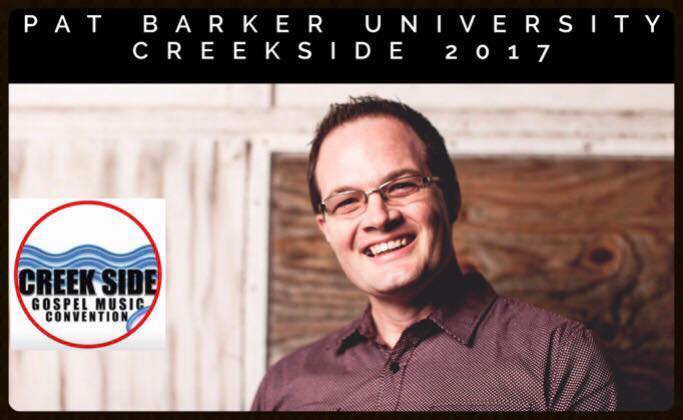 Pat Barker, a well-known bass singer and Gospel music personality from Alabama, has begun to share his wealth of experience to aspiring singers and accomplished artists alike. These sessions of training and encouragement are called the Pat Barker University. Offering vocal coaching to stage presence, Barker touches on everything the artist needs to present Christ.
Creekside Gospel Music Convention 2017 is thrilled to be able to present the Pat Barker University to artists and attendees for a nominal cost on a first come, first served basis. Barker recently presented this seminar at the Southern Gospel Weekend in Oxford, Ala., and those who present were satisfied
that it was time well spent. PBU attendee Charlie Sexton said recently on Facebook: "If it is anything like the one last month at Oxford, it will be extraordinary. I encourage everyone that can to attend. Well worth the money!"
Creekside 2017 is being held at the Smoky Mountain Convention Center, Pigeon Forge, Tenn., from October 30 through November 2. The convention will include a Monday morning outdoor breakfast and showcase, evening concerts Monday through Thursday, afternoon showcases, the Diamond Awards, artist breakfast and midnight prayer. Fans are encouraged to register for the free tickets for hotel reservations at 360 933 0741. Go online to creeksidegospelmusicconvention.com for more information.
Rob Patz of Creekside says, "I am so excited that Pat is coming to Creekside to present PBU. I know everyone will learn something and return to the road with renewed enthusiasm. He might even teach me to sing bass!"
Artists and guests will enjoy the Pat Barker University and will be allowed to attend on a first come, first served basis. Please call Rob at 360-933-0741Â  to reserve your seat today. The fee is $25 per person.
Find Creekside Gospel Music Convention On Facebook HERE
Listen Online To Today's Gospel Music HERE