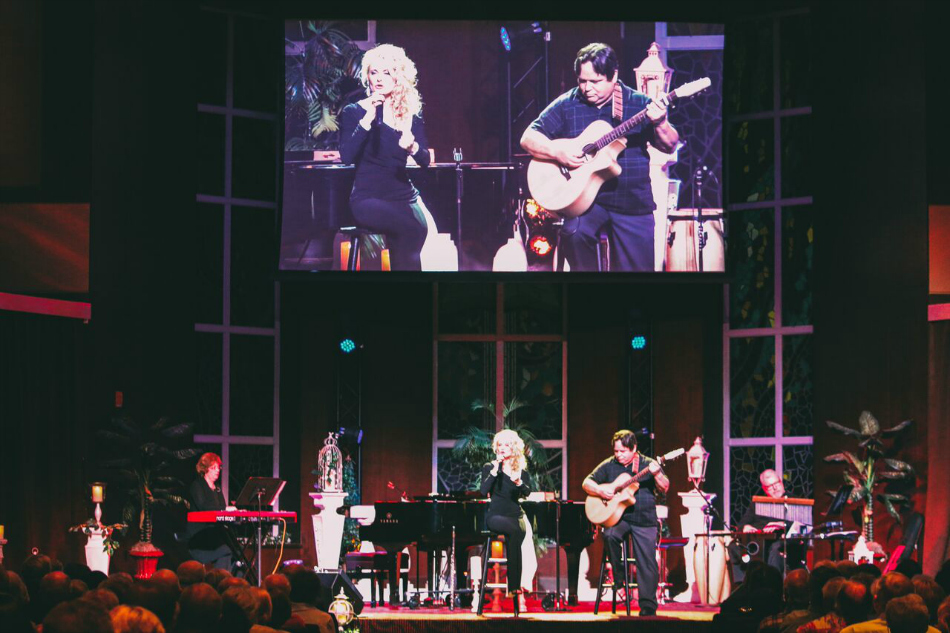 NAPLES, Fla.  – Singing News Fan Award nominated vocalist Lindsey Graham hosted her 4th Annual Homecoming event earlier this month. Graham played host to several artists before a packed house on February 9, 2017 in the chapel of First Baptist Church Naples in Naples, Florida.
In addition to stellar performances and anointed ministry from Graham, the evening featured performances from celebrated worship leaders Dr. Todd and Sonya Stearns. Graham was also thrilled to share the stage with a band this year comprised of keyboard & B3 player Melissa Rose, acoustic guitarist Denny Scott, and percussionist Rob Platter.  Graham presented two original songs while floating between vocals, piano, flute, piccolo and penny whistle throughout the evening.  Her Dad, Greg, joined Graham mid-concert for a Kentucky front-porch duet, and the crowd was completely wowed when Mom, Pixie Graham, joined the duo on the stage creating a family trio.  The Graham Family has not sung together in public for more than 16 years.
Lindsey exclaimed, "I could not have been more pleased with this evening. God is so faithful and ever steadfast. He proves Himself o'er and o'er to me which is why the theme of the night was trusting in and believing God.  I am blessed beyond measure in my Lord and Savior, Jesus Christ.  I am humbled by the love and support of my home church and local community.  This was truly a triumphant night in the Lord celebrating in music and testimony our identity in Christ, the joy of friends and the beauty of family.  I am already looking forward to next year!"
Pictures of the event will be posted on Graham's ministry Facebook page and her website soon.
Lindsey's current single, "No Greater Song", is beginning to make a strong impact at Southern Gospel radio. The song will make its debut on the upcoming April 2017 edition of the Singing News Top 80 monthly chart.
Learn more about Lindsey Graham by going to her website at http://www.lindseygrahamministries.com or https://www.facebook.com/LindseyGrahamMinistries.
To book Lindsey for your church, concert or event contact Dominion Agency - 828- 454-5900.
Listen To Todays Gospel Music HERE