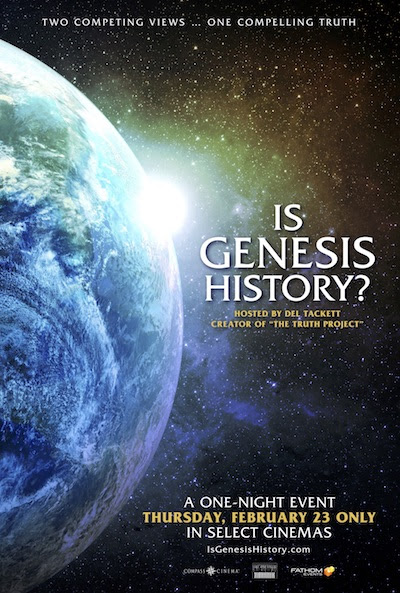 WHERE DOES EVERYTHING COME FROM?
DOCUMENTARY 'IS GENESIS HISTORY?' EXPLORES THE BIGGEST QUESTIONS
Dr. Del Tackett and Renowned Scholars and Scientists Seek the Truth Behind Our Origins;
In Cinemas Nationwide for One Night Feb. 23
IsGenesisHistory.com
DENVER – Nov. 29, 2016 – In the enlightening new documentary, IS GENESIS HISTORY?, Dr. Del Tackett takes audiences on a remarkable journey to explore evidence that supports historic claims of the Book of Genesis with renowned scientists and Bible scholars.
IS GENESIS HISTORY? comes to movie theaters nationwide for a one-night event, Thursday, Feb. 23, 2017, from Compass Cinema and Fathom Events. Following the film, there will be a moderated on-screen discussion with Tackett and a panel of scientists and theologians regarding Genesis' impact on Christians today.
"Millions of people have sincere questions about the origins of the earth and humanity," Tackett said. "And there are contrasting views of our history, one of which is in the book of Genesis. The question is, which view is accurate? IS GENESIS HISTORY? makes a positive case that the Bible is historically reliable."
Traveling the world, Tackett teams with experts in geology, biology, astronomy, archaeology, the Bible and more. Together they seek answers to longstanding questions surrounding the book of Genesis:
â–  Was the universe created in six literal days?
â–  Did humans evolve?
â–  Were Adam and Eve real?
â–  Was there a global flood?
â–  What happened to the dinosaurs?
Tackett, creator of The Truth Project, addresses worldview and cultural issues through writing, speaking, film and TV.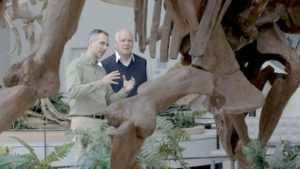 IS GENESIS HISTORY? is produced by Compass Cinema and produced and directed by Thomas Purifoy, Jr.
"This film started from a conversation with my 10-year-old daughter about science, history and the Bible," Purifoy said. "She wanted to know how the things in the world are explained by what she reads in the Bible. Her questions led me down a lot of different paths where I heard and saw some amazing things. I tried to put as many of them as I could into the documentary."
To purchase tickets online go to www.IsGenesisHistory.com or to participating theater box offices. A complete list of theater locations is at the Fathom Events website.
About Compass Cinema
Compass Cinema is a Nashville-based film-and-video production company creating documentaries, narrative films and educational products. It aims to make learning about God's world fun and engaging for everyone.
About Fathom Events
Fathom Events is recognized as the leading domestic distributor of event cinema, and ranks as one of the largest overall distributors of content to movie theaters. Fathom Events' live digital broadcast network ("DBN") is the largest cinema broadcast network in North America, bringing live and pre-recorded events to 887 locations and 1,354 screens in 181 Designated Market Areas® (including all of the top 50). For more information, visit www.fathomevents.com.
For Gospel music news click here.