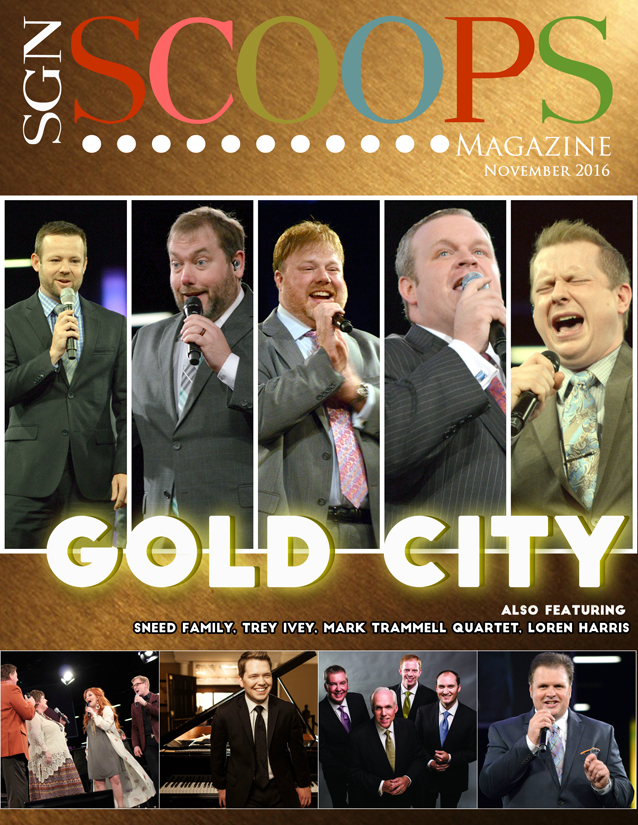 Happy Thanksgiving! SGNScoops Magazine  would like to wish you and your family a wonderful season of celebration and thankfulness. We hope you take a moment to sit down with your pumpkin spice latte and enjoy this month's offerings.
Cover feature this month is Gold City Quartet, who were also one of the featured groups at Creekside Gospel Music Convention 2016. This Quartet has found the right combination of voices and personnel to ensure their golden status. We hope you enjoy this in-depth update.
Read this clip from this feature by Paige Givens:
Daniel Riley says, "Scott is our newest member. He had filled in a few weeks for us and auditioned in the process, but his first official date was at the Memphis Quartet Show on June 18, 2016. I think when we brought Scott on, we all knew there was something special happening, and it still feels like that now, on stage and in the studio as we're working on our next recording. I'm excited about this current lineup and what I'm hearing each night. If the feedback from fans and our peers is any indication, they are excited too."
We also have several other groups gracing our pages, including The Sneed Family, The Mark Trammell Quartet, the Sharps Quartet, the Saving Grace Trio, and the Florida Boys. You will also find stories on Lauren Harris of the Kingdom Heirs, Trey Ivey of Legacy Five, Danny Sinacori, and the Southern Gospel Promoters Association.
All this plus our usual monthly contributors, radio release countdowns, event updates and more. Selena Day, David Staton, Nathan Kistler, Dusty Wells bring us words from their hearts.
We would like to take this time to thank all of our writers who contribute so much of their time and effort every month, our creative/design team, our proofreader, and our sales/social media team. All of these people spend so much of their spare time working with artists and using their talents to keep SGNScoops vibrant and growing, in its eighth year of publication.
We give our greatest thanks to our Lord and Savior Jesus Christ, without Whom we wouldn't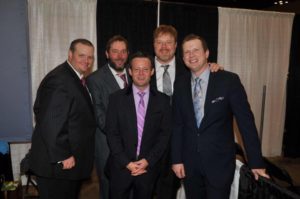 exist.
Happy Thanksgiving!
To Read SGNScoops Magazine on Issu Click Here.
To Download SGNScoops Magazine Click Here.
Find Us On Facebook HERE