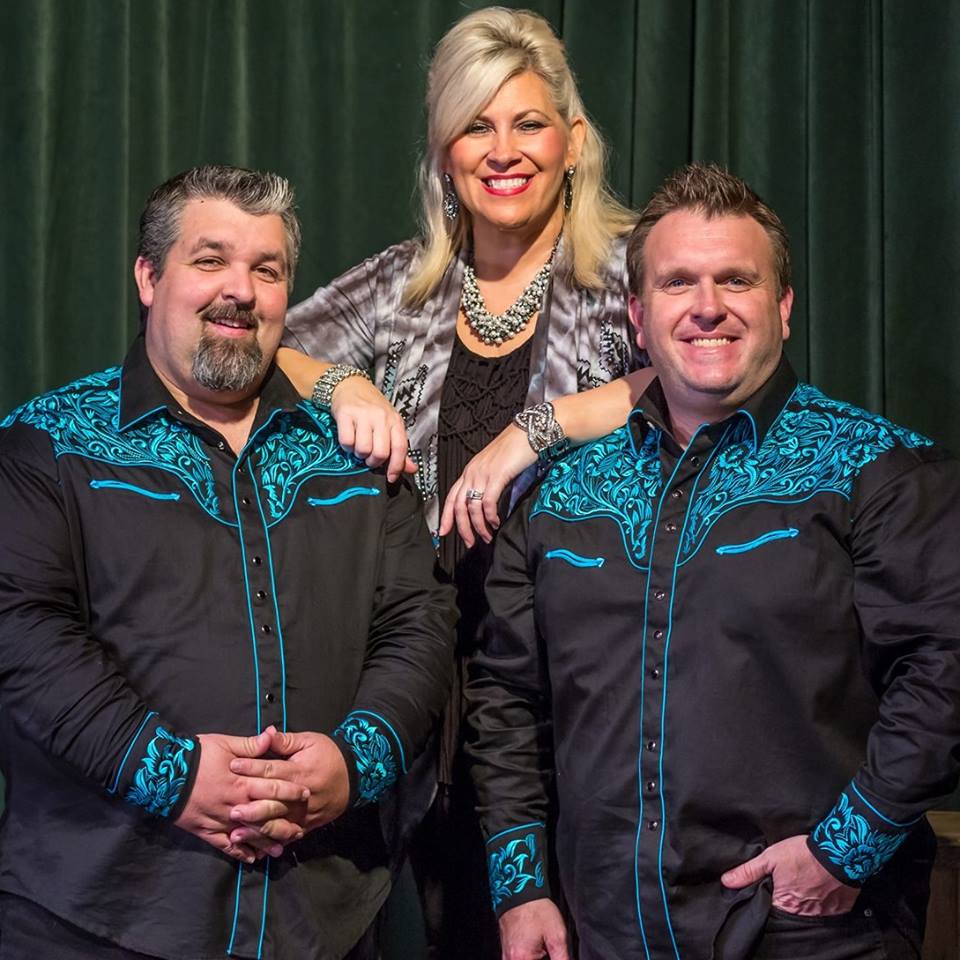 I receive a newsletter from Faith's Journey regularly and I had to post this one for all of you. The recipes look great!! – Lorraine
Mid-America Gospel Music Convention, Silver Dollar City News, Faith's Journey in a "Cold North" Christmas Tour, Always Prime Country, Deana's Thanksgiving Pecan Pie & 6-Layer Salad
Mid-American Gospel Music Convention
Just last weekend, Faith's Journey was honored to sing at the Mid-America Gospel Music Association's (MAGMA) annual convention in Farmington, Missouri, in the eastern edge of the Ozark Mountains. The facility — called the Centene Center — is beautiful and seats about 750. We had a good time, met great new people, and the Convention just welcomed us with open arms. The Convention board gave us a good spot to sing, the sound was great, and they had eight to 10 groups every night.
We also had people coming up to talk to us who had seen us at Silver Dollar City and there was just a good air of excitement. We had a lot of people coming up and saying, "Hey, we're coming to Branson to see ya'll!" and we realize it's a tip of the hat to the old way of Branson, back in the day when the Baldknobbers and Presley's and Plummer Family would go out there and sing and say, "Hey, ya'll come see us in Branson!"
"A full fall schedule for Faith's Journey…"
Faith's Journey sang for 22 days out at Silver Dollar City with a couple of trips to Texas and a Homecoming squeezed in as well, so it has been a full fall schedule! Our show at God & Country Theatre on 76 Country Boulevard in Branson continued with big crowds in the last couple of weeks so, all in all, it has been pretty taxing vocally. Somebody asked me this weekend, How do you keep your voice? and I really don't know! Jason Funderburk is teaching us some things about rest and hydration so now — on our days off — instead of just getting up and just going, we try to relax a little and take a nap every now and then.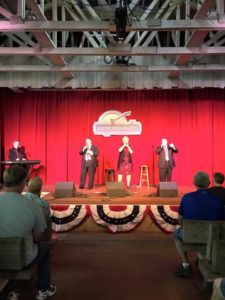 BREAKING Silver Dollar City NEWS!
We can now announce Faith's Journey will be at Silver Dollar City's 2017 National Harvest & Cowboy Festival, September 13 through October 28! We love being out at Silver Dollar City and they treat us so well. I believe in what Silver Dollar City stands for and for us to be invited back as featured performers for an entire festival is very exciting. D.A. Callaway is just a great guy to work with and Deana and I believe it was God's blessing to have, as D.A. put it, a "symbiotic relationship" with Silver Dollar City.
So next year we will be following in the footsteps of great gospel groups at Silver Dollar City like Priority, Chosen Few, Cumberland Quartet and Spoken 4 Quartet. We are grateful.
"Cold North" Christmas Tour
We are getting ready for our "Cold North" Christmas Tour, performing an Absolutely Country Christmas. It's the first time we've done this and we're excited to head out to Lincoln, NE, Aberdeen, SD, Billings, MT, Rock Springs and Casper, WY, and Rapid City, SD for a seven-day tour December 12 through 18. We will be singing to raise funds for kids at Christmastime and the show will be a little different from what we usually do!
God & Country Theater Updates
Our last show of 2016 at God & Country Theater will be December 4. Next year, beginning on April 4, we'll start back up with a Wedneday and Friday schedule, which will be easier for weekend-visitors to catch the Absolutely Country Definitely Gospel show at 5PM.
I'm also very excited about our new Always Prime Country Show premiering next spring as well. The new show is going to be different than anything else in Branson. It's '80s and '90s country music but it will be produced like a radio show (and most people know my background is quartet singing and radio).
There will be lots of nostalgic news, flashbacks, and Nashville-style details about songs and stars. My radio buddy Rob Patz will be doing the voiceovers. Anyone who comes to the show will know every song. We're thankful to Dick and Dawn Easton of God & Country for giving this opportunity. The show will be Wednesdays and Fridays at 2PM.
Even MORE News!
Jason Funderburk had two great camp meetings in Georgia and Kentucky and we're looking forward to him joining us for the Absolutely Country Christmas Tour. We're also working on a new album project from Deana and myself and then Faith's Journey is cutting an album with Jason.
We have even more things we're working on and we'll let you all know first right here in the Faith's Journey Newsletter.
Recipe of the Month: DEANA'S THANKSGIVING PECAN PIE
This recipe is from my dear friend in Atmore, Alabama, Treva Classen. It is the best pecan pie recipe I've ever used and I have tried many over the years! So this is the only one I've used for the last six years!
Note: I use Pillsbury refrigerated pie crusts on this. To me they have the best flavor and texture. Bake according to the package directions before making the filling for the pie. Enjoy!
3 eggs, beaten
1 scant cup sugar
3/4 scant cup white karo syrup
1/4 teaspoon salt
1/4 cup butter, melted
1 teaspoon vanilla
1 cup pecans, chopped
1 9-inch pie shell
Beat all ingredients together just until mixed. Pour into baked pie shell. Bake at 400°F for 10 minutes; reduce heat to 350°F and bake until set, about 30 minutes or so.
Recipe of the Month: DEANA'S 6-LAYER SALAD
Note: This is a nice side dish to Thanksgiving dinner and is also a good leftover the next day!
1 head iceberg lettuce, washed and chopped
1 can Laseur English peas, drained
1 purple onion, thinly sliced
Mayonnaise
Bag of cooked bacon pieces
Parmesan cheese, powdered or shredded
Arrange the chopped lettuce pieces into a clear bowl or dish. Then cover with drained peas. Then add the purple onion to the top of the mixture. Cover the top of the entire mixture with mayonnaise. Spread bacon pieces over. Finally, liberally sprinkle with parmesan cheese. Cover and refrigerate.
Connect with Faith's Journey!
List website, phone, email, Facebook, and appropriate venues.
Website: http://www.faithsjourneytrio.com
Facebook: http://www.facebook.com/Faiths-Journey-142970649200115/
Twitter: https://twitter.com/Faithsjourney
Google+: https://profiles.google.com/108272513957145058885/about?hl=en
Call Jonathan: 417.425.7856
Email Jonathan: JDedwards0406@yahoo.com
2016 © Faith's Journey • StateoftheOzarks Design & Media • All Rights Reserved