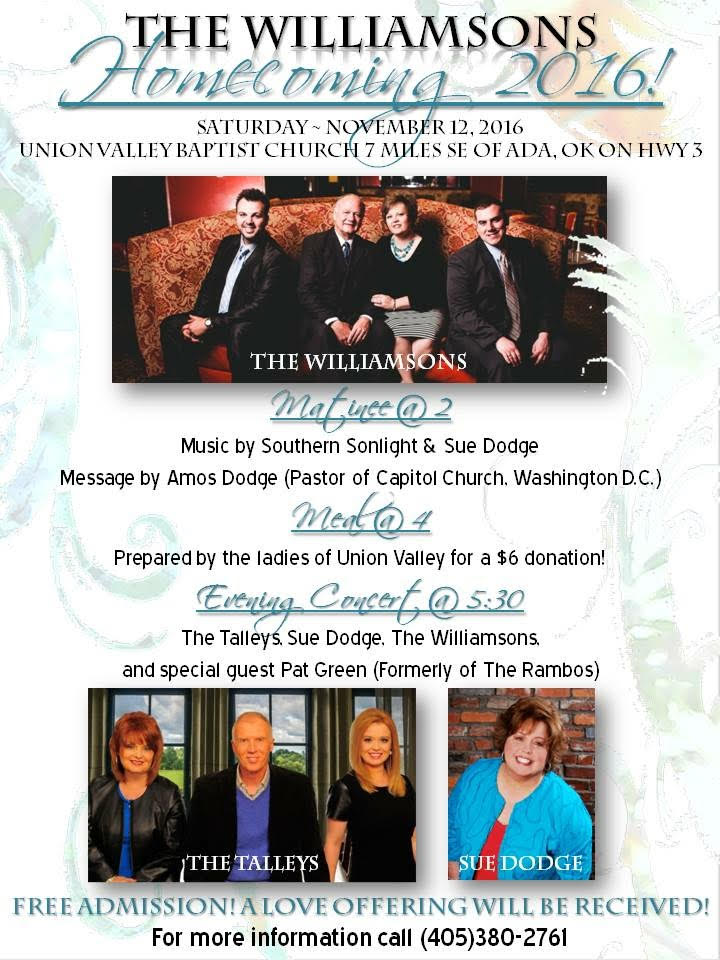 Weleetka, Oklahoma (October 19, 2016) Award winning Gospel group, The Williamsons are excited about their second annual Homecoming set for Saturday, November 12, 2016 in Ada, Oklahoma.
The Williamsons, a crowd pleasing mixed quartet will be featuring some of their biggest hits and also sharing the stage with such artists as The Talleys, Sue Dodge (of the Gaither Homecoming Videos), and Pat Green (Formerly of the Rambos).
After the Matinee Pastor Amos Dodge of the Capitol Church in Washington D.C. will be delivering a soul stirring message. Pastor Dodge is the husband of Sue Dodge.
There will be a Matinee at 2:00PM followed by a meal at 4:00PM, ending with the evening concert at 5:30PM. The event will be at the Union Valley Baptist Church, 7 miles Southeast of Ada, OK on Hwy 3.
Admission is free with a love offering received.
If you would like to interview the Williamsons contact AG Publicity at info@agpublicity.com.
You can learn more about this fantastic group by going to their website here or their Facebook here. 
To book the Williamsons contact scheduling@thedominionagency.com.
About The Williamsons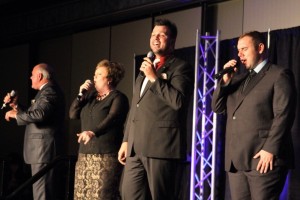 The Williamsons began sharing the Gospel through music in 1998 as The Homesteaders Quartet. The dream of Donnie Williamson was to form a group to sing classic Gospel music on a limited basis. What he wanted to do never occurred. From the group's onset their demand was overwhelming. Soon they were performing more than 100 dates a year. For the past several years The Williamsons have been in full time Christian ministry and entertainment and have traveled across the United States, Canada, and Mexico. Their music has been in national charts and were they honored to be nominated to the Gospel Music Association for a Dove Award.
Their high energy musical style appeals to people of all ages. The versatility of The Williamsons is evident through the wide variety of musical styles they perform. There is always something for everyone. The marketing of their performances targets families and not just fans of any particular type of music. Spending an evening with The Williamsons is sure to be one that will lift you up, bless you, and entertain you all at the same time. Their primary desire is to share the Gospel in such a way that those in attendance who do not know Jesus Christ will come to know him before the program is over.
For more Gospel music news, click here.