Pigeon Forge, Tennessee (October 25, 2016) – For the fifth consecutive year, the Creekside Gospel Music Convention is set to open October 31st in the Smoky Mountain Convention Center, Pigeon Forge. Over 50 Southern, Country and Bluegrass Gospel music artists will convene at Creekside and fill the auditorium with more than 500 enthusiastic fans. Creekside runs from October 31st until November 3rd. Most tickets for this event are free.
This Monday,
Creekside will honor Veterans
by providing a
free hotdog roast
at
11:00am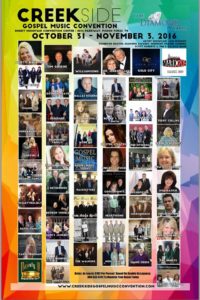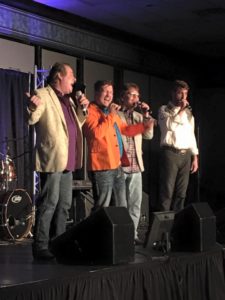 outside of the Convention Center. Everyone is invited to join this celebration, featuring an outdoor Talent Competition. Special guests during this week include Gold City Quartet on Monday evening, Breakfast with Tim Greene and Friends on Tuesday morning at 8:00am, Freedom Quartet on Wednesday night, and the Hymn Sing Choir on Thursday night. Tuesday evening, the 2016 Diamond Awards will be presented. Atlanta station WATC – TV 57 will be taping this event for future programming.
All events with the exception of the Breakfast are free. The four-day event also offers morning showcases and
midnight
prayer. Evening events begin at
5:00pm
.