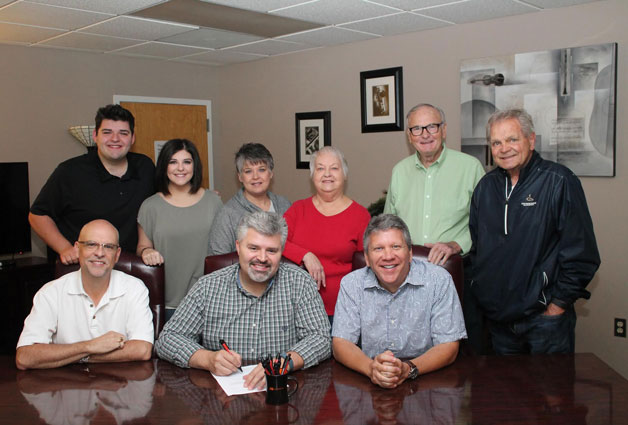 Arden, NC (July 8, 2016) – Skyland Records, an imprint of Crossroads Entertainment & Marketing, is excited to announce an exclusive agreement with Christian music artists The Joylanders.
This family group from Trenton, TN offer a blend of Southern Gospel, Bluegrass, Acapella and Acoustic music. They have the collective talent, ideas, and experience that make for an unstoppable combination.
Skyland A&R associate Greg Bentley states, "It doesn't happen often, but every now and then an artist connects with you in a special way. Jason and Vanessa Griggs, along with their children Jay and Allison have the talent, not only vocally, but instrumentally to become a mainstay in the Gospel music industry for many years. And don't forget the "heritage." Vanessa's parents, Perry and Nell, bring that down home touch to the group."
Jason Griggs adds, "What an honor it is to become a part of Crossroads' Skyland label! Crossroads and the Skyland label are synonymous with quality and they are setting the bar for the standard of excellence in today's Gospel Industry. We are humbled by the opportunity to join forces with this amazing team and see where the Lord leads!"
Skyland Records was created by the Crossroads Label Group to search out new talent that has the potential to become the next household name like The Kingsmen, The McKameys, or The Talleys. We have always felt the need to search out new upcoming artists and introduce them to more Gospel music fans. We've been pretty successful in doing this with groups such as 11th Hour, Master's Voice, The Old Paths, Carolina Boys Quartet and Barry Rowland & Deliverance. We feel The Joylanders will be one of those artists to continue in that success as they grow their ministry and fan base.
The group's first Skyland Records release, titled Parables, is scheduled for release September 9, 2016
About Crossroads:
Crossroads is a market leader in the Southern Gospel, Bluegrass, and Performance Track fields. Established in 1993, following the combination of Horizon Music Group and Sonlite Records, Crossroads now operates several divisions including Crossroads Label Group (Horizon Records, Sonlite Records, Mountain Home Music, Skyland Records, Pisgah Ridge Records, Crossroads Records, and Organic Records), Crossroads Distribution, Crossroads Radio Promotions, Crossroads Publishing Group and Crossroads Recording Studios. Led by a strong executive team of music veterans, Crossroads combines cutting-edge technology with creative innovation to connect fans with our artists' life-changing music.
For more Gospel music news click here