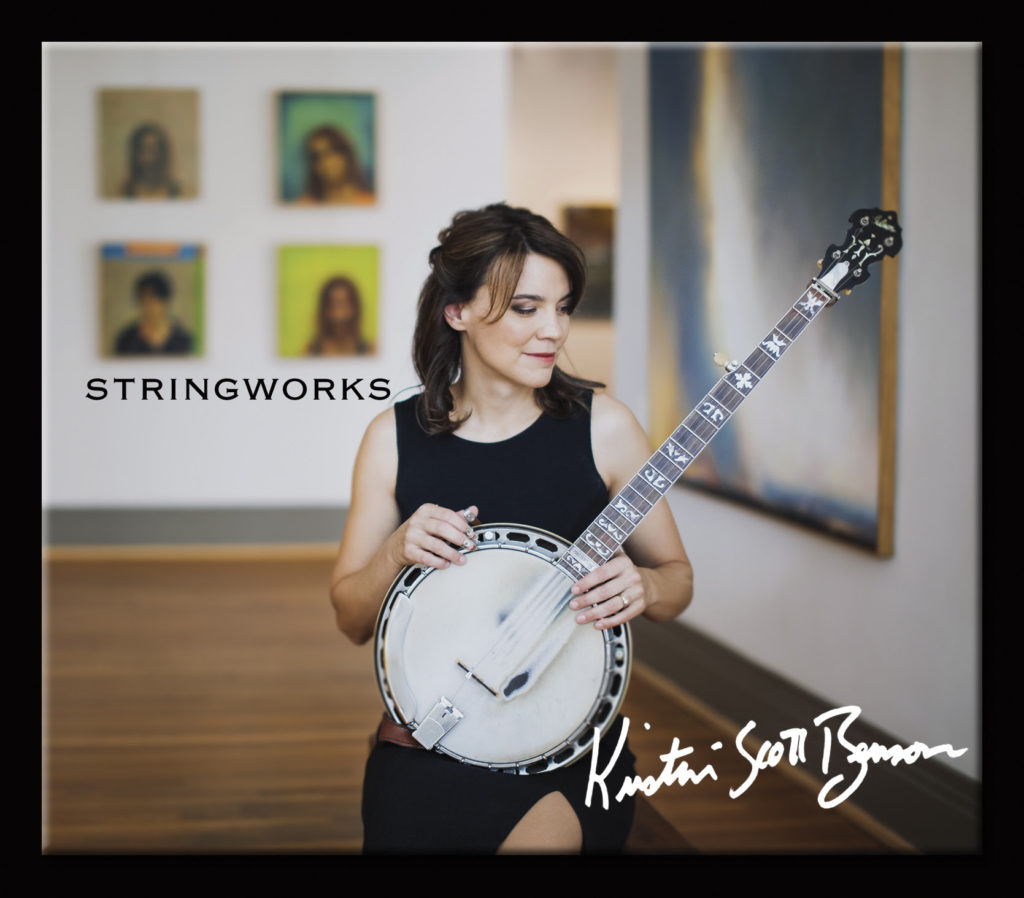 Award-winning banjo player shares a new musical snapshot,
available JULY 22, 2016 from Mountain Home Music Company
Nashville, TENN — Stringworks is the newest release from Kristin Scott Benson, four-time winner of the IBMA Instrumental Performer of the Year Award for Banjo. As a member of the three-time Grammy-nominated group, the Grascals, Benson has proven herself a polished artisan of complex compositions.
The new solo project is a mosaic of original instrumentals that may be called progressive, and the classic driving Bluegrass style for which she has become known as a member of the multi-award winning Grascals.
"I've always thought of a solo project as a musical snapshot," Kristin says. "It shows how you've grown and reflects your musical interests at the time. My last banjo record was called Second Season and was released in 2009, so it is certainly time for a new snapshot."
The musical textures and song arrangements on Stringworks display new angles to the banjo instrument. Benson is joined by a who's who of award-winning players; Cody Kilby (guitar), Tim Surrett (bass), Jim VanCleve and Adam Haynes (fiddle), and husband, Wayne Benson (mandolin). Each of these top flight musicians brings polish and flavor to the project.
"I think every player enjoys the chance to feature instrumentals, particularly originals," Kristin says. "Band albums may have one, but a solo record gives you the chance to do as many as you want."
Benson wrote four of the instrumentals on Stringworks, included a never-before-recorded original from banjo great, Bill Emerson, and as she did on her earlier solo efforts, chose one standard.
"I think the six instrumentals are a nice cross-section of what I like," she says. "Some of the tunes have different feels, melodies and arrangements, while some are straight-ahead bluegrass."
Each song is a unique piece of art; six instrumentals and six vocal tunes. The pastoral "When Fall Comes to New England" features one of the foremost female vocalists in Bluegrass, Claire Lynch. A powerful original Gospel tune, "You Gotta Climb Over the Cross," is sung by Shawn Lane of Blue Highway. The lead off track, "Great Waterton," is an exciting showcase for Benson and her accompanying musicians, brimming with prowess for heady music. In juxtaposition is the traditional, yet equally impressive style, of the classic "Foggy Mountain Top."
An all-star cast of additional guest vocalists includes Chris Jones, Mickey Harris and Grant Williams. Kristin's Grascals bandmates, Terry Eldredge and John Bryan, lend their talents as well.
"I made the decision to record six vocal songs because, as a banjo player, what really drives me is melody and the nature of a song…the message it conveys," Kristin explains. "Pairing material that is special to me with ideal vocalists is a privilege, and I love being a part of that process."
Kristin Scott Benson is a master of her craft, an artist who paints a new picture for banjo-focused music. When she met with Mickey Gamble and Tim Surrett of Mountain Home Music about the project, a key point was Kristin's desire for the CD to have a musical identity separate from the sound of the Grascals. Kristin wanted to share something different and show something of her own musical identity.
"One of the things I admired about the Grascals before I joined the band (in 2008) was that they had an identity. There was a definite style that reflected the tastes of the band members and I've enjoyed becoming a part of that style and sound," Kristin says. "Every band I've ever been in has sounded quite different, so I've adapted and tried to be an asset, while preserving what's already there. The culmination of different influences is what defines a band; that's special and there's no replacing it. With a solo project, however, you handpick material and personnel that reflect your own ideas. The individuality that is revealed is the most important reason for a solo project."
Indeed, Stringworks offers a powerful sense of where Kristin Scott Benson is musically. There is a taste of instrumental depth and diversity that fans may not have heard from her before.
"I hope that people enjoy the album as a whole, get a sense for the vocal material that I'm drawn to, and the kinds of tunes I like to write," Kristin says. "I hope they're excited by some of the songs and moved by others. In short, I just hope they learn something new about me and like what they hear."
Stringworks (Mountain Home Music Company) is available July 22, 2016.
ABOUT KRISTIN SCOTT BENSON
A four-time winner of the International Bluegrass Music Association (IBMA) Banjo Player of the Year award, (2008, 2009, 2010, 2011), Kristin Scott Benson grew up in South Carolina, surrounded by a musical family. At age 13, Kristin received a banjo for Christmas and became enthralled with the instrument, spending her teen years studying the great players from Earl Scruggs to Bela Fleck. After high school, she attended Nashville's esteemed Belmont University, where she graduated Summa Cum Laude as a Marketing major with a minor in Music Business. After more than a decade in Nashville, Kristin relocated back to the Carolinas with her husband, Wayne Benson, and young son. Her prior solo releases are Straight Paths and Second Season.
For more Gospel music news click here.