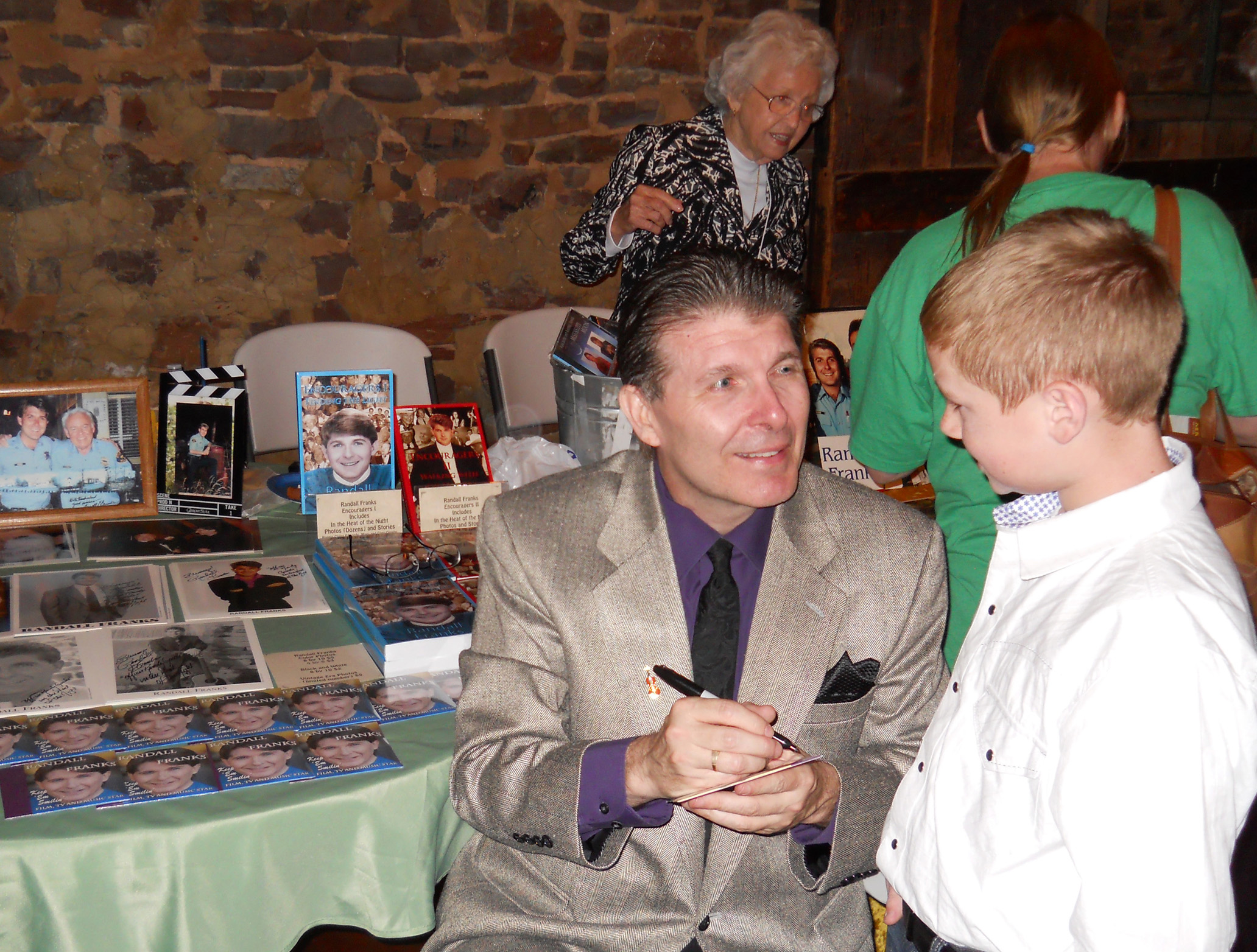 International Bluegrass Music Museum Legend and country humorist Randall Franks, "Officer Randy Goode" from TV's "In the Heat of the Night," returns to his Southern gospel music roots with his new CD "Keep 'Em Smilin'."
Franks became the first solo bluegrass artist to reach the top rankings of the Christian music sales charts with his "Handshakes and Smiles" in 1990 forging new ground and opening new sales outlets for tradition artists to share their music. He created a partnership at Benson with the late producer Norman Holland, garnering turntable hits including the Telly Award nominee "Handshakes and Smiles," "He's Never Gonna Fool Me Again," "You Better Get Ready," "Pass Me Not" and "Rock of Ages."
With his latest release from Crimson Records, the Appalachian Ambassador of the Fiddle combines his fiddle stylings, dulcimer playing, vocals and comedy with a Southern gospel style piano. He called on the skills of former Stamps Quartet pianist Curtis Broadway. Broadway also performed with Gold City, the Pelfreys and many others.
"When I started my career I wanted to learn to play the piano like Hovie Lister and Eva Mae LeFevre, but I was never ever to reach that goal. Instead God brought me to the violin, dulcimer, and guitar to share His gifts," Franks said. "I am honored to have such an amazing talent who has added to such great musical legacies in gospel music to support me in this musical adventure. He certainly plays like I wish I could!"
Franks said this project came together accidentally.
"I was doing a show at the Walker County Civic Center in Rock Spring, Ga. with my good friends – the Testimony Quartet, and I asked Curtis to join me on my solo show that night as we performed to a packed house," he said. "What I didn't know is that Tim Owens of Journey On Ministries recorded the entire performance that night and he later came to me and saying 'It was so good; I should consider releasing it.'
"After listening, I agreed, he had captured the spontaneity of me encouraging the audience to join me in the cheerful fun of worship through these classic musical selections, and simply laugh at some country comedy," he said.
Appalachian scholar Loyal Jones included Franks amongst the region's greatest country music humorists alongside Jeff Foxworthy and Minnie Pearl in his educational work "Country Music Humorists and Comedians."
"I have always shared comedy all the way back to my days on 'The Country Kids TV Series' but unlike my old friend the late Jerry Clower, I have mainly shared my funny stories in print through my syndicated newspaper column – Southern Style," he said. "This gives folks a taste of the stories between some of my musical offerings, just enough to hopefully bring a smile to their faces and leave a song in their hearts."
Selections on "Keep 'Em Smilin'" include some of his most requested songs: "This Little Light of Mine," "What a Friend We Have in Jesus," "Amazing Grace," "Old Time Religion," and "In the Garden." Among the comedy stories are "Chicken Addiction," "A Tunnel Runs Through It/Re-Enactment," "Indigenous/Sgt. York," and "Cousin Viola and the Sanctified Grape Juice."
Franks serves as an advisor to the Southern Gospel Music Hall of Fame board. He has performed in studio or on stage with gospel artists including the Marksmen Quartet, Jeff & Sheri Easter, the Watkins Family, the Lewis Family, Tim Lovelace, the Primitive Quartet, the Isaacs, the Easter Brothers, Little Roy and Lizzy, Jason Crabb, Tammy Sullivan, Doyle Lawson, Dottie Rambo, Archie Watkins, Dr. Jerry Goff and Little Jan Buckner-Goff, the Perrys, the Anchormen, and others.
Later Southern gospel radio successes came in his partnership with producer Chris White of Sonlite yielding airplay around the world from recordings such as Franks' "Sacred Sounds of Appalachia" and "Christmas Time's A Comin'." Gospel radio programmers also found his comedy and gospel on his Crimson bluegrass releases "Tunes and Tales from Tunnel Hill" and "God's Children" with David Davis.
The Independent Country Music Hall of Fame member was honored in 2013 by Governor Nathan Deal for his extensive philanthropic and humanitarian works providing millions of dollars benefiting his fellow Georgians.
Franks' latest film is the Christian thriller "Broken" in which he stars with Soren Fulton and Joe Stevens. His acting with Carroll O'Connor and Howard Rollins on TV's "In the Heat of the Night" airs weekly to millions of viewers on cable and broadcast networks such as WGN-TV and This.
Franks continues to make concert appearances around the United States and Canada.
To learn more about Randall Franks, visit randallfranks.com; Like him on Facebook Randall Franks Actor/Director; follow on twitter @RandallFranks; or subscribe to RandallFranksTV on YouTube.
Visit shareamericafoundation.org to learn more about the Appalachian musical scholarship charity to which Franks gives his time.
Connect in Social Media with Randall Franks:
https://www.facebook.com/pages/Randall-Franks/41082829233?ref=hl
Tweets by RandallFranks

https://en.wikipedia.org/wiki/Randall_Franks

https://www.linkedin.com/pub/randall-franks/14/b74/72b
Find More Southern Gospel News HERE