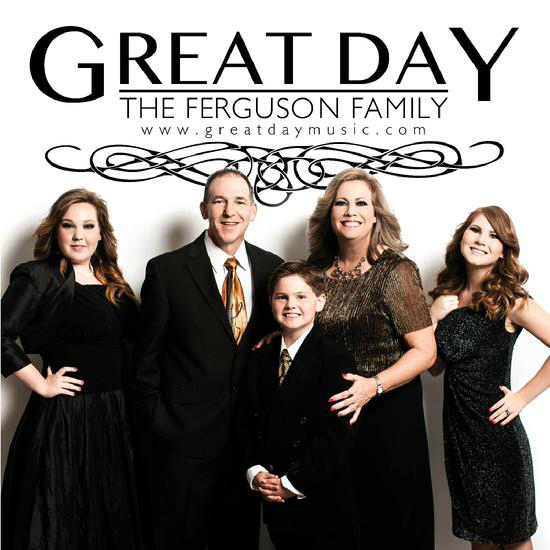 Mount Dora, Florida – Up and coming Gospel singing family group, Great Day, is excited to announce their first Mid-west tour. Coming all the way from the great state of Florida the group consists of Dad, Mom, two daughters and a son who are looking forward to expanding their area for ministry.
Bill Ferguson, Dad and manager of the group stated, "Great Day is headed to the mid-west for a ten day, seven city tour that includes stops in Kentucky, Indiana, and Ohio. This is the first trip as a group to the mid-west and we are thankful for the doors that God has opened."
Great Day's newest single release, "It Wasn't Raining" is set to go to radio in June. It's a new Kenna West/Lindsey Williams song that speaks to the faith of the most faithful man in the Bible and to the everlasting promise that God will guide us through anything, even if we can't make sense of the situation. Trust God always, step out in faith, and know that He is always with you to guide and protect. In the end, no matter what, the blessings will come.
The Mid-West Tour schedule includes the following concerts:
06/05/2016
10:00am – Bunker Hill Christian Church – Salem, IN
06/05/2016
6:00pm – Faith Christian Church – Bloomfield, IN
06/10/2016
6:30pm – Owensburg Baptist Church – Owensburg, IN
06/11/2016
7:00pm – Monticello Christian Church – Montincello, IN
06/12/2016
10:00am – Pleasant Grove Community Church – Clarksville, OH
06/12/2016
6:00pm – Covington Eastside Nazarene – Covington, KY
To learn more about Great Day you can go to www.greatdaymusic.com or the group's FaceBook at www.facebook.com/Great-Day.
For booking information, contact Bill Ferguson at 407-733-6165 or E-mail them at  bookinginfo@greatdaygospel.com.
More Southern Gospel News HERE