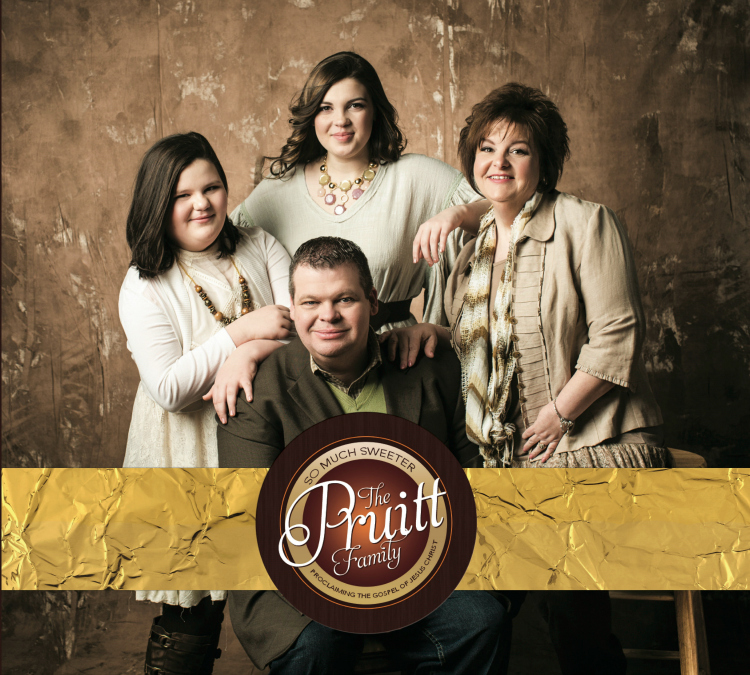 Maysville, GA (June 6, 2016) So Much Sweeter, the highly-anticipated album from the top ten charting family group, The Pruitt Family is available now. The Pruitt Family, known for their close family harmony and their high energy performances transfer that excitement to this new CD.
They will be doing a "LIVE" release of the CD on air with John Graves out of Pensacola, Florida on WTGF 90.5 today at 3:00 PM EST. You can listen live online at http://wtgffm.com/listen-live/ or download the app using this link:https://itunes.apple.com/bj/app/wtgf/id1050273081?mt=8 .
Tina Pruitt stated, "I am so excited about this project, and I am still amazed at God and how He works things out in a way that you know it could only be Him. The team that God put together is what has really made this project awesome. I would say it is our very best. The producers, engineers, song writers, musicians, and vocals were so talented, anointed by God. It was an honor to work with each person that had a hand in making this album. God is so good! There are only three words to describe what we feel about The Lord and what He has helped us accomplish : 'So Much Sweeter'. What else can I say…….?"
John Darin Rowsey commented, "Family groups have always had a special place in my heart because that's where it all began for me. The Pruitt family have a sincere devotion for ministry and a sincere devotion to each other that just makes my heart feel good. The songs on this project are sure to strike a chord with gospel music fans everywhere. I love these folks and I'm sure you are going to as well."
Matthew Browder noted, "What an opportunity and honor to be invited to produce The Pruitt Family's latest project So Much Sweeter. The project has a variety on it. The recording is more like an event to experience. It has the ingredients to bless you. Talent yes, but most of all the Holy Ghost. God has HIS finger prints on this recording. To say it was a delight to work with them would be an understatement. They have a heart for God and for people and it shows. They didn't care to go the extra mile when it came to excellence. We do what we can and God does what we can't. Get ready Pruitt Family, God is getting ready to do what you can't!"
So Much Sweeter, produced by Matthew Browder and John Darin Rowsey, includes 10 tracks that have some of Gospel Music's favorites, as well as new songs written by some of the most prolific song writers in the music industry today.
The song list includes:
1. Jesus Built This Church On Love
2. Sweeter as the Days Go By
3. God's Appointed Time
4. Till the Storm Passes By
5. Bless His Name
6. Mama's Prayer
7. Grateful
8. Love At First Sight
9. But For The Blood
10. Making A Way
This new CD is available on-line at http://www.pruittfamilyministries.com/#!store-1/l92gm.
You can learn more about the Pruitt Family by going to their website at http://pruittfamilyministries.com/ or on Facebook at https://www.facebook.com/PruittFamilyMinistries.
To book the Pruitt Family E-mail them at pruittfamilyministries@gmail.com or call 678-316-9616 .
More Southern Gospel news here.